ULi M1697 Chipset
The ULi M1697 chipset can support Socket 754, 939, or 940. 1000 HT (5X) is fully supported.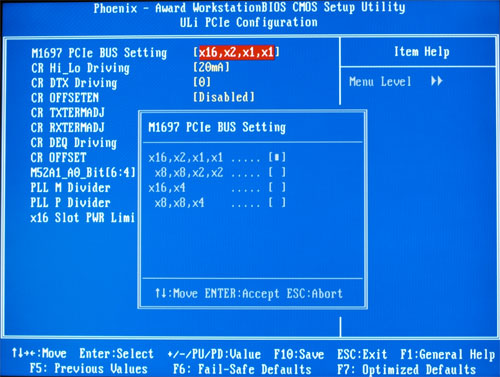 As seen on the ULi two-chip M1695, the M1697 fully supports x16 PCI Express video, which can also be configured as dual x8 PCIe slots. Of course, unlike NVIDIA or ATI, ULi is not a manufacturer of GPUs. Without this video card background, ULi is at the mercy of NVIDIA and ATI to add support for the ULi chipset to their video drivers. NVIDIA has been slow to support any other chipset with their SLI solution, but ATI has shown some willingness to open the Crossfire standard with their recent licensing of the Intel 975x chipset for Crossfire. Ideally, it would be best for users to be able to use their pair of video cards in any board that had the two PCIe video slots, but video card manufacturers have other ideas about what the consumer needs.
In addition to the configurable PCI Express graphics slots, the remaining 4 lanes are also configurable. Several settings can be selected - 2 x1/1 x2, 2 x2 or one x4 PCIe slot(s).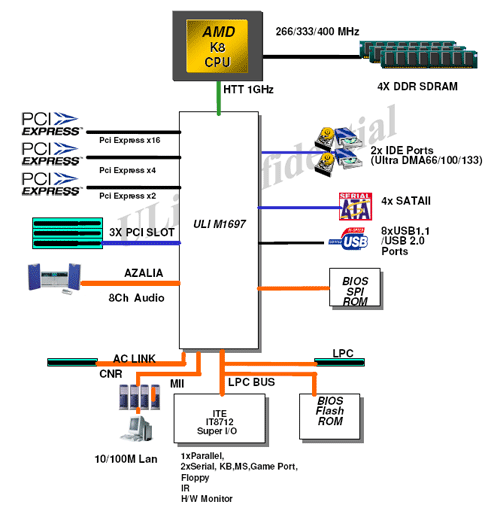 As shown in the block diagram, there are several key features in the new M1697. ULi fully supports 7.1 HD Azalia audio - a significant improvement over NVIDIA's current nForce4 chipset, which does not have the necessary hooks for HD audio support. ATI also supports HD audio in their Athlon 64 chipsets. Like NVIDIA, but not current ATI SB450, ULi also supports AHCI-based 3Gb/sec SATA II with NCQ (Native Command Queuing) on up to 4 native ports. With 4 SATA II ports RAID 0, 1, 0+1, and 5 are supported along with JBOD (Just a Bunch of Disks) spanning. It does not appear that RAID is supported on the IDE bus - a feature that is supported by NVIDIA nForce4.
The rest of the M1697 feature set is what you would expect in a competitive chipset. This includes 8 USB 2.0 ports, two (4 devices) IDE Ultra DMA 66/100/133, and Super I/O supporting Parallel, Serial, PS2, and floppy ports. ULi supports all the current USB transfer standards such as HS (480Mb/s, FS (12Mb/s) and LS (1.5Mb/s). Those who have watched Digital Camera makers play games with USB 2.0 transfer rates will recognize the terms HS or High Speed and FS or Full Speed. What they may not be aware of is the 40-times speed increase of High-Speed USB 2.0 over the inappropriately named Full Speed USB 2.0 standard.
The one disappointment in the feature list is the supported Ethernet. The M1697 has the hooks to support a 10/100 Ethernet PHY, but Gigabit Ethernet will require a discrete Gigabit LAN controller, preferably on the PCIe bus. This one feature tends to pigeon-hole this otherwise excellent chipset as a value solution. That is really unfortunate, since you will see the ULi M1697 is otherwise completely competitive with the best chipsets available for AMD Athlon 64.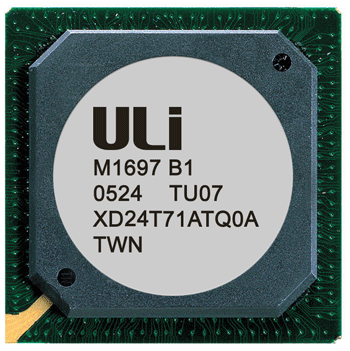 The M1697 single-chip solution certainly stacks up as competitive with current offerings for Athlon 64 and x2 processors. It is very comparable in features to the NVIDIA nForce4 SLI and the ATI Crossfire AMD. Compared to NVIDIA, you gain HD Azalia audio, and compared to the Crossfire AMD, you gain SATA2 and better USB 2.0 performance. The one troubling aspect is that while SLI and Crossfire basic support is present in the M1697, ULi is at the mercy of NVIDIA and ATI as to whether those dual video card modes will be supported in NVIDIA and/or ATI drivers. Until this is resolved, the ULi M1697 will more likely see duty in boards aimed to compete with single video solutions from both NVIDIA and ATI.