As VIA and SiS seem to be declining in the chipset arena, ULi continues an aggressive push to capture a larger share of the chipset market. This is particularly true in the AMD arena, where ULi has produced the innovative AGP/PCIe M1695/M1567 chipset, and where ULi recently introduced the M1575 South Bridge for the ATI RD480 Crossfire chipset.
ULi also produces a single - chip Socket 754/939 chipset called the M1689, which is used by Gigabyte and other board makers for entry level AMD boards. However, the M1689 looks fairly basic in today's feature wars, which is exactly why ULi is introducing the M1697 single-chip for AMD Socket 939, 754, and 940.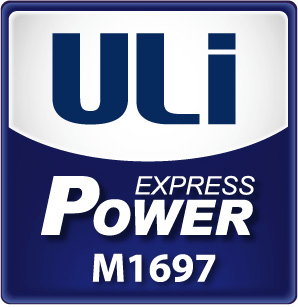 The M1697 is ULi's answer to "What would you do to improve nForce4?" nForce4 is the other single chip AMD chipset, and the ULi M1697 can be considered very similar to NVIDIA nForce4-SLI - with the significant addition of 7.1 High Definition (HD Azalia) audio. The advantage of a single-chip chipset is there is no need to worry about the communication speed of the North Bridge to South Bridge. ULi also communicates with the AMD processor (64 or 64x2) by means of the 16 x 16 HyperTransport bus, which delivers continuous throughput of up to 8GB/sec. This ensures that the processor/ chipset link provides sufficient speed so that it does not become a bottleneck in system performance.
Please keep in mind that this is
not
a board review. We are evaluating a ULi M1697 Reference board, and Reference boards are designed for qualification - not production. The Reference board will give you a very good idea of the features and capabilities of the M1697 chipset, but it is not useful to look too closely at board layout or overclocking controls, unless they are exemplary as in recent ATI Reference designs. In the case of the M1697, the Reference board is clearly designed for qualification, and feature demonstration. It is not a board that will be copied in production.
This is particularly true in the overclocking arena. While the M1697 has basic voltage adjustments and an excellent range of memory adjustments, there are no memory voltage adjustments at all on this board revision. As a result, we decided that it was not reasonable to do any overclocking tests on this Reference board, since we could not use our standard test methods to evaluate OC capabilities. This was an easy decision, since Abit and other manufacturers have assured us that we will be receiving ULi M1697-based motherboards for review in the very near future.