ASUS Extreme N7800 GT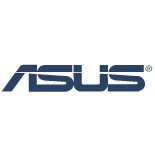 ASUS is a company that is fairly well known for making quality parts, and their 7800 GT is no exception. There are, apparently, two versions of the ASUS Extreme N7800 GT and they are exactly the same except that the blue LED edition sports a different look than its competitors in this review. It's the only 7800 GT that we've looked at that has unique LED lighting in the heat sink, making the card glow a soft blue color. The heat sink itself is modified from the reference design by replacing parts of the sink with raised pins and ribs on the edges. This might mean more efficient heat dissipation for user- overclocking, and we were, in fact, able to get a high clock speed on this card when testing it, which we will talk about later in our review.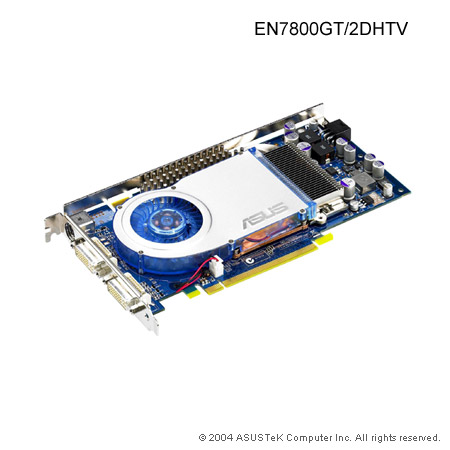 The box that the ASUS EN7800 GT came in was much larger than the boxes for the other two 7800 GTs, and we can't help but think that this is a bit wasteful. At any rate, the box, like the card, is impressive-looking, with a colorful image of a CG character's face wearing an intense expression above the card name (the "EXTREME" in the name adds to this effect).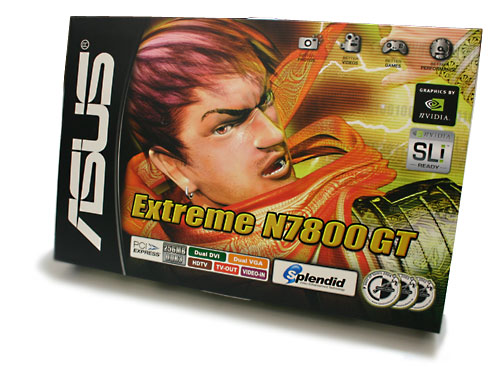 The ASUS Extreme N7800 GT is factory clocked at reference clock speeds, with a core clock speed of 400MHz, and memory clock of 1.0GHz. This means that it won't be quite as fast as our other two cards, but as our performance tests will show, the card is anything but slow. The only thing extra bundled with the card aside from standard drivers and software was Project Snowblind, an older game whose graphics wouldn't even begin to tax the 7800 GT.