Pure Hard Disk Performance - IPEAK
We begin our usual hard disk drive test session with Intel's IPEAK benchmarking utility. We first run a trace capture on Winstone 2004's Business and Multimedia Content Creation benchmark runs to catch all of the IO operations that take place during each test. We then play back each capture using RankDisk, which reports back to us a mean service time, or average time that the drive takes to complete an IO operation.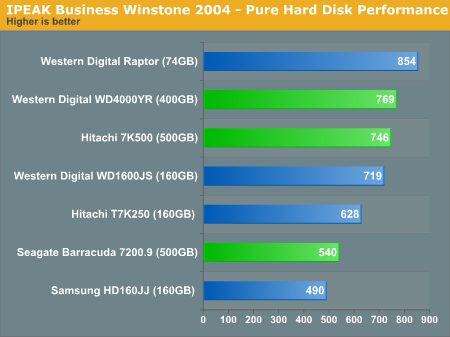 The 500GB Seagate's 541 IO operations per second is no match for the 7K500 and WD4000YR drives at 746 and 769 IO operations per second under the Business Winstone 2004 IPEAK capture. We were also surprised to see the WD4000YR perform so well, since it is using the 1 st generation 1.5Gb/sec interface.
Let's take a look at Content Creation performance.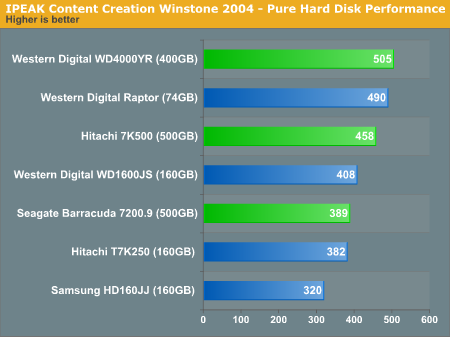 Again, Seagate does not do well in the Content Creation portion of the Winstone 2004 IPEAK capture. Western Digital comes out on top at about 505 IO operations per second with the 7K500 following at 458 IO operations per second.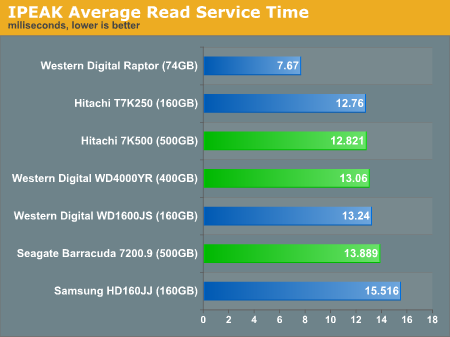 The mean read service time reported by IPEAK's AnalyzeDisk is the time that it takes for a request to be fulfilled by the drive. Even the IPEAK service times reported are far from being in favor of the 500GB 7200.9 at 13.9ms. The 7K500 takes 1 st place here with 12.821ms and 2 nd place is taken by the WD4000YR at 13.060ms.