Overclocking Comparisons
Maximum overclock data was added to our Performance graphs beginning with the nForce4 SLI roundup earlier this year. The overclocking performance graphs allow a better comparison of the overclocking capabilities of tested boards. For more details on the specific overclocking abilities of a specific board, please refer to the Overclocking and Memory Stress Test section of individual board reviews.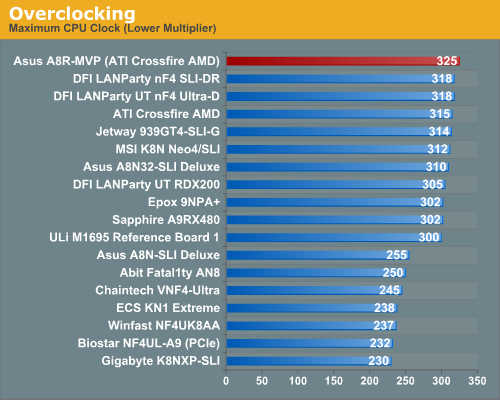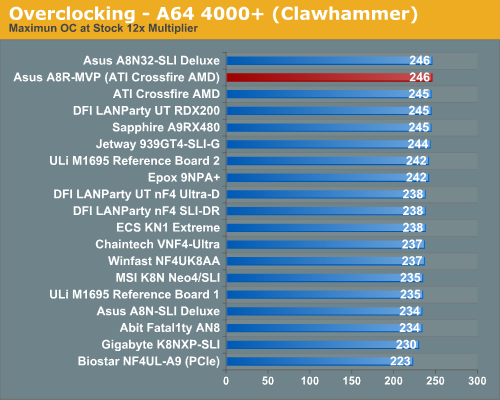 The overclocking performance of the Asus A8R-MVP was spectacular, reaching 325 at the reduced multiplier, and matching the highest stock overclock of 246 that we have tested with this CPU. Both results are at the top of our overclocking results charts. Considering that the competition at the top includes very expensive boards designed specifically for overclocking, the overclocking performance of the A8R-MVP has to be considered remarkable.
No one, least of all this reviewer, expected this kind of overclocking with this mainstream Asus board. Once in a while, you run across a mainstream or value board that surprises you with its capabilities. This board is one of those surprises. Frankly, the Asus A8R-MVP may be the best thing to happen to ATI's new Crossfire chipsets.
ATI has made tremendous progress in board design since we looked at the initial Bullhead board last November. Asus definitely went their own way in the design of the A8R-MVP, but the simplicity of the board more than likely contributes to the great overclocking that we experienced.
It is very important that users change the default 2T Command Rate to 1T for best performance. Asus ships the A8R-MVP with 2T enabled to satisfy some memory manufacturers. The board has no trouble running 1T with quality memory, but you have to set the 1T Command Rate manually. All overclocking was performed with the Command Rate at 1T and the Command Rate was verified in AMD Tweaker.