Graphics Performance and Encoding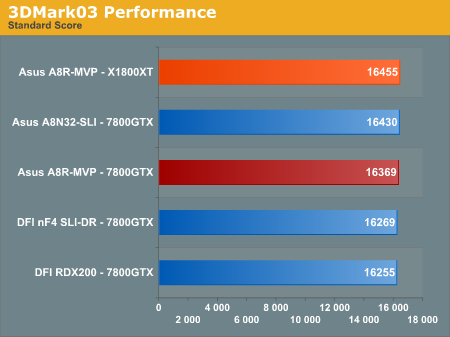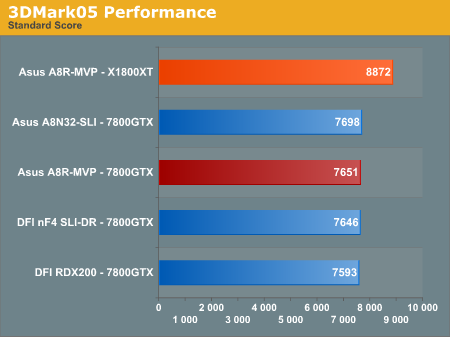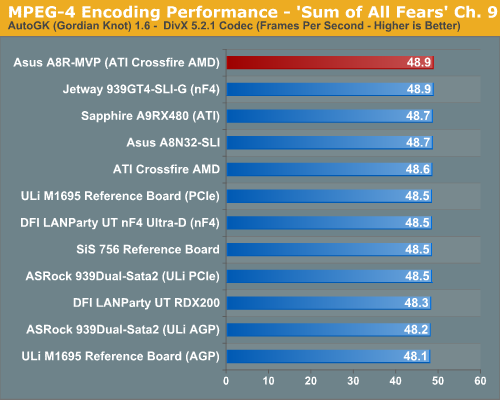 The A8R-MVP performed very well in 3DMark graphics Benchmarks and Encoding. Compared to other AMD boards tested with the latest 81.8x drivers, the A8R-MVP performed at or near the top in all 3 benchmarks. Results for the four boards were close, but the Asus A8R-MVP and Asus A8N32-SLI Deluxe were both #1 in all 3 benchmarks. 3DMark05 and 3DMark03 are synthetic benchmarks, but they are designed to test the gaming elements of DirectX 9, using specially written gaming segments.
It is interesting that the ATI X1800XT wins all synthetic benchmarks using the latest 5.11 Catalyst drivers. The 5.11 drivers do make the X1800XT behave like a different vidoe card.
Encoding results should not be affected by the graphics card used during the encoding benchmarks. This is clearly demonstrated by the archive test results for AutoGK using an AMD 4000+ processor with a wide assortment of other components. The performance range of those encoding tests is just 48.1 to 49.9 - a difference form high to low of just 0.8 frames. Clearly, the biggest influence on this encoding benchmark is the CPU used for testing.