Features
As we mentioned before, there are some very nice features on this card beyond quality gaming. Most of these features won't be all that new to those familiar with previous All-In-Wonder releases, and while there may not be much new here, what there is reflects the quality that ATI has put into these products.
Perhaps the most important aspect of the card is its ability to play and record TV directly from your Cable/Satellite hookup. This was fairly easy to set up, and after installing the card and connecting the cable we almost instantly had live TV running on our system.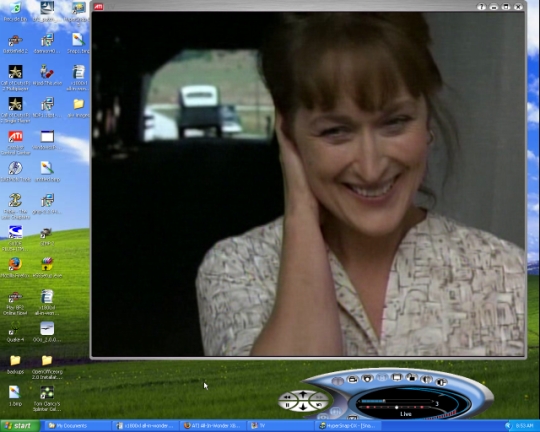 The X1800 XL A-I-W is much like a television in that it allows you to browse cable channels and also set parental controls if you need them. Gemstar GUIDE Plus+ is a program that comes bundled with the card that allows you to download show schedules and record upcoming programs to watch later on. Features like this and the ability to pause and resume live TV at anytime make this package very similar to something like TiVo.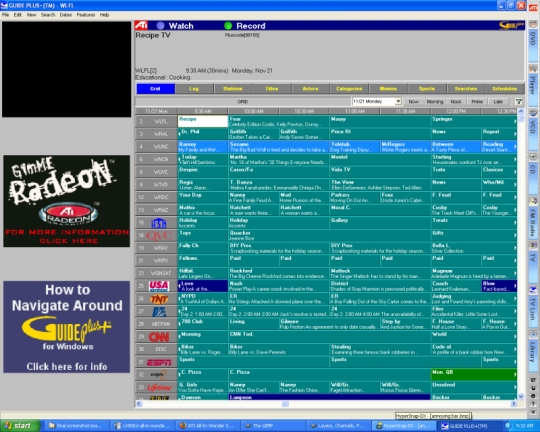 You can record or take screenshots of what you are watching at anytime, and the files will be saved in a media library where you can view or export the files later for editing. Also included is a standard DVD and CD player, as well as an FM Radio tuner in case you want to record or listen to the radio on your computer. These are nice features, but most people already have CD and DVD software on their computer, so they aren't all that necessary. One small annoying thing about the software package is that once installed, a toolbar starts up with windows that launches different media programs. The toolbar isn't really necessary, as all of the programs listed are available in the start menu, and the fact that it's there taking up any space at all kind of rubs us the wrong way; especially given the insidiousness of certain other toolbars that sometimes pop up on your system where you don't want them. The All-In-Wonder toolbar is harmless and simple enough to disable from automatic startup if you don't like it. If you spend a little bit of time looking around at install time, the toolbar can be skipped altogether (which is our recommendation).

Another interesting feature included with the package is something called Thruview, which is basically a way to watch TV in the background while doing something else on your PC. When you enable this, it will make the Video play in the background and change the opacity of the Video allowing you to see through it. This is so that presumably you can do other work while having your favorite show running in the background and not miss anything. The effect of this is much like having someone projecting a video image to a screen behind your desktop with all the lights on. We thought this sounded like an interesting idea, but after testing it out we found it to be a little impractical. For one thing, it's very hard to see whats going on with the video because it's so faint. Secondly having video playing in front of you while trying to get work done can be very distracting, and the combination of live Video and text, etc. can make everything seemed jumbled and confusing. Some people might not mind so much, however.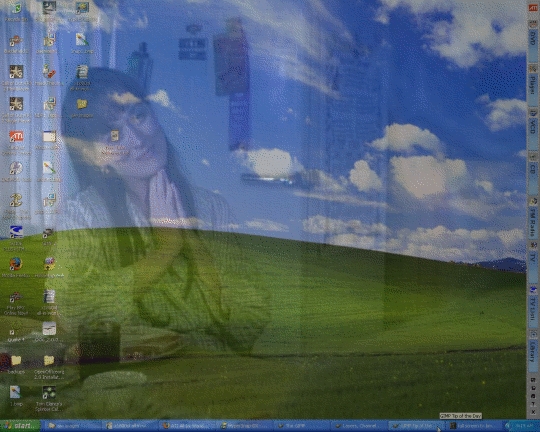 To summarize, there are lots of extras in the All-In-Wonder package, but the one that is the most important is also the easiest to use. Our test system handled live video and recording without feeling laggy or glitchy, and the options were straightforward and helpful in allowing us to use the settings we desired. As far as the video/multimedia aspect of the X1800 XL All-In-Wonder card, it accomplishes what it claims with grace. With the inclusion of Photoshop Elements and Premier Elements, video editing is a snap, and we are glad to see the switch from Pinnacle. Now let's take a quick look at how this card performs on the graphics side.