Final Words, and a Refresher on the Benefits of Serial Buses
We hope you enjoyed this brief tour of the Xbox 360's motherboard, being the last weekend before Microsoft's official retail launch, we figured it would be a good send-off.
We'll actually end this tour of the 360's motherboard with a little comparison point in the advancement of bus technologies. For the past several years, the PC industry has seen a transition away from older parallel bus interfaces (IDE, Parallel Ports, traditional FSBs, PCI/AGP) to much faster serial buses (SATA, USB, Hyper Transport, PCI Express). The Xbox 360's motherboard actually gives us an opportunity to present a good comparison of the benefits of a serial interface, from a layout perspective.
The link between the Xenon CPU and the Xenos GPU in the Xbox 360 is actually two 10.8GB/s serial buses, which you can clearly see from the picture below. Note the clear definition of the traces the clean routing, to the point where you can count the individual data, address and clock lines: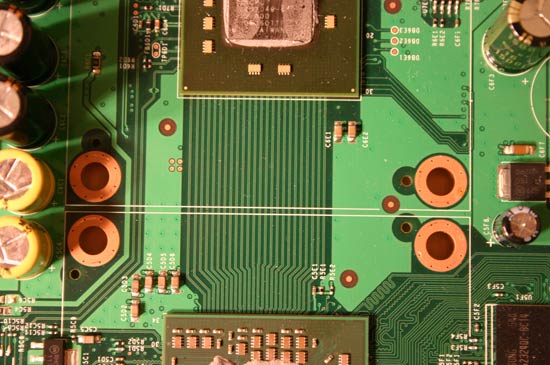 This is similar to the type of routing you'd see connecting two Hyper Transport ports on an AMD motherboard.
Now let's take a look at the parallel GDDR3 interface between the ATI GPU and the Samsung GDDR3 memory: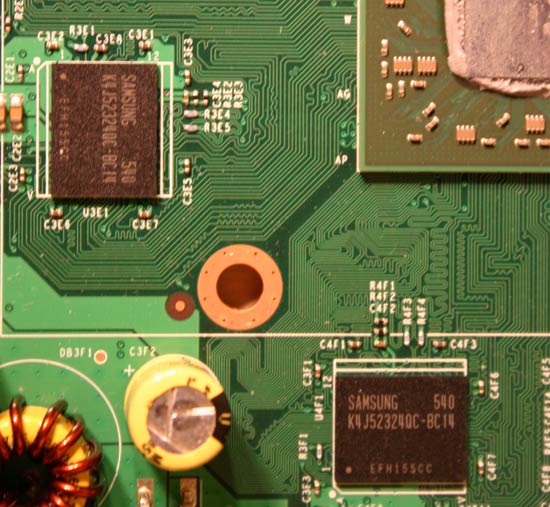 Note the significant increase in traces, attributed to a much wider parallel interface than what exists between the CPU and GPU. The more complex routing of parallel buses becomes an even bigger problem as devices demand more bandwidth, which is why we have seen such a large scale transition to serial interfaces.