On Wednesday we took apart the Xbox 360 to satisfy our curiosities and provide a tutorial to all those willing to take time out of gaming in order to take theirs apart as well. Today, we take a bit of a different approach, focusing on one item within the sleekly design chassis in particular - the Xbox 360 motherboard.
We've been reviewing motherboards on AnandTech for over eight years now, so of course taking look at the Xbox 360's motherboard in greater detail is right up our alley. Before proceeding, we recommend taking a look at our Inside the Xbox 360 article, which diagrams taking it apart as well as provides a brief overview of the technology in the system.
The original Xbox featured a 4-layer Intel motherboard, but given the incredible power requirements of the CPU and GPU on the Xbox 360's motherboard we would be astonished if the same were true today. Luckily with any console, especially early on in their life, you are getting a true bargain when it comes to the cost of hardware - so the number of layers on this PCB doesn't matter much to the end user, as Microsoft will absorb all costs above and beyond the core system's $299 price tag.
We've already shown a picture of the motherboard, but here's another shot as a refresher: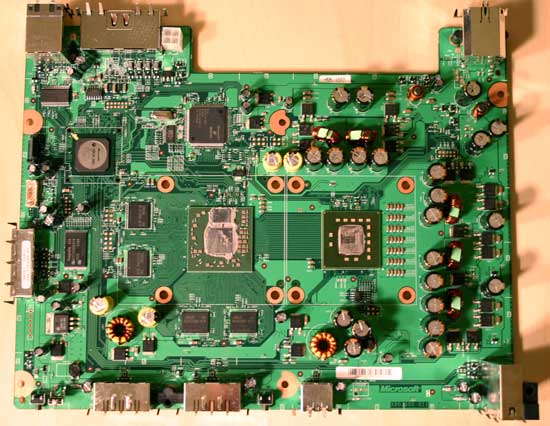 To help you orient yourself, the bottom of the picture is the front of the unit and the left of the picture is where you would see the optional hard drive. Keep this picture in mind as we go through the tour of the motherboard, as you'll see a thumbnail of this board in almost every picture in the coming pages, with the component we're discussing at the time circled in red.
The motherboard is quite small in order to give the Xbox 360 a much more slender look compared to its predecessor, which basically used a regular sized ATX motherboard. Below we have a picture of it lined up next to a standard ATX motherboard - in this case a MSI K8N Neo2: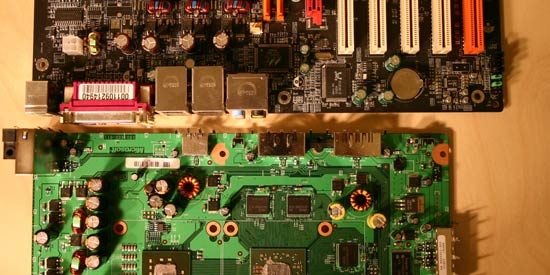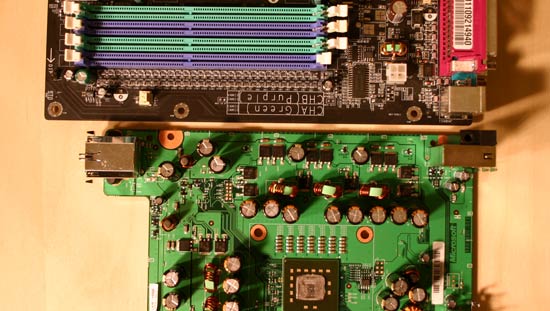 With the size put in perspective, let's begin the tour.