Storage Devices
The Xbox 360 ships with a standard dual layer DVD-ROM drive, our unit had a drive manufactured by Hitachi-LG.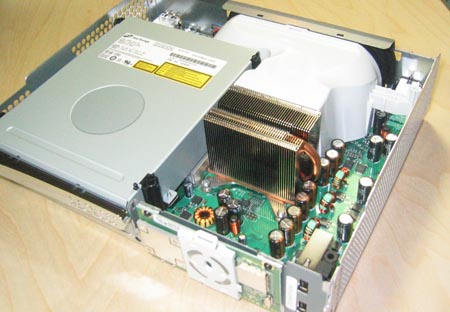 Click to Enlarge
The drive features a standard SATA interface, but like the DVD-ROM drive in the original Xbox, the 360's DVD drive also features a proprietary power connector as you can see from the picture below: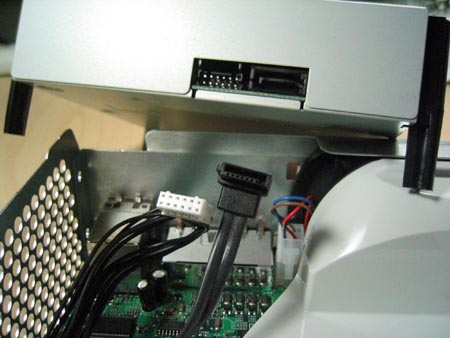 Click to Enlarge
Since we're still dealing with a dual layer DVD drive, disc capacity hasn't grown since the release of the original Xbox, which may serve as a limitation for future games (potentially forcing them to multi-disc releases).  Generally speaking, original Xbox titles  used less than half of the 9GB DL-DVD capacity, leaving some room for growth for Xbox 360 games.
Microsoft has also reduced the size of the data that is required to be on each disc by a few hundred megabytes, combine that with the fact that larger game data can be compressed further thanks to more powerful hardware and game developers shouldn't run into capacity limitations on Xbox 360 discs anytime soon.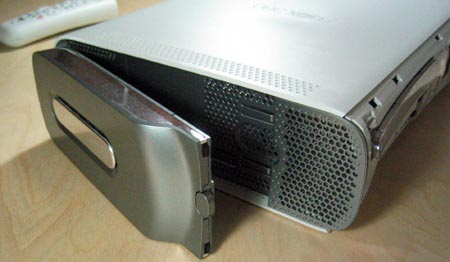 Click to Enlarge
The $399 Xbox 360 system ships with a removable hard drive by default, which can be used by game developers to enable disk caching to reduce subsequent load times, as well as for content to be downloaded onto from Xbox Live.  If you wish to play any original Xbox games, you will need to have a hard drive present, as that is where the emulation data is stored since original Xbox games are not directly compatible with the Xbox 360's hardware. 
Final Words
And there you have it, four years since the original Xbox launch, Microsoft is back with part 2 (or 360 if you prefer).  While many doubted that they would last beyond the first installment, Microsoft has proven its worth and credibility in the console gaming industry. 
While we do have tons of long term questions about the architecture and platform of the Xbox 360, only time will answer them.  Until then, the Xbox 360 launch is less than a week away so if you're eagerly awaiting one to be delivered, at least now you don't have to worry about taking yours apart - happy gaming!