ATI RD580
ATI's AMD Athlon64 chipsets began with a bang almost a year ago with the "Bullhead" Reference Board. In our review of
the first Radeon Xpress 200 Reference board
, ATI was clearly aiming for the AMD Enthusiast. This continued with
the all-white "Grouper"
this past July, and the black "Halibut" which was reviewed as
the Crossfire AMD
in late September. Despite three generations of capable Enthusiast chipsets based on the Radeon Xpress 200 core, we only began seeing ATI AMD chipsets used in Enthusiast motherboards with the launch of Crossfire. The first ATI enthusiast board was the
DFI LANParty UT RDX300
reviewed less than a month ago. Now we are finally seeing Tier 1 manufacturers like Asus, MSI, and Gigabyte with ATI Crossfire AMD boards starting to ship.
When we recently reviewed the nVidia Dual x16 board we saw a dual chip setup with PCIe channels split between two multipurpose chips.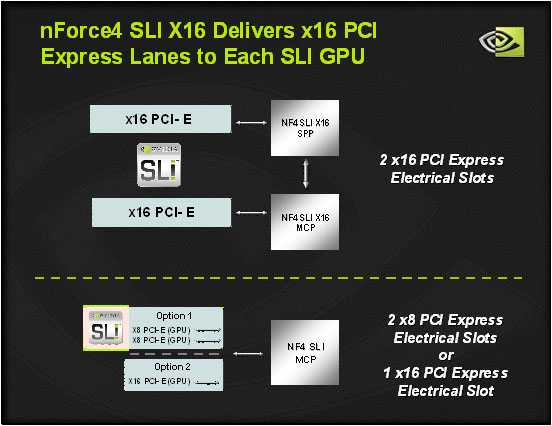 The nVidia dual x16 design provides one x16 PCIe off the "north bridge" or SPP and one x16 PCIe off the "south bridge" or MCP. On the AMD side the North chip is the MCP51 which communicates with the CK8 south chip over 16-bit HTT connections. The Intel dual x16 uses the same CK08 SLI south bridge as the AMD chipset, but the North chip is C19. C19 forces communications between the North and South chips to 8-bits.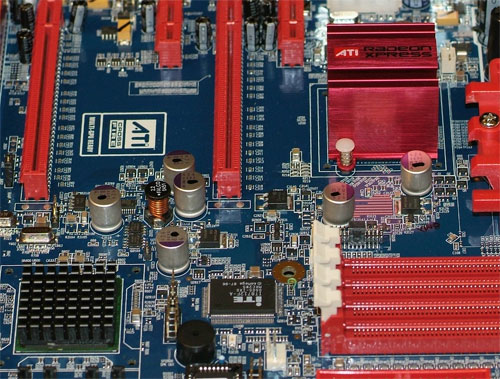 The ATI RD580 also uses a North Bridge/South Bridge configuration, but all PCIe channels reside in the North Bridge and both PCIe x16 slots are driven by the North Bridge Chip. The new RD580 north supports 44 lanes and can be combined with any of the south bridges than can be used with the Rx480 chipset. This includes the ATI SB450, the revised pin-out SB460, the upcoming SB600 with SATA2 and revised USB, and the ULi 1573/1575.
ATI SB460
While ATI has used the current SB450 South Bridge in the Manta we evaluated, we expect the shipping Manta Reference Board will use the new SB460. SB460 is identical in function to SB450, with the same fast feature performance, but limited USB and no SATA2 or NCQ. It is important because it is pin-compatible with the upcoming SB600. This means boards designed with SB460 will be able to drop in SB600, with revised USB, SATA2, and NCQ as soon as this new South Bridge is available - possibly as early as January. Manufacturers can also combine the RD580 Dual x16 North Bridge with the ULi M1573, or more likely the ULi M1575, which supports SATA2, NCQ and competitive USB.
HD Audio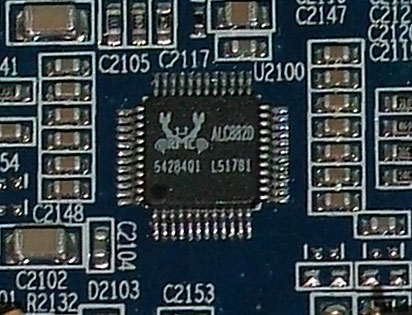 ULi was actually the first to annonce HD Audio on the AMD chipset in April of 2004. However, ATI was the first major manufacturer to bring High Quality HD audio to their AMD product line with the introduction of the SB450 South Bridge for the Xpress 200 chipset in the late 2004. HD support continued with the Crossfire AMD chipset. This advantage continues with RD580, which features the Realtek ALC882D HD audio codec on the Reference board.