Gaming Performance
SLI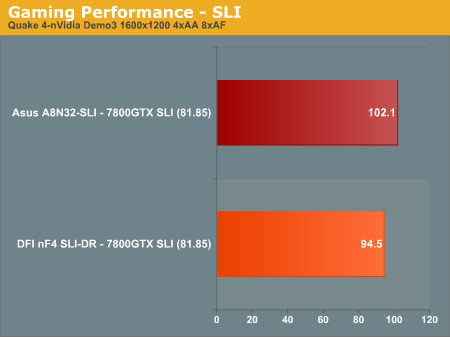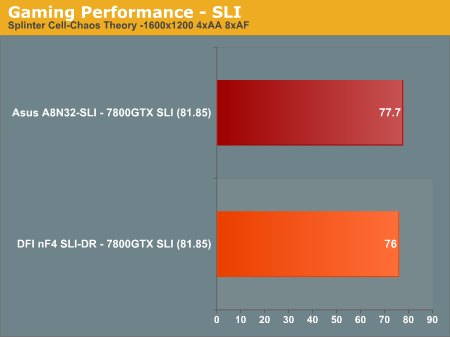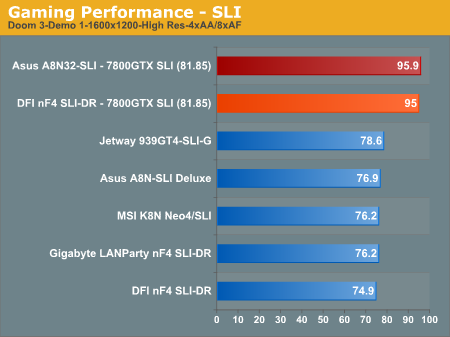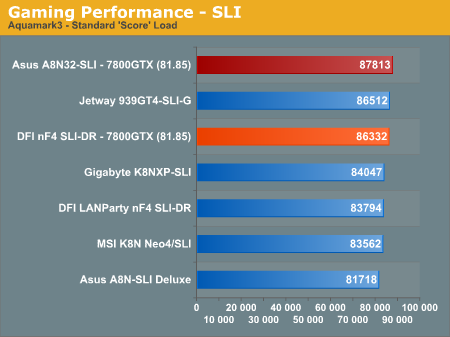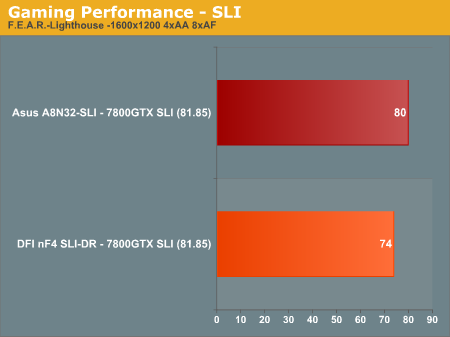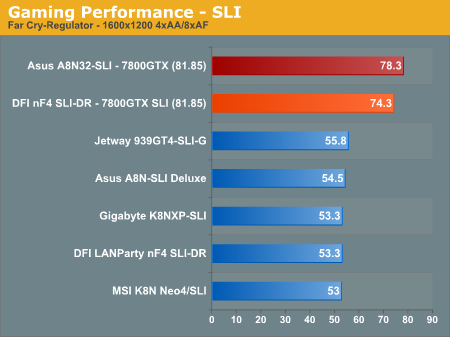 Single Video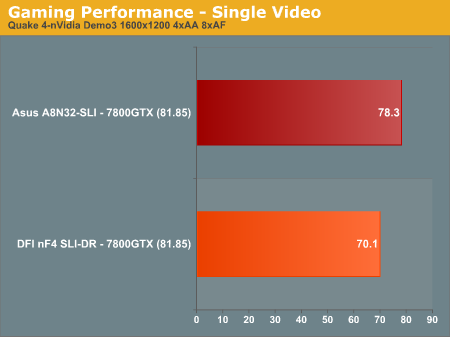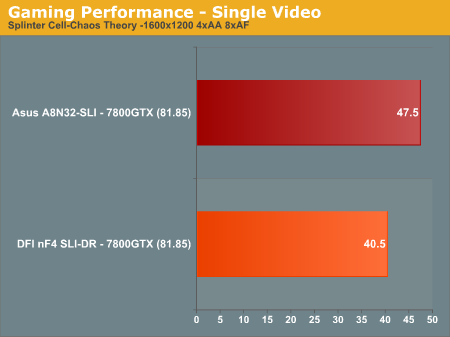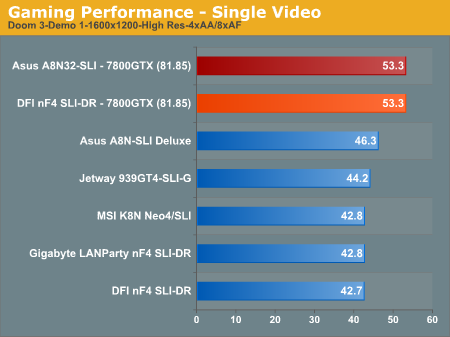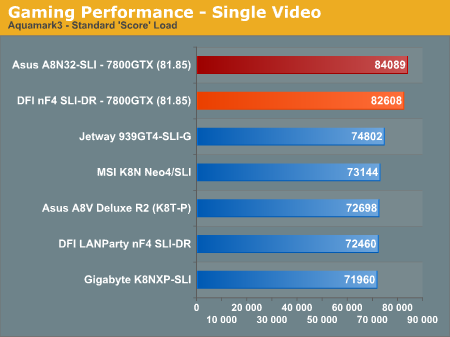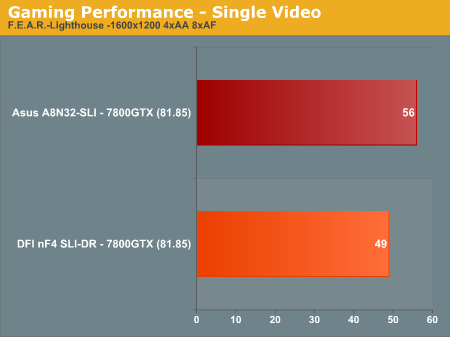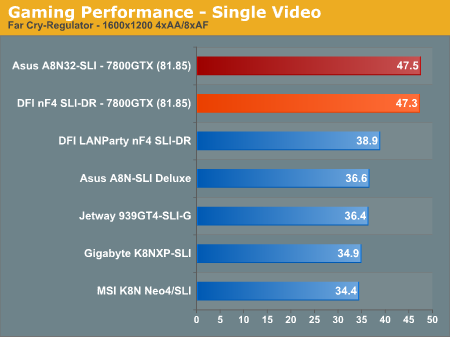 If there is any area where Dual x16 SLI will make a difference, it is in gaming. However, given the state of current PCIe video cards, we really didn't expect any increases in performance in moving from dual x8 to dual x16, and certainly no performance increase in comparing current x16 single video to the Asus A8N 32-SLI Deluxe x16 single video.
Since the DFI and Asus were both tested with the same CPU, memory, video cards, and video drivers, let's compare performance in SLI mode as a percentage increase in the six tested games.
SLI - NVIDIA 81.85 Drivers, 6.82 Platform
Game
DFI nF4 SLI-DR (2 x8)
Asus A8N32-SLI (2 x16)
% Increase
Aquamark 3
86332
87813
+1.7
Far Cry
74.3
78.3
+5.4
Doom 3
95.0
95.9
+1.0
Splinter Cell-Chaos Theory
76.0
77.7
+2.2
Quake 4
94.5
102.1
+8.0
F.E.A.R.
74.0
80
+8.1
Using the same video drivers and components, the Asus Dual x16 was 1% to 8.1% faster than the DFI Dual x8. These increases are small enough that we took a closer look at single card performance to see if the real difference was Dual x16 or something else.
Single Video - NVIDIA 81.85 Drivers, 6.82 Platform
Game
DFI nF4 SLI-DR (1 x16)
Asus A8N32-SLI (1 x16)
% Increase
Aquamark 3
82608
84089
+1.8
Far Cry
47.3
47.5
+0.4
Doom 3
53.3
53.3
0.0
Splinter Cell-Chaos Theory
40.5
47.5
+17.3
Quake 4
70.1
78.3
+11.7
F.E.A.R.
49
56
+14.3
In single video card mode, we were completely surprised to find performance increases on the Asus as high as 17.3%. This is an even higher performance increase than SLI mode, but in this case, both the DFI and Asus are running a single card in x16 mode. How is this possible? We re-ran benches several times and attained the same results. It is also interesting that while there is almost no increase in single mode in "older" games, the newest and most demanding titles show the biggest increases.
Perhaps the MCP51 is more efficient than the older nF4 SLI chip, or perhaps the design of the AMD Dual x16 improves video performance across the board. Or maybe the 8-phase Asus design really makes a difference. We won't know the true answer until we do much more testing on the new Dual x16 boards. Whatever the explanations that will be found, it is clear that the Asus A8N32-SLI is slightly faster in older game titles in both single-video and SLI modes. In newer and more demanding games, the Asus can be 8% to 17% faster than the best of the current dual x8 solutions.