Write Performance
For the write performance tests, we used the exact same file sizes, but instead of reading them from the drives, they are written to the drives.
Every time you write to a NAND flash block, you must first erase that block, thus it should be no surprise that NAND flash memory writes a lot slower than it reads. So, don't expect to see the same performance levels that we saw with the read tests.
512-byte File Write Performance
Now looking at write performance, we start over once again with a 512-byte test, which the JumpDrive Secure II does extremely well.  Lexar seems to have found the key to good write performance, and has carried that on to the new JumpDrive Secure II.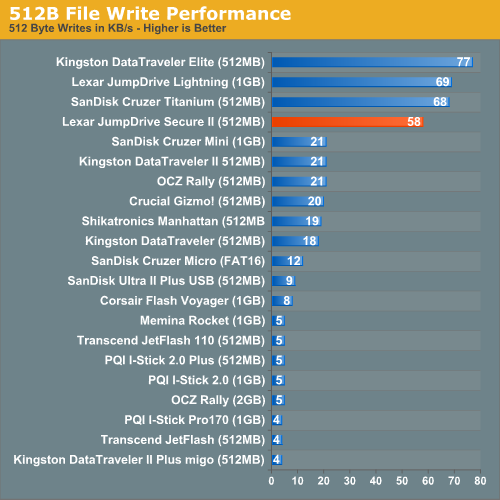 32KB File Write Performance
At 32KB, the Secure II still manages to stay in the top 4 performers, performing only 0.4MB/s slower than the JumpDrive Lightning.