No Soft Shadows and No AA/AF Performance Tests
This is the setting that we would recommend most people establish. Anisotropic filtering can be enabled for a minimal performance drop, but many people just won't have hardware that can handle soft shadows or antialiasing. Also note that we have made quite a big deal about the fact that soft shadows in this game just aren't worth it.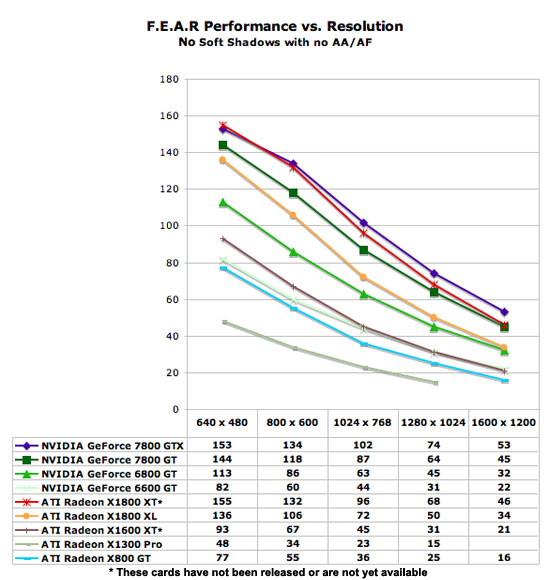 Without soft shadows or AA enabled, you can see that until you get to a resolution as high as about 1024x768, all of these cards get playable framerates. The X1300 Pro is the most limited of these cards and can really only play this game well at 640x480 and 800x600 without AA or soft shadows enabled. But you can see how low the framerates are in general at 1280x1024 and 1600x1200 for all the cards, giving us a first look at the graphical demands of this game. The 7800 GTX and 7800 GT get very respectable framerates at 1600x1200 though, and at this same resolution, the 6800 GT and X1800 XL are low, but still playable. 25 fps is about as low as we would consider barely "playable", but to really enjoy the gameplay, you'll want a framerate of about 35 fps. Now, let's look at what happens when we turn on 4xAA and 8xAF.