4 DS DIMMs at 1T: Memory Stress Testing
The DFI easily handles 2-2-2-7-1T timings at stock speed with 2 double-sided dimms, as do almost any of the current boards for AMD Socket 939 from NVIDIA, SiS, VIA, and ULi. However, what is truly unique is that the DFI LANParty UT RDX200 is the first board designed to run
four
double-sided 512MB or 1GB DIMMs at the fastest timings and a 1T Command Rate. In fact, AMD specifications tell us that this is impossible. To his credit, Oskar Wu and DFI found a way to accomplish the impossible.
Stable DDR400 Timings - 4 DIMMs
(4/4 DIMMs populated)
Clock Speed:
200MHz
CAS Latency:
2.0
RAS to CAS Delay:
2T
RAS Precharge:
7T*
Precharge Delay:
2T
Command Rate:
1T
*7T was determined by MemTest86 benchmarks to deliver the widest bandwidth with the ATI Rx480/482 chipset. While the board would operate at tRAS of 5T or lower, all benchmarks were run at 7T.
With the ability to run 4 DS DIMMs at 1T, we had the opportunity to finally show the impact of a drop to a 2T Command Rate on performance.
First, for those skeptical that this is possible, we captured screens from the freeware A64 Tweaker and CPU-Z showing operation of 4 DIMMs at 1T.
All the benchmarks below were run with an FX-57 processor and are not directly comparable to our standard benchmarks which use an AMD 4000+ CPU.
To clearly demonstrate the impact of the normal 2T drop in Command Rate on performance, we ran Aquamark3 benchmarks with 2 DIMMs at 1T, 4 DIMMs at 2T, and the new option of 4 DIMMs at 1T.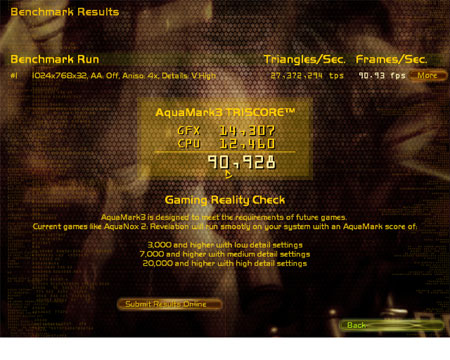 2 DIMMs at 1T is normally the fastest available option.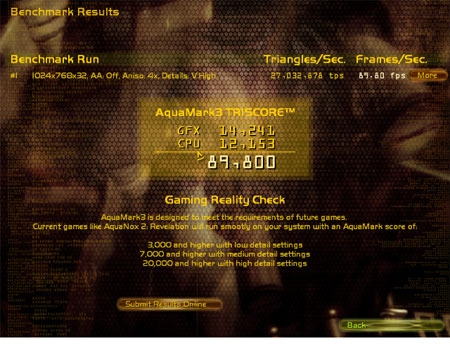 You can see that doubling the memory, but being forced to drop to 2T Command Rate, lowers the A3 scores by over 1,000 points.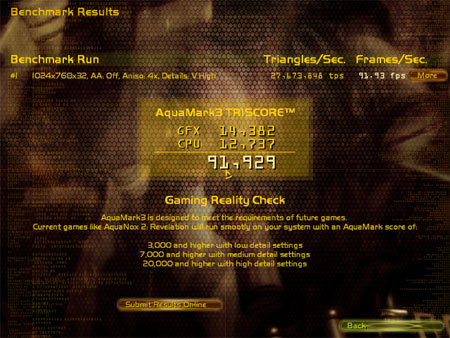 The surprise, however, is the new DFI option of 4DS DIMMs at 1T. Not only is there no performance loss - the scores are 2,000 points higher than 4DSx2T - but 4DS DIMMs at 1T outperforms 2x1T by almost 1,000 points. This makes 4DS DIMMs at 1T in the DFI to be the new performance leader at stock speeds.
For those who are thinking that surely there's a catch, the answer is "yes, there is". 1T operation is only possible to a frequency of about DDR406, which basically limits it to stock speeds. Above that speed, you must run 4 DS DIMMs at 2T as you normally must. However, at or near stock speeds, the 1T option is a brilliant development that delivers better performance.