OCZ PC4000 1024MB EB Platinum Edition
OCZ is a well-known brand of enthusiast products - memory, power supplies, flash memory and more. In the past two years, OCZ was normally at or near the top of roundups and reviews of high-performance memory. After struggling several years ago, OCZ fought back and, today, is regarded as top-quality memory with some of the best Customer Service in the business.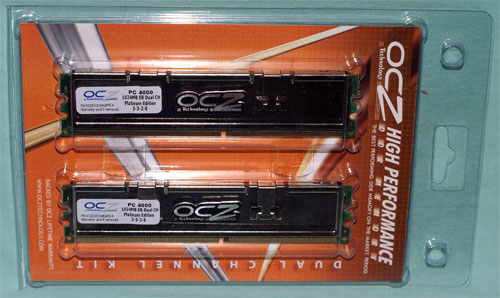 The OCZ trademark chrome heatspreaders announce the new DDR500 as Platinum Edition memory. In this case, the 1GB DIMMs are rated EB, or Enhanced Bandwidth. A DDR500 1GB DIMM rated at 3-3-2-8 timings certainly deserves the EB name, but in fact, the 1GB DIMMs perform even better.
Specifications
OCZ rates their 2GB high-speed kit at DDR500, in-between the spec for Corsair 433 and Gigaram 533.
OCZ PC4000 1024MB EB Platinum Memory Specifications
Number of DIMMs & Banks
2 DS
DIMM Size
Total Memory
1GB
2GB
Rated Timings
3-3-2-8 at DDR500
Rated Voltage
2.6V
We also see a low voltage requirement with the OCZ 2 GB kit - very similar to the voltage specified by Corsair for their 2GB kit.
Test Results
OCZ PC4000 1024MB EB Platinum (DDR500) - 2x1GB Double-Bank
CPU Ratio at 2.4GHz
Memory
Speed
Memory Timings
& Voltage
Quake3
fps
Sandra UNBuffered
Sandra Standard
Buffered
Super PI 2M places
(time in sec)
Wolfenstein - Radar - Enemy Territory fps
12x200
400DDR
2-3-2-7
2.5V 1T
545.1
INT 2657
FLT 2715
INT 5970
FLT 5902
80
120.4
11x218
436DDR
2-3-2-7
2.7V 1T
552.4
INT 2831
FLT 2974
INT 6222
FLT 6203
80
121.5
10x240
480DDR
2.5-3-2-7
2.6V 1T
560.5
INT 2976
FLT 3100
INT 6447
FLT 6376
79
123.1
9x267
533DDR
2.5-3-2-7
2.7V 1T
564.7
INT 3213
FLT 3292
INT 6684
FLT 6603
78
124.0
9x275
(2.48GHz)
Highest MEM Speed
550 DDR
3-3-2-7
2.7V 1T
581.2
INT 3351
FLT 3514
INT 6869
FLT 6774
76
127.6
To be considered stable for test purposes, Quake3 benchmark, UT2003 Demo, Super PI, Aquamark 3, and Comanche 4 had to complete without incident. Any of these, and in particular Super PI, will crash a less-than stable memory configuration.
OCZ did not reveal to us the manufacturer of the memory chips used in their 500EB 1GB DIMMs. There was also nothing on the DIMMs to help us in identifying the memory manufacturer. However, after running our full benchmarks on the OCZ PC4000 EB Platinum, we would be very surprised if the memory is other than Infineon. Performance from DDR400 to DDR480 is virtually identical to Corsair even down to the low voltage requirement, but performance continues on to DDR550 while still only needing the same very low 2.7V memory voltage.
Like the Corsair, this is a memory that does not need a special board with super high voltages to get the best from the memory. You can get the best from these 1GB with almost any decent motherboard, since we never needed more than 2.7V for stable performance at any speed.
We would really be interested in exactly which Infineon chips are used in this OCZ memory. It is either a slightly different chip than the Corsair, since it goes much higher in overclocking, or OCZ is doing some interesting binning of Infineon chips - something that would also not surprise us.