Corsair CMX1024-3500LL PRO
Corsair is the most widely recognized brand of enthusiast or high-performance memory in the world. Corsair also maintains very visible support in the form of RamGuy, who provides support for Corsair products at
www.asktheramguy.com
and as a participant in many Forums.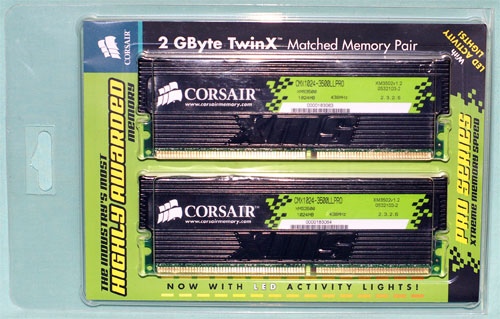 The 2GB TwinX Kit came as a matched pair of 1 GB DIMMs. These 1GB DIMMs are rated at DDR433, but Corsair tells us that they have also recently introduced fast 1GB DIMMs at higher rated speeds. The rated timings of 2-3-2-8 are the fastest of the three 2GB kits in these tests.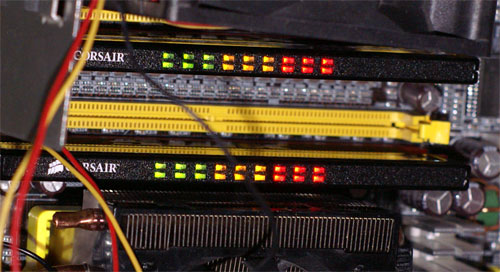 The 3500LL PRO includes aluminum heatspreaders and LED activity lights that give an active indication of the operation of the RAM. Corsair also markets an Expert line of DIMMs, which include Programmable LEDs that can display memory speed, memory voltage, and other useful memory diagnostic data.
Specifications
The CMX1024-3500LL PRO is rated at CAS 2, an extremely fast rating for a 1GB DIMM.
Corsair CMX1024-3500LLPRO Memory Specifications
Number of DIMMs & Banks
2 DS
DIMM Size
Total Memory
1GB
2GB
Rated Timings
2-3-2-8 at DDR433
Rated Voltage
Standard (2.6V) Voltage
Test Results
Corsair CMX1024-3500LLPRO (DDR433) - 2x1GB Double-Bank
CPU Ratio at 2.4GHz
Memory
Speed
Memory Timings
& Voltage
Quake3
fps
Sandra UNBuffered
Sandra Standard
Buffered
Super PI 2M places
(time in sec)
Wolfenstein - Radar - Enemy Territory fps
12x200
400DDR
2-3-2-7
2.5V 1T
547.4
INT 2654
FLT 2808
INT 5984
FLT 5918
80
120.8
11x218
436DDR
2-3-2-7
2.6V 1T
551.7
INT 2825
FLT 2990
INT 6246
FLT 6178
80
121.5
10x240
480DDR
2.5-3-2-7
2.7V 1T
558.4
INT 2991
FLT 3142
INT 6441
FLT 6360
79
122.5
10x246
(2.46GHz)
Highest MEM Speed
492 DDR
2.5-3-2-7
2.7V 1T
570.6
INT 3060
FLT 3250
INT 6570
FLT 6507
78
125.7
To be considered stable for test purposes, Quake3 benchmark, UT2003 Demo, Super PI, Aquamark 3, and Comanche 4 had to complete without incident. Any of these, and in particular Super PI, will crash a less-than stable memory configuration.
Several things stand out in the performance of this Corsair. We were able to maintain 2-3-2 timings all the way to DDR456. These excellent timings are very close to the best 2-2-2 that we currently see with 512MB DIMMs. The memory was able to accomplish this at very low voltage 2.6 to 2.7 volts. In fact, the Infineon chips that Corsair uses rarely need or like higher voltage. Increasing voltage beyond 2.7V did not allow us to go any higher in overclocking, nor did more relaxed timings allow us to push higher. The limit is DDR492 - very close to DDR500.
Corsair appears to have binned these Infineon chips for fastest performance in the most used DDR400 to DDR480 range. In that range, these 1GB DIMMs perform very competitively with the best 512MB DIMMs.