Introduction
When thinking about the ideal gaming system, your first choice probably wouldn't be a laptop. It's common sense that desktop systems are better suited to meet the requirements needed for serious gaming. Lately though, we've been seeing some notebook systems that try to tackle this preconception, with interesting results. One of these systems, made by Hypersonic, does the job very well. While it is an excellent laptop, one part on the inside really caught our attention.
Any gaming system needs a good graphics card, and if you were thinking about the most powerful one right now, you'd be thinking about NVIDIA's 7800 GTX. (The X1800 XT might surpass it, but it will be another month before you can purchase such cards.) We've reviewed many of these cards and given their huge power draws, high heat levels, and generally monstrous size (for a graphics card), the thought of one of these cards in a notebook would have seemed a bit ludicrous. But it looks like NVIDIA has managed to fit one in there with their mobile version of the card, the GeForce Go 7800 GTX.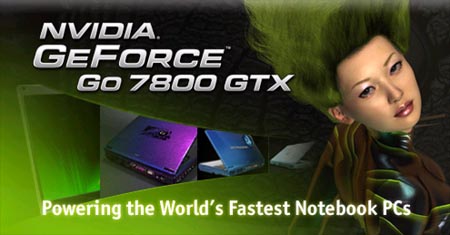 The system that we're reviewing is the Hypersonic Aviator EX7, and it appears to be the most powerful gaming notebook on the market at this time. The GeForce Go 7800 GTX does differ slightly from its desktop counterpart, and we'll be talking about those differences in the next section. We'll also be looking at some performance test results to give us a better idea of how the Go 7800 GTX compares with a normal 7800 GTX. Rest assured, the Go 7800 GTX lives up to its name and the results are impressive indeed.
Notebook gaming is, by no means, new. Both NVIDIA and ATI have been making quality mobile versions of their most popular parts, which we've looked at in the past. Specifically, the
Mobility RADEON X800 XT by ATI
and
NVIDIA's GeForce Go 6800 Ultra
. Now, we have a chance to look at the performance of the mobile version of the 7800 GTX: the most powerful mobile graphics card currently on the market.