Battlefield 2 Performance
The most requested game that we didn't include in our initial coverage is Battlefield 2. This highly popular game is quite important in comparing performance, as it does an excellent job of setting the standard for first-person shooter quality. The numbers that we attained came from running our custom BF2 demo on the highest quality settings. This means that anisotropic filtering was enabled both with and without AA (as Doom 3's high quality mode also enables AF).
Our "no AA" performance numbers show the X1800 XT performing on par with the 7800 GTX until we move beyond 1600x1200. The 7800 GT has an advantage over the X1800 XL as well. The most important thing to note is that this is the only test that we have run to show the X1600 XT performing on the level of the GeForce 6800 GT. While it is good to see the new mid-range part performing in its price class, one title is not enough to make it worth the $250. The "budget" X1300 doesn't quite perform as well as the 6600 GT, which looks to sell at about the same price.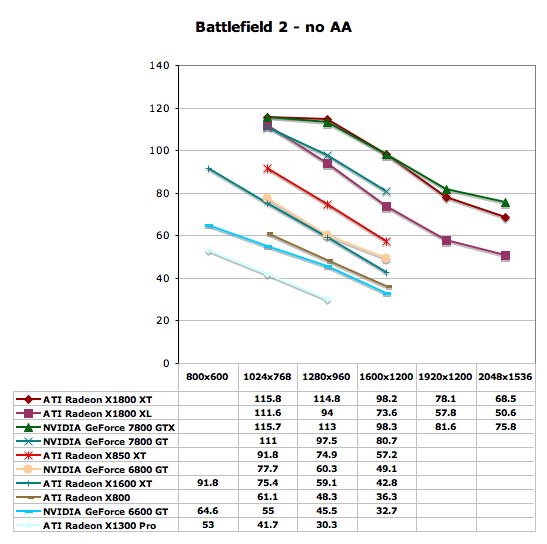 After enabling 4xAA on Battlefield 2, the X1800 XT really stretches its legs. Likewise, the X1800 XL jumps ahead of the 7800 GT. When we move to the X1600 XT, the numbers show it falling further behind the 6800 GT.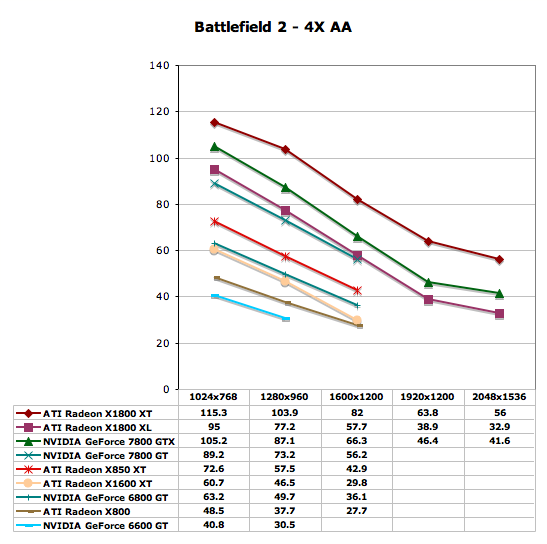 The X1800 XT bearly breaks a sweat when AA is enabled dropping at most 18.3 percent. In fact, at every resolution, the X1800 XT drops about half the percent decrease in performance as seen on the 7800 GTX explaining the change in leadership between our two tests. Dropping more than the 6800 GT and less than the 6600 GT (percentage-wise), the X1600 XT shows different characteristics than its heavier hitting siblings.
Next up is Day of Defeat: Source. We already had a peak at this game's performance earlier this week. Now, let's see if our extended data supports what we saw then.