Mid-Range Perforamnce
The X1600 XT costs much more than the 6600 GT and performs only slightly better in some cases. It's real competition should be something more along the lines of the 6800 GT which is able handle more than the new midrange ATI part. $249 for the X1600 XT compared to
$288 for the 6800 GT
shows the problem with the current pricing.
As we can easily see, the 6800 GT performs quite a bit better than the X1600 XT. From what we see here, the X1600 XT will need to fall well below the $200 mark for it to have real value at these resolutions with the highest settings. The 6600 GT is the clear choice for people who want to run a 1280x1024 LCD panel and play games comfortably with high quality and minimal cost.
Looking at Doom 3, it's clear that the X1600 XT falls fairly far behind. But once again, when 4xAA and 8xAF are enabled the X1600 performs at the level of the 6600 GT.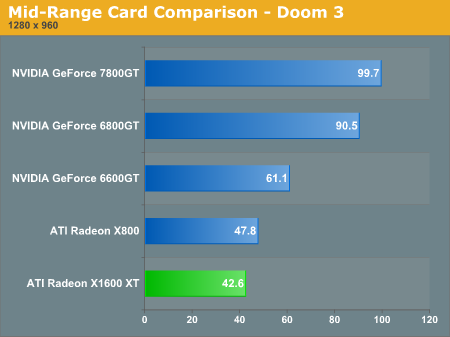 Eventhough this game is based on the engine that powered Half-Life 2 (and traditionally favored ATI hardware), the X1600 XT isn't able to surpass the 6600 GT in performance. The game isn't playable at 1280x960 with 4xAA and 8xAF enabled, but for what it is worth the X1600 XT again scales better than the 6600 GT.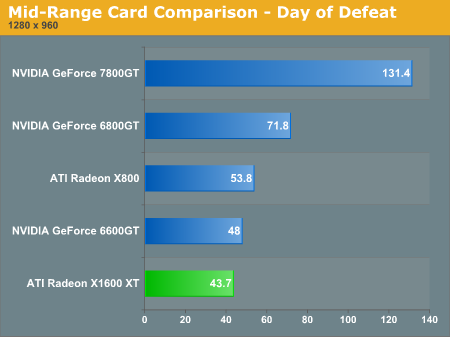 Far Cry and Everquest II are the only two games that show X1600 XT performing beyond the 6600 GT at 1280x960 with no AA or AF. Even though these games scale better with AA and AF enabled on ATI's newest hardware, the framerates are not playable (with the exception of Far Cry). We should see a patch from Crytek in the not too distant future that expands HDR and SM3.0 features. We will have to revisit Far Cry performance when we can get our hands on the next patch.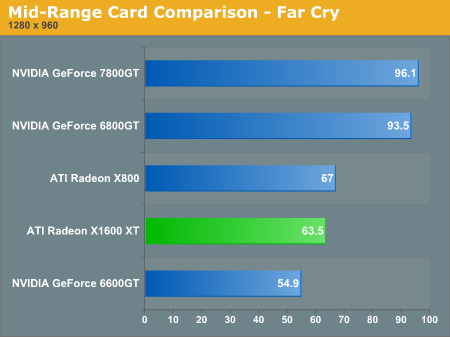 The X1600 performs exactly on par with the X800 in this test. Both of these ATI midrange cards outpace the 6600 GT from NVIDIA, though the 6800 GT is 50% faster than the X1600 XT. Again, cost could become a major factor in the value of these cards.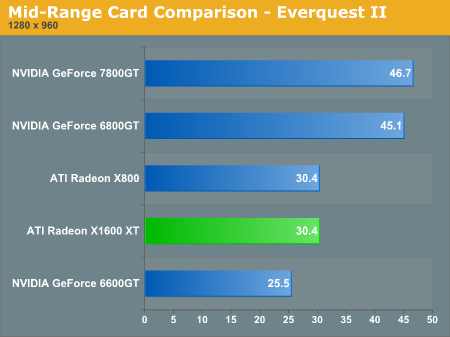 Splinter Cell is a fairly demanding game and the X1600 XT and 6600 GT both perform at the bottom of the heap in this test. Of course, ultra high frame rates are not necessary for this stealth action game, but the game certainly plays more smoothly on the 6800 GT at 51 fps. The 6800 GT also remains playable with AA/AF enabled while the X1600 and 6600 GT do not.