Budget Performance
For budget performance, we feel that 1024x768 is the proper target resolution. People spending near the $100 mark can't expect to acheive performance at high resolutions. But with current hardware, we can play games at moderate resolutions without loosing any features.
The X1300 is targeted at the budget market, but we focued on testing our X1300 Pro against slightly higher performing parts because of it's pricing. The X1300 does quite well versus the traditional low end 6200 TC and X300 parts, but can't really compete with the 6600 GT which is priced near the $149 MSRP of the X1300 Pro.
Under Doom 3 (and many OpenGL applications) NVIDIA holds a lead over ATI hardware. While it is understandable that the X1300 Pro isn't able to match preformance with NVIDIA's $150 6600 GT, the $250 MSRP X1600 XT laggs far behind as well. It is quite interesting to note that the X1600 closes that gap (and performs slightly better than the 6600 GT) when 4xAA and 8xAF are enabled at this resolution. But at such low res, the better bet is to increase the setting to 1280x1024 with no AA where the 6600 GT maintains about a 20% performance lead. Doom 3 is also a fairly low contrast game, meaning that jagged edges are already hard to see.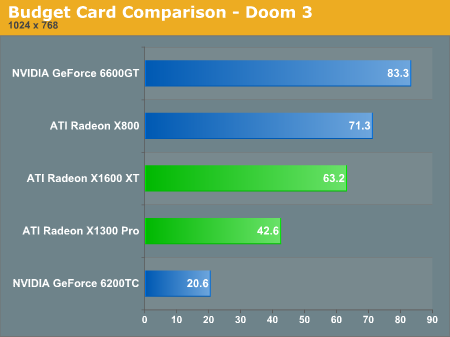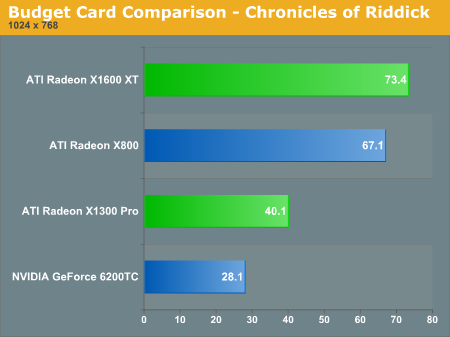 Under Valve's Day of Defeat: Source, the latest resurrection of a past title by Valve (and also the first to feature HDR), The 6600 GT and X800 perform on par with what we would expect while the more expensive X1600 XT lags behind and the X1300 looks to perform where a budget card should. Enabling 4xAA and 8xAF on this game closes the gap between the 6600 GT and X1600 XT: they both run at about 48 fps under this setting, followed by the X800 at nearly a 43 fps average.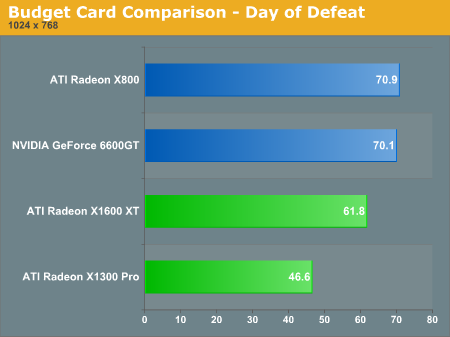 Far Cry provides a victory for the X1600 XT over the 6600 GT, but we still have the expensive X1300 Pro lagging it's closer cost competitor by a large margin.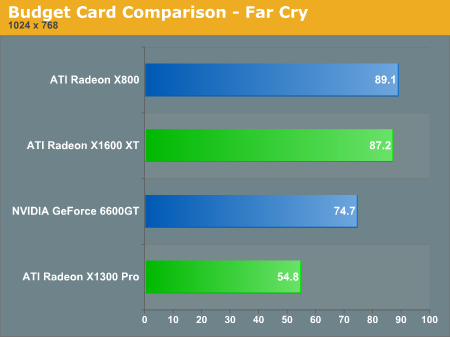 Everquest II on very high quality mode shows the X1600 XT to lead this segment in performance. Current ~$100 parts are shown to perform horribly at this setting scoring single digit framerates. The X1300 Pro is definitely playable at very high quality at 1024x768 (which we would recommend over a lower quality setting at a higher resolution). Extreme quality still doesn't perform very well on any but the most expensive cards out there and really doesn't offer that much more interms of visual quality.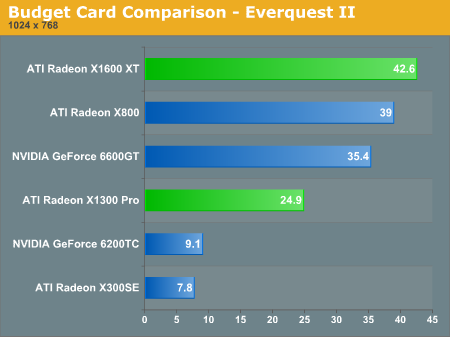 When testing Splinter Cell: Chaos Theory, the new X1000 series of cards give a very good performance. This time around, the X800 and 6600 GT don't perform equally, and it looks as though the additions to the RV5xx architecture can make quite a difference depending on the game being played.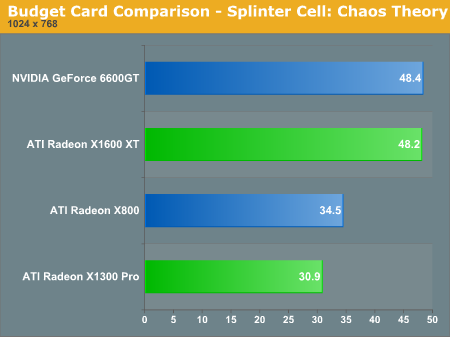 To see the continuing saga of the X1600 XT, we will take a look at midrange performace numbers at 1280x960.