Test Setup and Power Performance
Our testing methodology was to try and cover a lot of ground with top to bottom hardware. Including the X1300 through the X1800 line required quite a few different cards and tests to be run. In order to make it easier to look at the data, rather than put everything for each game in one place as we normally do, we have broken up our data into three separate groups: Budget, Midrange, and High End.
We used the latest drivers we had available which are both beta drivers. From NVIDIA, the 81.82 drivers were tested rather than the current release as we expect the rel 80 drivers to be in the end users hands before the X1000 series is easy to purchase.
All of our tests were done on this system:
ATI Radeon Express 200 based system
AMD Athlon 64 FX-55
1GB DDR400 2:2:2:8
120 GB Seagate 7200.7 HD
600 W OCZ PowerStreams PSU
The resolutions we tested range from 800x600 on the low end to 2048x1536 on the high end. The games we tested include:
Day of Defeat: Source
Doom 3
EverQuest 2
Far Cry
Splinter Cell: Chaos Theory
The Chronicles of Riddick
We were interested in testing the FEAR demo, but after learning that the final version would change the performance characteristics of the game significantly, we decided it would be best to wait until we had a shipping game. From what we hear, the FEAR demo favors ATI's X1000 series considerably over NVIDIA hardware, but performance will be much closer in the final version.
Before we take a look at the performance numbers, here's a look at the power draw of various hardware.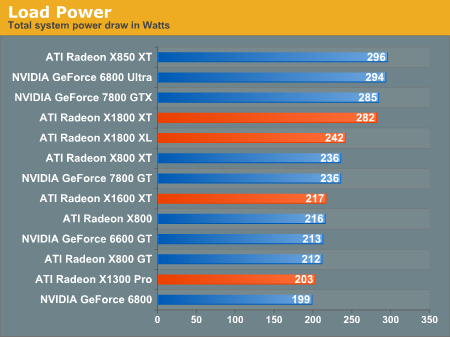 As we can see, this generation draws about as much power as previous generatation products under load at the high end and midrange. The X1300 Pro seems to draw a little more power than we would like to see in a budget part. The card also sports a fan that is just as loud as the X1600 XT. Considering that some of the cards we tested against the X1300 Pro were passively cooled, this is something to note.