SanDisk Ultra II Plus USB
Our final entry from SanDisk isn't exactly a USB flash drive. Instead, it is a SD card that has a USB interface directly on the card itself. The drive can be used both as a SD card and as a USB drive. Obviously here, we are more concerned with it as a USB drive.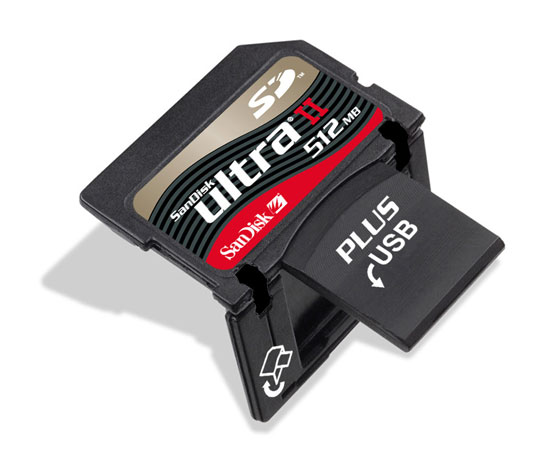 To reveal the USB connector, you simply push the rear part of the SD card down and that part snaps away, revealing a USB connector. Much like the I-Stick's USB connector, there's obviously no metal surround, just the actual USB contacts themselves mounted to the plastic card.
Unfortunately, because of the nature of the card/drive, it actually feels quite flimsy. So although the form factor is nice, it isn't as solid feeling of a drive as PQI's I-Stick, since it is made of multiple movable pieces.
Obviously, this drive is more for users who have a camera or device that can use a SD card, as it makes for an easy way to get the contents of the drive onto a computer without worrying about finding a reader.