The ATI Xpress 200 Chipset Family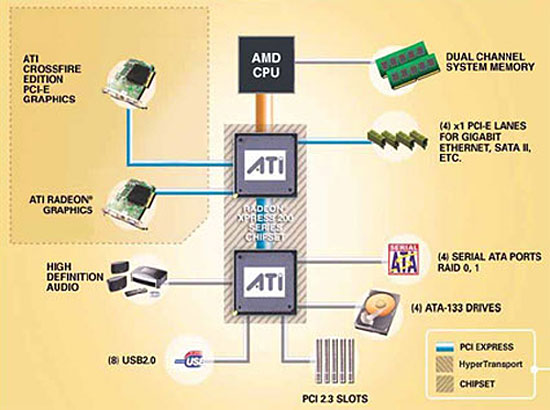 At the heart of all the new chipsets and boards is Radeon Xpress 200, whether single GPU or Dual GPU, with integrated graphics or with discrete graphics only. You can find more information on Radeon Xpress 200 in
ATI Radeon Xpress 200: Performance, PCI Express & DX9 for Athlon 64
. The North Bridge chips do vary between AMD and Intel solutions, but any of the North Bridge chips can be combined with one of several South Bridge chips from both ATI and ULi.
Last fall's introduction of the ATI AMD chipsets featured the SB400 south bridge. The recent introductions combine the north bridge with the ATI SB450 south bridge, which features High Definition Azalia audio for both AMD and Intel. This was the first chipset to bring High Definition audio to AMD. Recently, NVIDIA introduced
the GeForce 6100 integrated graphic solution
that also brings HD audio to AMD. However, NVIDIA's top nForce4 chipset, used in most enthusiast motherboards, does not support HD audio.
The SB 450 also supports PCI-e Gigabit LAN, standard SATA 150, and has improved USB burst performance compared to the earlier SB400 chipset. We will see full SATA 2 support and a completely reworked USB controller in the SB600, which will launch in the 4
th
quarter of this year.
The various ATI Radeon Xpress 200 north bridges can also be combined with ULi south bridges. The current ULi 1573 provides all the features of the ATI SB450 except integrated Gigabit Ethernet. This includes High Definition Azalia audio. Gigabit Ethernet can be added to the 1573 as an external chip. The ULi 1573 also supports NCQ hard drives, which are not supported on the SB450.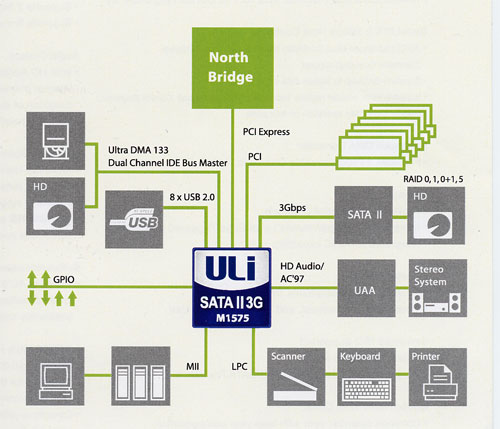 ULi has recently introduced the M1675 chipset, which adds SATA II 3Gb/sec to the feature set. The M1573/M1575 family are particularly interesting, since both south bridges are pin-compatible - making the upgrade to M1575 an easy task when the south bridge is finally available to manufacturers.