Everquest II Performance
Here now is a game where the X800 GT really shines. Granted, the framerates are all rather low (besides the X800 XT); however, EQ2 is an RPG and doesn't require 60+ FPS. We'd say that 30 FPS is what you should look for in EQ2 for a playable experience.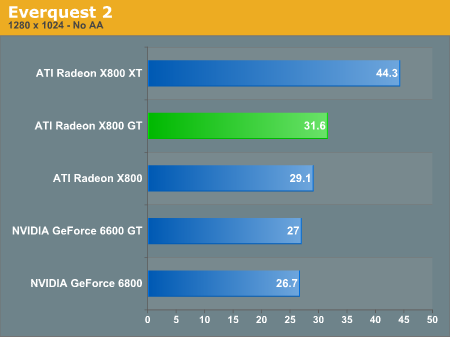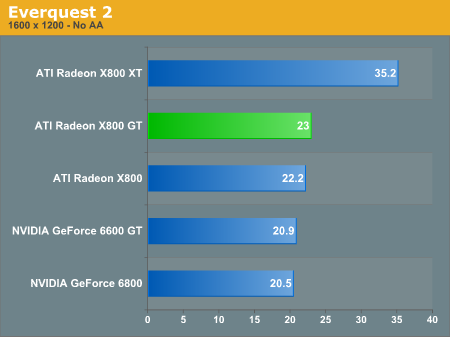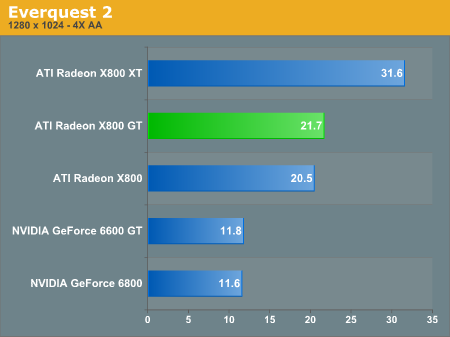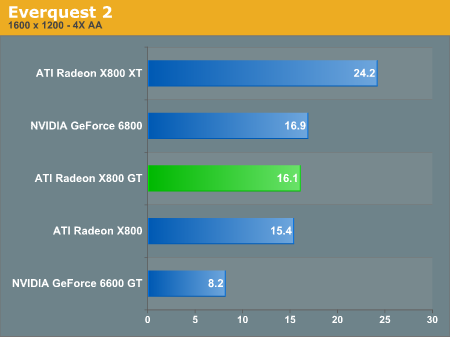 Relative to the other similarly priced cards, the X800 GT does very well here. It's the only one to break the 30 FPS mark at any of the tested resolutions, ignoring the higher cost X800 XT. While we'd even go so far as to say that all of the cards can handle 1280x1024 without AA, higher resolutions and the use of 4xAA drop performance to unacceptable levels.
Keep in mind that Everquest 2 probably takes the win in our opinion as the most demanding game out right now in terms of graphics requirements. Also, there are different overall quality settings in the game options such as "ultra-high", "very-high", etc. and we ran these tests on the "very-high" setting. With the quality setting turned down a notch or two, the game runs very smoothly, and if EQ2 is your game of choice, you will likely be pleased by the performance that the X800 GT has to offer. You might also consider dropping to 1024x768 for EQ2 - provided that you're not using an LCD, that is.