The GeForce 6100 Family
There are two Northbridges, the 6100 and the 6150, and 2 Southbridges, the 430 and 410, that can be mixed and matched to cover a wide range of Integrated Video Solutions.
Specifications:
NVIDIA GeForce 6150
NVIDIA nForce 430
NVIDIA GeForce 6100
NVIDIA nForce 430
NVIDIA GeForce 6100
NVIDIA nForce 410
CPU
Athlon 64 or Sempron
Athlon 64 or Sempron
Athlon 64 or Sempron
PureVideo (High Definition)
Yes
Yes
Yes
DirectX® 9.0 Shader Model 3.0 Support
Yes
Yes
Yes
TV Encoder
Yes
No
No
TMDS/DVI
Yes
No
No
Graphics Clock
475 MHz
425 MHz
425 MHz
PCI-Express
1x16
2x1
1x16
1x1
1x16
1x1
MPEG-2/WMV9 Playback
HD(1080p/1080i)
SD
SD
Video Scaling
High Quality(5x4)
Basic (2x2)
Basic (2x2)
SATA/PATA drives
4/4
4/4
2/4
SATA speed
3Gb/s
3Gb/s
3Gb/s
RAID
0,1,0+1,5
0,1,0+1,5
0,1
NVIDIA MediaShield
Yes
Yes
Yes
NVIDIA ActiveArmorTM Firewall
Yes
Yes
-
Ethernet
10/100/1000
10/100/1000
10/100
USB ports
8
8
8
NVIDIA nTuneTM Utility
Yes
Yes
Yes
While nVidia did not include this specification in their release, there is one large potential negative with GeForce 6100. 6100 uses only 2 pixel pipelines, the same number of pixel pipelines used in ATI's Radeon Express 200. Since the gaming performance of the ATI was barely acceptable, even for the low end, the performance of the 6100 is not likely to be very exciting.
On the positive side, GeForce 6100 does NOT automatically disable on-board graphics when a PCIe Graphics Card is inserted. That means the integrated graphics plus graphics card can drive up to 4 monitors if the motherboard supports both integrated video outputs. This is also a feature on the ATI Radeon Xpress200 chipset.
The most feature-laden combination is the GeForce 6150 with the nForce430, including unique features like TV Encoder, High Definition (1080ip/1080i) playback, and Gigabit LAN.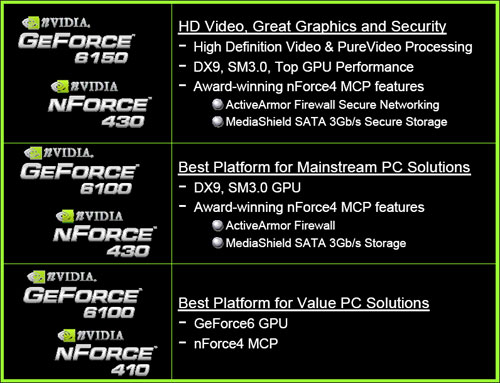 More basic configurations are available for use in applications where the top features are not needed, or price is a big concern. NVIDIA has no plans to provide SLI capabilities on the GeForce 6100 boards. The boards are ATX and aimed more at the mainstream market served by system builders, system integrators, and OEMs.