NVIDIA
ECS is already shipping the NVIDIA AMD motherboards based on the NVIDIA SLI chipsets.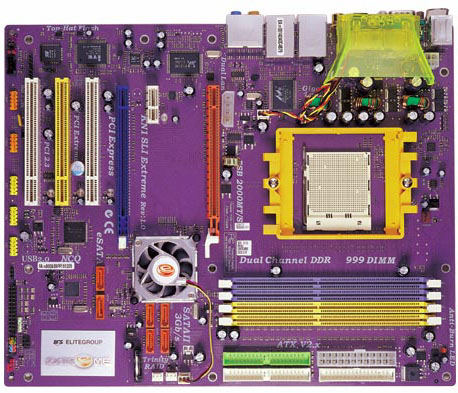 The board is called the KN1 SLI Extreme and the board is currently entering the retail channel.
Shipments have just begun on the NVIDIA C19 version for Intel Socket 775. That board is called the PN1 Extreme and it is expected shortly in the retail channel.
One of the more interesting parts of NVIDIA's presentation was their announcement that the new dual x16 NVIDIA SLI would move to the high-end or enthusiast level of motherboard pricing. The current dual x8 NVIDIA SLI will move to mainstream pricing, where standard NVIDIA motherboards will sell for $100 to $120. This is good news for those who have wanted to use SLI, but were priced out of the market.
NVIDIA also emphasized that moving SLI to mainstream in the future will give buyers a more flexible PCIe slot arrangement - even if they never use SLI. The second x16 slot can function with future PCIe devices above x1 PCIe, which is a feature rarely available on lower cost nForce4 boards.