The Card
We've talked a little about this before, but the 7800 GT is nearly identical to the 7800 GTX aside from a few things, the most important being the pipelines. The GT drops 1 vertex and 4 pixel pipelines, getting about 17% less pixel power per clock cycle than the GTX. This means that even at the same clock speed, the GTX should have a theoretical advantage of about 20% over the GT. Another difference is that the GT is clocked lower than the GTX: 400MHz core and 1GHz memory as opposed to 430MHz and 1.2GHz. However, as we will show in the next section, the clock speeds of the two cards are close enough together to overclock the GT up to or beyond the speed of the standard GeForce 7800 GTX.
That being said, the XFX GeForce 7800 GT Overclocked (in case it isn't obvious by the name)
does
come with a factory overclock of 450MHz core and 1.05GHz memory clock speeds. This will give it a slight increase in performance over the reference 7800 GT, and we'll be seeing by how much a little later in the review. Also, the XFX 7800 GT has dual link DVI on one port, just like the GTX, in case you are lucky enough to own a monitor that can use it.
As you can see, the XFX 7800 GT looks very similar to the XFX 7800 GTX, the only difference being the style of the heat sink. XFX has dropped the shiny rainbow sticker that was on the 7800 GTX and replaced it with a much more practical looking gray cutout; perhaps a reference to a "no frills" take of the 7800. The box is practically identical to the one for the GTX, complete with the unique "x" shape and extremely-difficult-to-open-without-tearing packaging.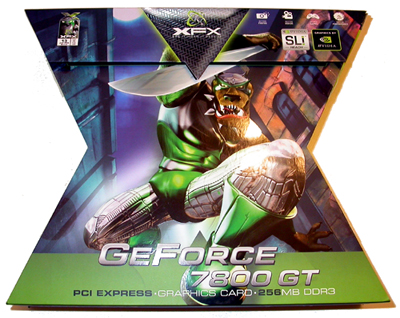 Also, the card comes bundled with a few games: FarCry, X2 The Threat, and Moto GP2. We aren't sure about the other two games, but FarCry is a great game with graphics that will make you happy that you bought a 7800 to run it on. Next, we'll take a look at overclocking the 7800 GT.