Z790 Chipset: More I/O Than Z690, But Same Performance
One of the main talking points surrounding all processor launches at present is platform affordability. When Intel launched its 12th Gen Alder Lake core series processors towards the tail end of 2021, it enabled users to utilize the higher bandwidth DDR5 memory in a desktop platform. As DDR5 memory supply was low and consumer demand was high during Alder Lake's initial launch, this sky rocketed prices and it made it near impossible for users to buy a DDR5 kit to use with 12th Gen. Intel did offer support for both DDR5-4800 and DDR4-3200, but motherboards (600-series) could only support one or the other.
Although this hasn't changed with Intel's latest Z790 chipset, Intel does offer support for both DDR5 and DDR4 with its 13th Gen Raptor Lake Core processors; something AMD doesn't do with Ryzen 7000 series, much to consumer's angst. Even though Intel has opted for a higher DDR5 memory speed (5600 MT/s versus 4800 MT/s) compared to Alder Lake, DDR4 memory support remains at DDR4-3200.
Intel Z690, Z590, and Z490 Chipset Comparison
Feature
Z790
Z690
Z590
Z490
Socket
LGA1700
LGA1700
LGA1200
LGA1200
PCIe Lanes (CPU)
16 x 5.0
4 x 4.0
16 x 5.0
4 x 4.0
20 x 4.0
16 x 3.0
PCIe Lanes (Chipset)
20 x 4.0
8 x 3.0
12 x 4.0
16 x 3.0
24 x 3.0
24 x 3.0
PCIe Specification (CPU)
5.0/4.0
5.0/4.0
4.0
3.0
Memory Support
DDR5-5600B
DDR4-3200
DDR5-4800B
DDR4-3200
DDR4-3200
DDR4-2933
PCIe Config
x16
x8/x8
x8/x8/x4
x16
x8/x8
x8/x8/x4
x16
x8/x8
x8/x8/x4
x16
x8/x8
x8/x8+x4
DMI Lanes
x8 4.0
x8 4.0
x8 3.0
x4 3.0
Max USB 3.2 (Gen2/Gen1)
10/10
10/10
6/10
6/10
USB 3.2 Gen 2x2 (20 Gbps)
Y (5)
Y (4)
Y (4)
ASMedia
Total USB
14
14
14
14
Max SATA Ports
8
8
6
6
Memory Channels (Dual)
2/2
2/2
2/2
2/2
Intel Optane Memory Support
N
Y
Y
Y
Intel Rapid Storage Tech (RST)
Y
Y
Y
Y
Integrated Wi-Fi MAC
Wi-Fi 6E
Wi-Fi 6E
Wi-Fi 6
Wi-Fi 6
Intel Smart Sound
Y
Y
Y
Y
Overclocking Support
Y
Y
Y
Y
Intel vPro
N
N
N
N
ME Firmware
16
16
15
14
TDP (W)
6
6
6
6
Looking at the Intel chipset comparison table above, one could really question what's actually different about Z790 when compared directly to Z690, especially given that Z690 does allow full support for 13th Gen processors; yes, there is no hidden secret sauce or performance unlocking features, Z690 and Z790 will perform the same in compute and gaming.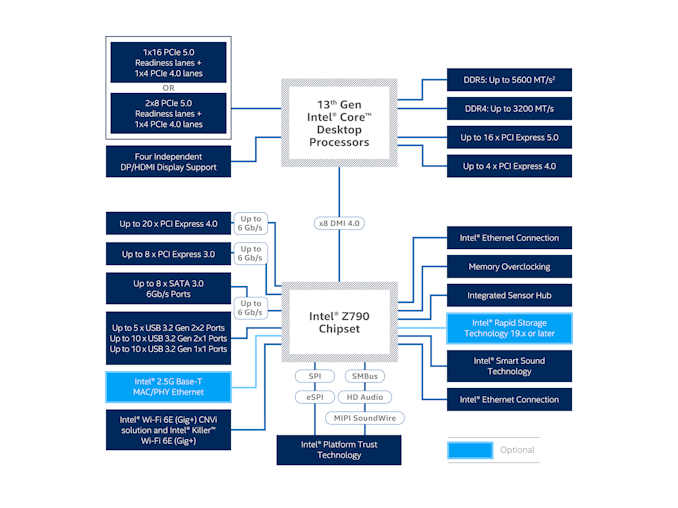 The key differences are that Z790 offers an additional 8 x PCIe 4.0 lanes from the chipset, but at the cost of 8 x PCIe 3.0 lanes. This means Z790 still offers a total of 28 x PCI lanes when compared to Z690, but it gives vendors further flexibility to utilize the extra PCIe 4.0 lanes for high bandwidth M.2 slots and additional Thunderbolt 4 controllers, while still offering a few PCIe 3.0 lanes for devices such as additional NICs, streaming cards, and other non-bandwidth critical devices.
Intel says Goodbye to Optane Memory (Cache), No Support on Z790
One thing to note with Z790 is that along with Intel's decision to kill its Optane business; this chipset will NOT support Intel's Optane Memory, Intel's Optane-based drive caching solution. Using Z690 combined with 12th Gen should still yield the same level of support as before, but using Z790 will not allow Optane Memory to be used, which is understandable as Intel winds down its Optane and 3DXpoint storage division.
The main benefit for opting for Z790 over Z690 is essentially down to PCIe 4.0 I/O capabilities, with support for one more additional USB 3.2 G2x2 Type-C port compared to Z690. Having spoken to Intel directly about processor performance with either chipset, they made it clear that they do not expect compute or gaming performance to be any different regardless of whether you're using the new Z790 or the existing Z690 chipset.