Gaming Performance: 720p And Lower
The reason we test games in CPU reviews at lower resolutions such as 720p and below is simple; titles are more likely to be CPU bound than they are GPU bound at lower resolutions. This means there are more frames for the processor to process as opposed to the graphics card doing the majority of the heavy lifting.
There are some variances where some games will still use graphical power, but not as much CPU grunt at these smaller resolutions, and this is where we can show where CPU limitations lie in terms of gaming.
We are using DDR5 memory on the Core i9-13900K, the Core i5-13600K, the Ryzen 9 7950X, and Ryzen 5 7600X, as well as Intel's 12th Gen (Alder Lake) processors at the following settings:
DDR5-5600B CL46 - Intel 13th Gen
DDR5-5200 CL44 - Ryzen 7000
DDR5-4800 (B) CL40 - Intel 12th Gen
All other CPUs such as Ryzen 5000 and 3000 were tested at the relevant JEDEC settings as per the processor's individual memory support with DDR4.
Civilization VI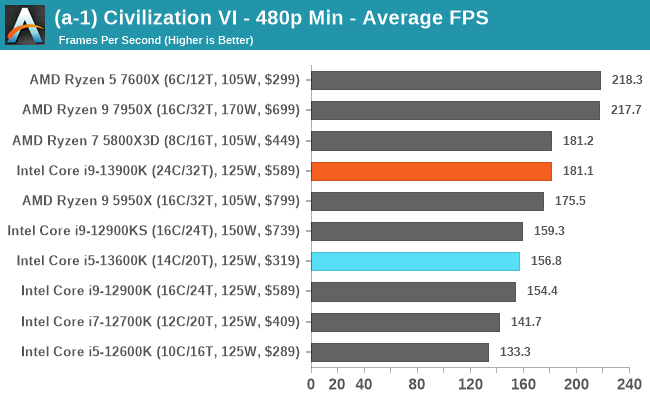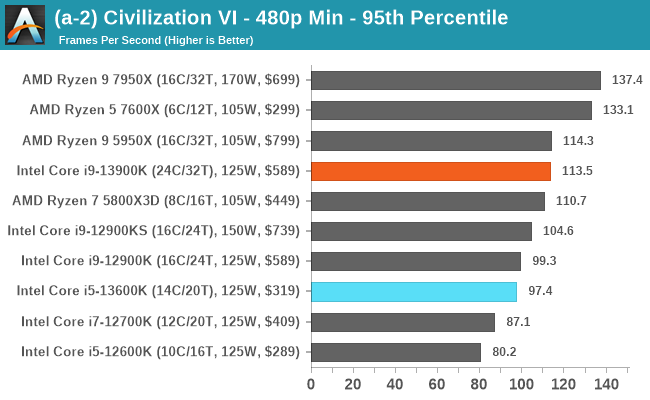 World of Tanks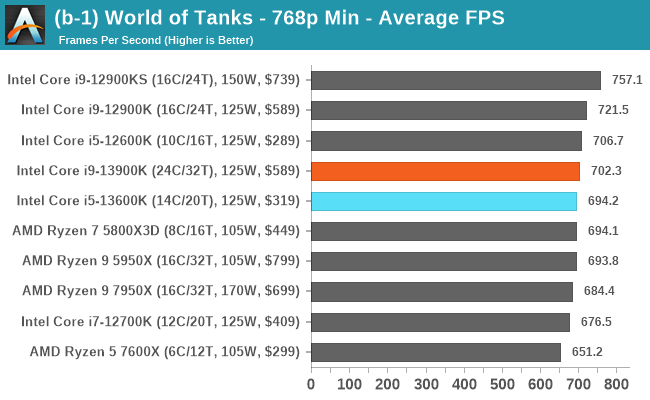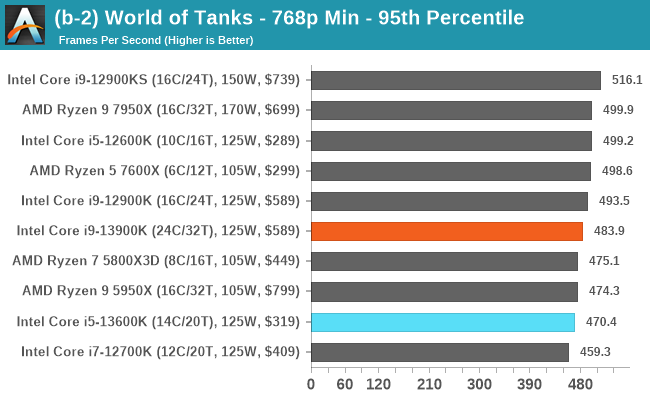 Borderlands 3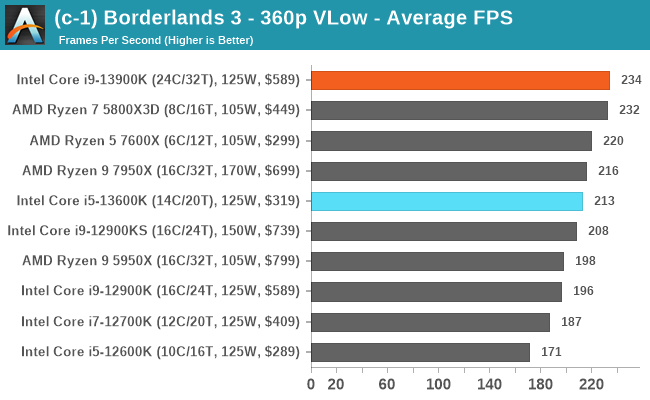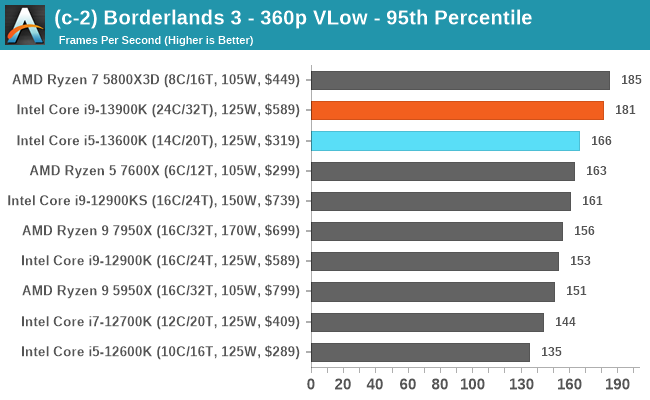 Grand Theft Auto V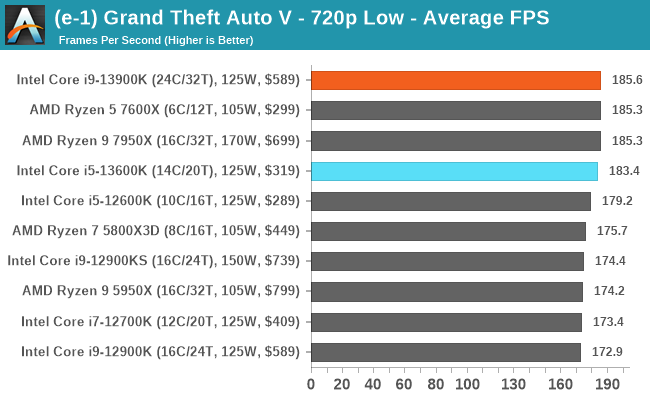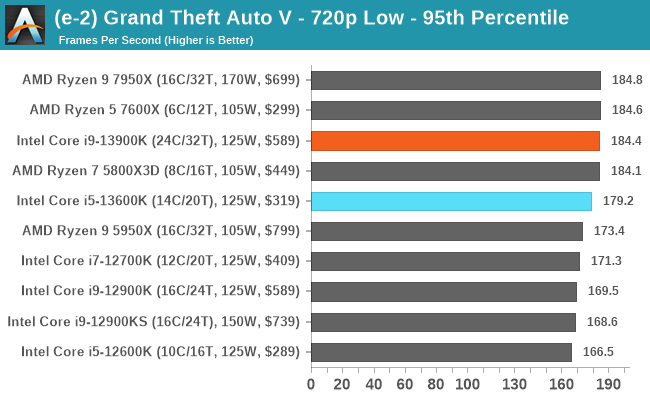 Red Dead Redemption 2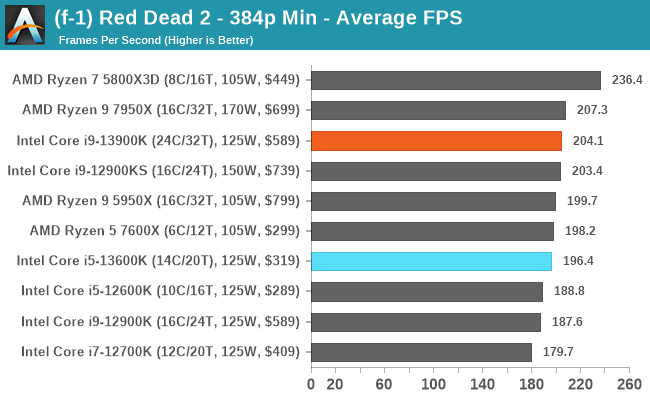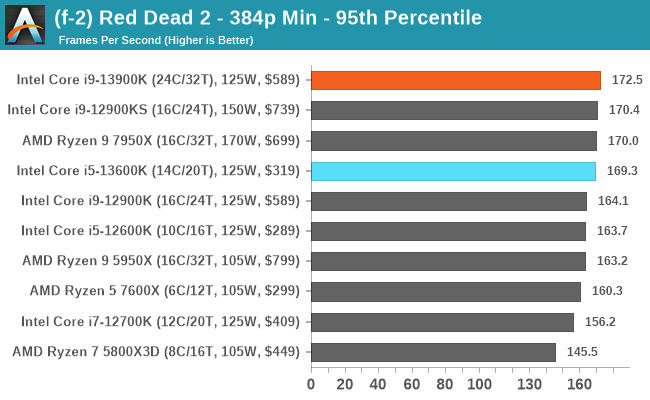 F1 2022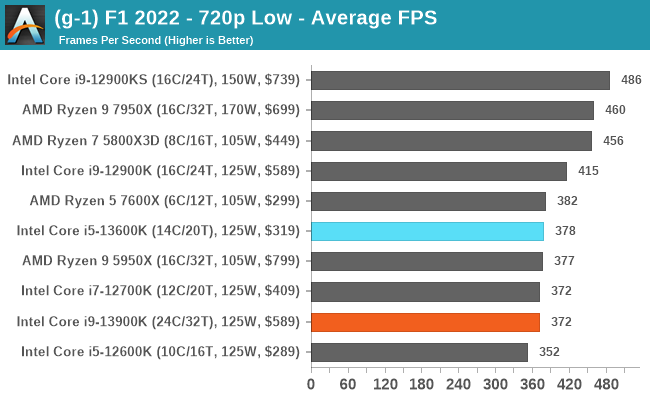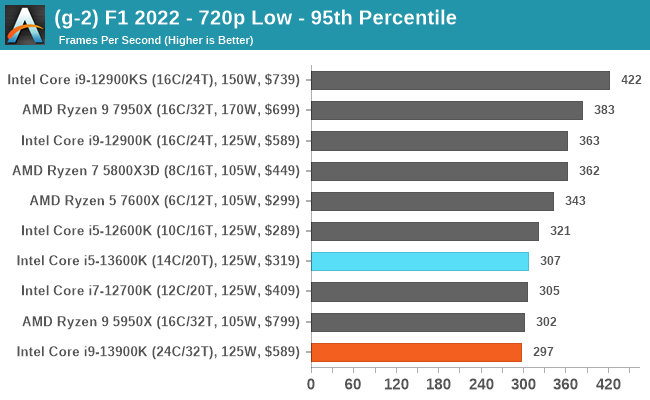 Hitman 3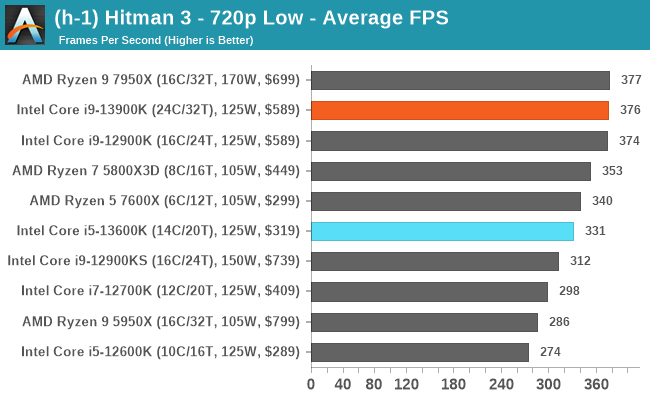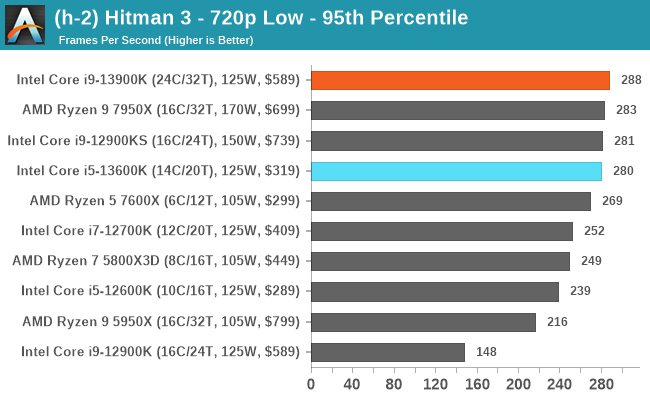 Total War: Warhammer 3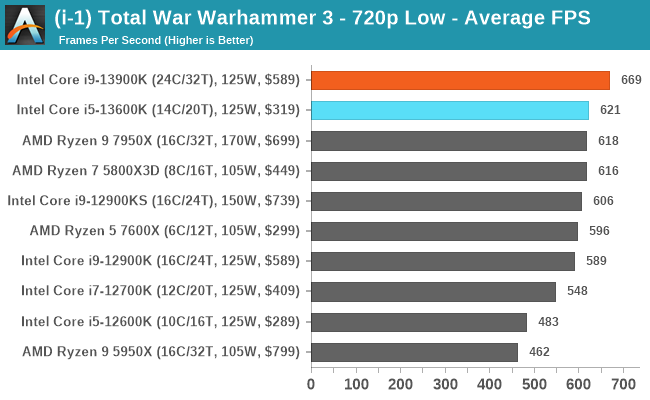 Cyberpunk 2077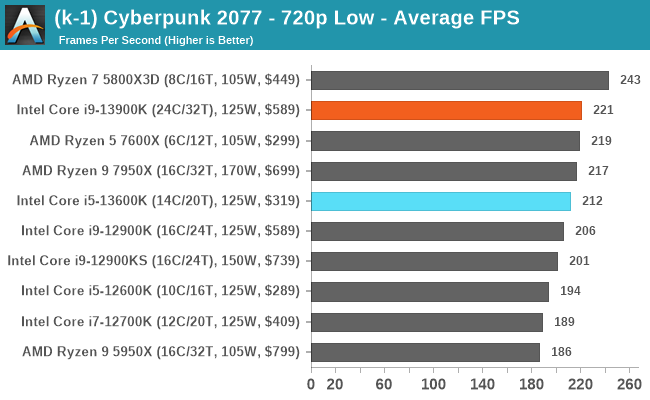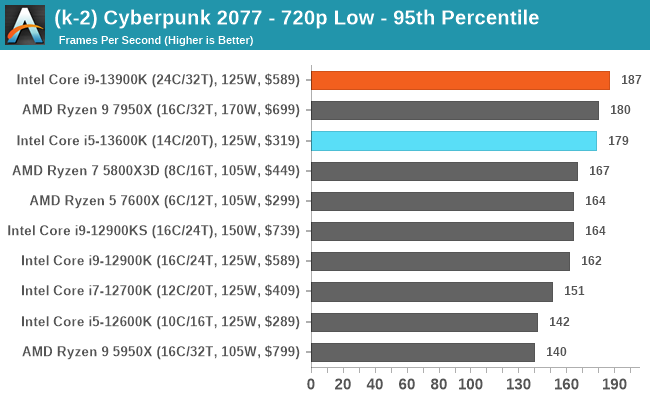 Digesting our results at 720p (and lower) resolutions, we can see that things are quite competitive at the top end, especially with the Core i9-13900K and the Core i9-12900KS across most of the games. Some of the games from our testing look to benefit from a different variable, whether that is core count, quality of cores versus core count and frequency; L3 cache size, or a mixture of all three.
In World of Tanks, the majority of the field of processors on test look to be within a certain margin depending on frequency, IPC, and core count. The Ryzen 9 7950X does well here, although the latest Raptor Lake chips seem to be hovering around the levels of performance as the previous 12th Gen Core chips. In Civ VI, the latest AMD Ryzen 7000 and their Zen 4 cores dominate the field, while the 5800X3D and R9 5950X are also competitive. Behind these come the Intel chips with the Core i9-13900K performing the best of those.
Overall, it's a bit of a mixed bag at 720/480p in terms of performance. There are cases where Raptor Lake performs well, but equally, the same can be said for the Ryzen 7000 chips. But ultimately, none of the top chips here have a 95th percentile frame rate lower than 170fps in any action game, while the more unique Civlization 6 never drops 114fps. Which is to say that these high-end CPUs aren't likely to be a gaming performance bottleneck any time soon – getting a GPU that can keep up at higher resolutions is going to be the harder task.