The Card
The box for this card is by far the most creative that we've seen to date. It's in the shape of an "x" and we found it to be the most challenging of the 7800 GTX boxes to get into. The card itself looks just like NVIDIA's reference card with two exceptions. One is the shiny reflective sticker on the heat sink, and the other is a metal bar running along the top of the card (which does as much for aesthetics as for anything else). There is a hole cut into it to allow the SLI setup in case you are lucky enough to own two of these.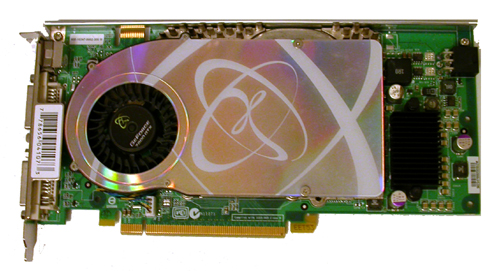 The version that we received didn't come bundled with any games, but there is a version that comes with
Battlefield 2
. This has been a trend among most of the 7800 GTXs that we've seen, and it's no surprise given the popularity of the game and the high system requirements. The only other game bundle that we've seen worth mentioning is
The Chronicles of Riddick
, which comes with the MSI NX7800 GTX. While not quite as popular as Bf2 and a single-player only game, this is still excellent and we highly recommend it.
As we mentioned in the introduction, the XFX GeForce 7800 GTX Overclocked comes out of the box at the same clock speeds as the EVGA e-GeForce 7800 GTX KO. The core clock is set at 490MHz and the memory clock at 1.3GHz. This means that EVGA no longer holds the title of the fastest 7800 GTX. Although, for what little it's worth (and we realize it's not much), the EVGA KO still holds the title for the best looking 7800 GTX.
Let's talk a little bit about XFX's warranty policy for their graphics cards. While they do offer a lifetime warranty, it appears that the policy doesn't cover non-physical damage like power surges and overclocks as EVGA's does (and we haven't seen any warranties that cover physical damage, accidental or otherwise). This leaves EVGA as our pick for the best warranty policy thus far, and we hope their policy may start a trend with other graphics card vendors out there.