Half-Life 2 Performance
Half-Life 2, another graphically-intensive game, should see lots of improvement as well. Unlike Doom3, Half-Life 2 gets playable framerates at the higher resolutions with AA enabled on the 6800 Ultra, but you will still see a sizeable improvement with an upgrade to the 7800 GT.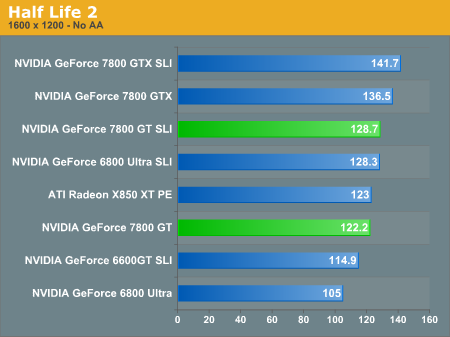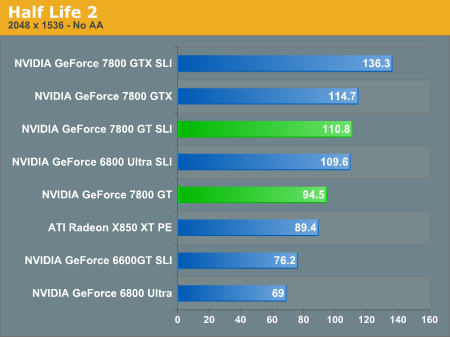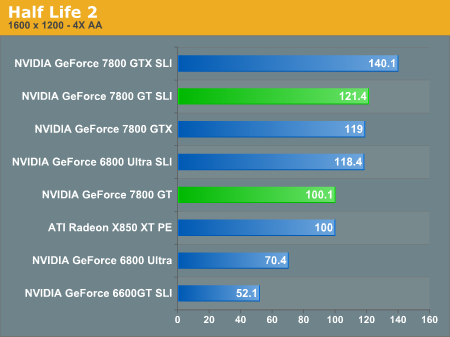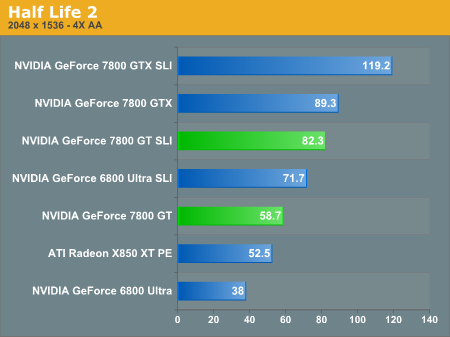 Without AA, we see a modest 15% gain at 16x12, and 37% gain at 20x15 with the 7800 GT over the 6800U. With AA enabled, 16x12 gets a 42% gain and 20x15 gets 54.5%, showing that Half-Life 2 does a slightly better job with AA than Doom3.
Again, we see much larger gains with the 6800 Ultra in SLI configurations. The highest increase is 88.7% at 20x15 with AA enabled, about a 30 fps increase. 16x12 AA gets a 68% increase, and without AA, there's about a 22% increase at 16x12, and 59% increase at 20x15. This is more evidence for the superiority of the 6800U SLI over the 7800 GT, performance-wise, but whether or not it's worth the price as well as the extra power demands is debatable. Also note that other than 20x15 4xAA, the 7800 GT SLI and 6800 Ultra SLI are nearly the same performance. The extra memory bandwidth of the 6800 Ultra seems to help it match the additional processing power in quite a few tests.