The Card
Every so often, we get a hold of a piece of hardware that looks good, regardless of how it performs. Of course, there are always times when the performance doesn't quite live up to the looks, but this is not one of them. If we were going to recommend a card solely going on looks alone, we'd choose this one. It just looks
good
, period. Originally, the card was going to be released with a green heat sink, but apparently, EVGA changed their mind at the last minute and made it the black monster instead. We approve of their choice, as it makes the overall appearance of the card a little more dramatic. Don't worry; if you think black is too boring of a color, EVGA will soon be offering this card in three other colors: silver, rose, and green.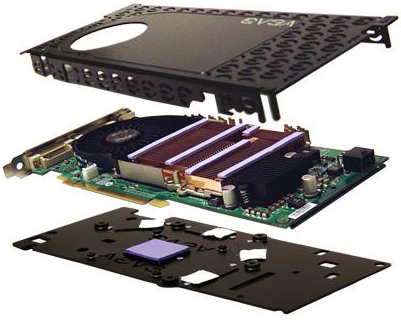 As you can see, EVGA extended the original heat sink from the GTX version to cover the entire top of the card, with e-shaped cutouts for ventilation. Aside from dispersing heat, this looks like it would be pretty good protection from physical damage. There are four RAM sinks and a heat sink on the card's GPU on the back as well. The box looks basically the same as the box of the previous EVGA card that we tested, except the colors are slightly different and it's a different card on the front. It's also worth noting that there is a version of this card that comes bundled with Battlefield 2.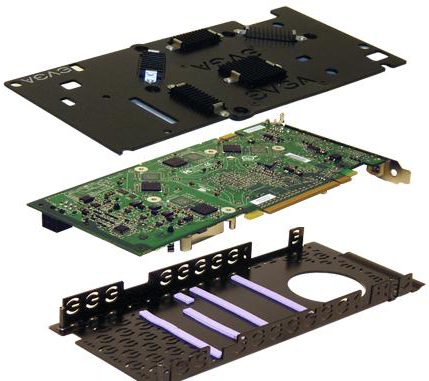 We have to hand it to EVGA for seriously overclocking an already awesome card, and then making it look extra nice to boot. The good looks are kind of like the sprinkles on the icing of a cake. It doesn't matter how old you are - from the time that you take the card out of the box until you actually put it into your machine, you will probably be a little bit giddy (some may be a bit more).
We know that with a graphics card - or any computer part for that matter - many serious enthusiasts could care less on how it looks. What really matters is how well it does the job that it was made to do. It's easy to get excited about a piece of hardware that looks as good as it performs. While the EVGA e-GeForce 7800GTX KO may not be the perfect answer to form versus function, we think that it comes pretty close.
Warranty is something that we have not touched on much in the past. We think that this plays a role in card value, especially given EVGA's new policy. We mentioned in the last article that as of June 22, EVGA is offering a lifetime warranty for all of its cards. BFG also offers a warranty, but apparently, EVGA's is different in that it covers
any
damage to the card as long as it's not physical. So, for instance, if the EVGA card is damaged by trying to overclock it too high, or if lightning fries it because it was not protected by a surge protector, EVGA will replace it free of charge while BFG will not. MSI's warranty is only good for three years, with basically the same conditions as BFG. Depending on the user, three years may be longer than the "lifetime" of the card, but covering all but physical damage is a definite win for EVGA. Aside from power surge, overclock and heat damage, they'll even cover a failed video BIOS flash (we asked). You can find more information about each manufacturer's warranty policy at their respective websites.