The New AMD and Intel Chipsets
The upgrade to nForce4 SLI X16 is more of an upgrade than an overhaul. This solution expands NVIDIA's core logic solution to two chips rather than one. The current nForce4 MCP will act as the southbridge and will be connected to the new AMD nForce4 System Platform Processor (SPP) via its HyperTransport link (usually connected to the processor). This gives 8GB/s bandwidth between the AMD MCP and SPP. Added latency over the HT link shouldn't be very high and we don't suspect that it will have an impact on anything. The SPP and MCP each provide x16 PCI Express links along with a few other choice features.
As the
Intel core logic solution already incorporates an SPP
, the upgrade for the Intel nForce4 SLI X16 is even simpler. Since the MCP included on the current Intel chipsets simply has its PCI Express lanes disabled; enabling them is all that NVIDIA needs to do. The total number of available PCI Express lanes on Intel nForce4 SLI X16 based systems comes to 40 after the SPP and MCP are added together. These lanes can be divided up into 9 different slots. AMD based systems will offer 38 lanes over up to 7 slots. This means that we could see a bunch of x1 or x2 slots, but since PCI Express cards can plug into larger slots and this solution has lanes to spare, we'd like to see some larger connectors on these consumer motherboards. There aren't any widely available parts to make full use of the bandwidth now, but motherboards that cost upwards of $200 should be somewhat future proof and flexible.
NVIDIA states that motherboards shipping with the nForce4 SLI X16 chipset will generally have all the enthusiast bells and whistles like dual gigabit network connections and 6 to 8 SATA ports. Supporting all these options alongside up to 40 PCI Express lanes (38 for AMD systems) and 5 PCI slots, these new motherboards will cater to almost workstation level I/O needs. For example configurations of Intel and AMD solutions, take a look at these block diagrams provided by NVIDIA.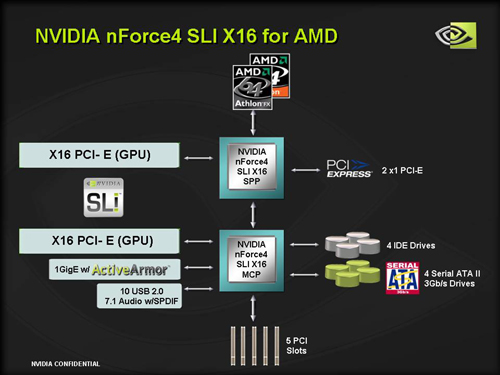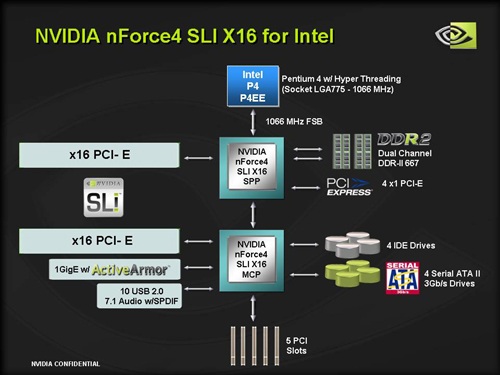 These configurations can vary depending on the manufacturer of the motherboard.