Overclocking : ULi M1695/M1567 Reference 2
ULi tells us that they have improved overclocking on the Reference 2. Our OC tests confirm that claim.
ULi M1695/M1567 Reference 2
Clock Speed Overclocking
Processor:
Athlon 64 FX57
(2.8GHz, 1MB Cache)
Athlon 64 4000+
(2.4GHz, 1MB Cache)
CPU Voltage:
1.55V (default 1.40V)
Cooling:
Thermaltake Silent Boost K8 Heat sink/Fan
Power Supply:
OCZ Power Stream 520W
Memory:
OCZ PC3200 EL Platinum Rev. 2
(Samsung TCCD Memory Chips)
Hard Drive:
Seagate 120GB 7200RPM SATA 8MB Cache
Maximum OC:
(Standard Ratio)
242x12 (4x HT, 2.5-3-3-10)
2904MHz (+21%)
Maximum FSB:
(Lower Ratio)
400 x 7 (2800MHz) (3x HT)
(2 DIMMs in DC mode)
(+100% Bus Overclock)
In the first OC testing with the Reference 2, we really did no better with our 4000+ than our last efforts, which reached 300 in
FIRST LOOK: ULi M1695 PCIe/AGP Socket 939 for Athlon 64
. ULi suggested that we test with the FX57 for the 400 Clock Frequency, and this indeed worked for an incredible 400x7 clock speed.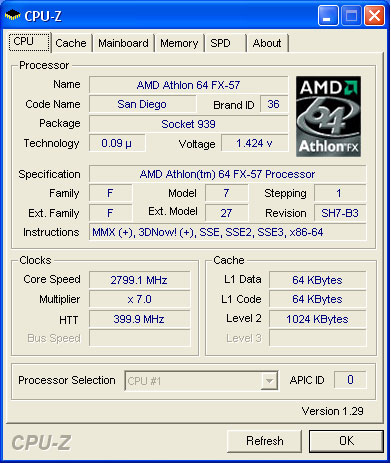 There are several potential reasons why the FX57 achieved what the 4000+ could not. First, the 4000+ has a stock voltage of 1.5V, while the FX57 is specified as 1.35V-1.4V. This means that the 1.55V available on the ULi is a more significant increase on the FX57 than the 4000+. ULi really needs to provide a wider range of vCore adjustments to accommodate the wide range of Athlon 64 processors in the market.
The second possibility is the memory controller, with the FX57 having a much better Rev. E+. The memory controller for Rev.E is much improved, according to AMD, and the FX57 is the latest in the Rev. E memory controller family.
Regardless of the reasons why FX57 worked at 400, we are still left with the severe overclocking limitation of no voltages for memory in the ULi Reference 2 BIOS. We had to toss our normal overclock procedures out the window to bring you a better idea of the overclocking capabilities of this board. Without memory voltage, the only way that this can be tested is by lowering memory ratios to those that can run at default voltage. In this case, that would be a 100 setting on memory, so the 400 clock setting would yield a 200 base or DDR400 at the fixed memory voltage. ULi needs to correct this and provide memory voltage adjustments to 3.2V or more in production boards.
Due to the improved performance of the FX57 in overclocking, we plan to use the FX57 or another Rev. E Athlon 64, in future overclocking tests.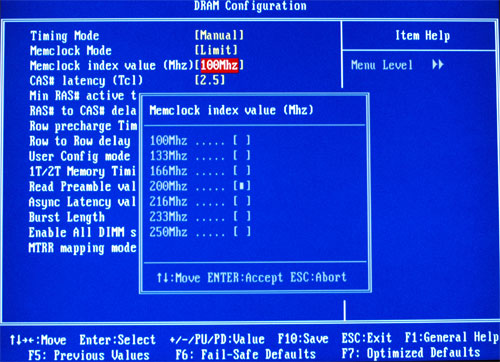 It is also worth noting that ULi is another board that supports the new Athlon 64 high memory ratios with a Rev. E chip. As you can see, 433, 466, and 500 (216, 233, and 250) are new options when a Rev. E chip is installed.