Small Balls and Touchy Sensors
Not only is the Mighty Mouse Apple's first multi-button mouse, it is also their first mouse with a scroll wheel, or to be more precise, scroll ball. 
Despite what some originally thought, the Mighty Mouse's scrolling mechanism isn't the same thing as the trackpoint devices that we've seen on laptops; instead, it is actually a very small ball that can spin in all directions. 
The scroll ball lets you scroll in both X and Y directions, as well as in combinations of the two (e.g. diagonally left).  The scroll ball isn't active unless it is slightly depressed. In other words, you can't scroll with it without putting a very slight amount of pressure on it. The whole "not active until you push it" aspect caught me off guard initially and it took a little getting used to, but it wasn't a huge deal.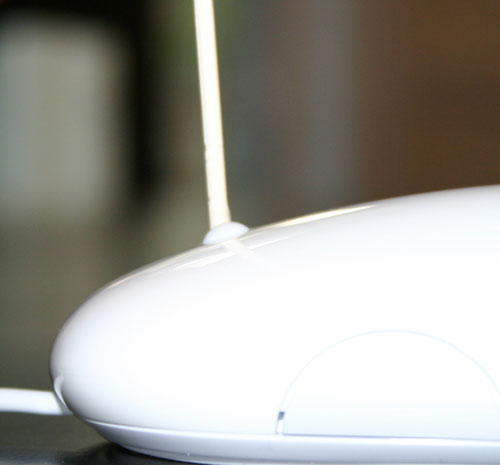 Hold mouse over image to see how far the scroll ball can be depressed.
The scroll ball will also act as a middle mouse button, but just pushing it down doesn't register as a middle-click.  You have to push the ball down and actually push the surface of the mouse down until it clicks to register a middle-click.  Although this may seem more complicated than it is, it actually works very well.  I never found myself accidentally middle-clicking or, alternatively, the Mighty Mouse never middle-clicked when I was scrolling. 
When scrolling, the ball does provide you with feedback; it feels like you're using a scroll wheel with more frequent and quieter clicks than any other mouse that I had used before.  With much less distance between scroll "clicks", the Mighty Mouse gives you much finer grained scrolling than with my Logitech MX1000.  The clicks are also far less intrusive than on the Logitech, making Apple's scroll ball more of a hybrid of the Logitech MX1000's scroll wheel and the newer click-less Microsoft IntelliMouse Explorer 4.0 scroll wheels in terms of tactile feedback. You get smoothness similar to the Microsoft mice, but with the aural and tactile feedback more like the Logitech wheels. 
Scrolling up and down is business as usual with the Mighty Mouse, although even at the highest scroll speed setting, it takes more time to scroll rapidly through multiple pages than on the Logitech; it's the trade-off that you make for the finer grained scrolling, which the Mighty Mouse offers.  The problem with the finer grained nature of the scroll ball is that scrolling large distances is often a lot quicker using the actual scroll bars in an application. 
Apple's Mighty Mouse drivers don't provide a setting for controlling how many lines each scroll "tick" corresponds to, and they err on the side of under-scrolling rather than scrolling too much.
  I'd guess that this is something that can be fixed with a simple updated driver with a new option, but until then, it is a complaint that I had about the mouse. 
From my experience with the Mighty Mouse, scrolling along the X-axis worked fairly well, but I'm not sure if a ball is the best suited for horizontal scrolling.  The best way to think about it is like this: note the range of motion of your index finger when you wave to someone with just that finger (in a manner similar to operating a scroll wheel); now, try moving your index finger from side to side and note the significant reduction in its range of motion.  Obviously, the way that your fingers are jointed dictates that they will move much freer and easier in the former manner rather than the latter, and unfortunately, it also means that scrolling left to right with a device like the Mighty Mouse isn't as perfect as it could be. 
Left to right scrolling works on the Mighty Mouse - it just doesn't work perfectly, thanks to the fact that your index finger doesn't naturally want to move left to right as easily as it moves up and down.  This is one area where I think Microsoft/Logitech actually have it right. Their horizontal scrolling is handled by pushing the wheel left or right and holding it there until you are done scrolling.  This method means that you don't have to keep moving your scroll finger left to right (or right to left), which makes it a bit easier than what the Mighty Mouse requires of you. 
Apple's other claim to fame with the scroll ball is that it lets you scroll in all directions. After all, it is a ball and balls tend to allow that sort of freedom.  While getting used to the horizontal scrolling wasn't too big of a problem, scrolling at angles isn't as glamorous as you would think.  Pretty much the only time that I have to scroll in both X and Y directions at the same time is when I'm looking at or editing a big image, so I fired up Photoshop and gave the scrolling a try. 
The problem with scrolling diagonally is that it isn't smooth at all; it's not smooth and it's slow.  You would naturally want diagonal scrolling to be as smooth as horizontal or vertical scrolling, but it ends up being more of a jaggy operation; scrolling at a 45 degree angle feels a lot like scrolling right a bit and then scrolling up a bit, and repeating that over and over again with the abruptness of switching directions included.  It's not horrible, and it is useful for those times when you do need to scroll a short distance in a direction other than strictly along either axis, but overall, it isn't too useful.  The other problem is that half of the time, I found myself scrolling left/right or up/down when I was trying to scroll diagonally.  Instead of dealing with the frustration of the scroll ball not going where I wanted it to go, it was usually easier just to scroll left/right then up/down separately.  And once again, because of the fine granularity of each scroll click, I found that often times it was a lot quicker just to grab onto a scroll bar and get to where I needed to go that way. 
Last up are the new side buttons on the Mighty Mouse, the buttons that for me are the worst design element of Apple's mouse.  Although there is one button on each side of the Mighty Mouse, they need to be depressed together in order for them to activate and operate, which means that the two buttons only really act as one.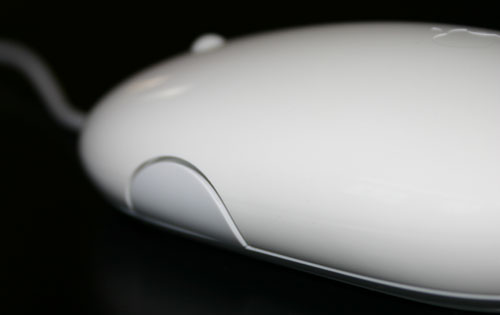 One of the two side buttons
By default, pressing the two together activates Exposé across all windows, but it can be mapped to any number of functions.  The functionality itself is useful, and even having to use both buttons at the same time isn't too big of a deal. The problem is that in order to use them, I found myself having to reposition my fingers to get a better grip on the mouse to squeeze the sides of the mouse to the point where the buttons would activate.  Apple did their best to make their first multi-button mouse look and feel like a single button mouse, and with the exception of the side buttons, they did a good job.  Unfortunately, in an effort to make the side buttons not look or behave like regular buttons, they have effectively, in my opinion, made them a useless part of the mouse.  These aren't side buttons like you may be used to on Logitech or Microsoft mice. Rather, these buttons require you to almost completely reposition your hand in order to use them and as such, aren't very desirable to use.