The Test
Our hardware configurations are similar to what we've used in previous comparisons. For this test, we focused on CPUs at or around the Athlon 64 X2 3800+'s $354 price point.
AMD Athlon 64 Configuration
Socket-939 Athlon 64 CPUs
2 x 512MB OCZ PC3200 EL Dual Channel DIMMs 2-2-2-7
ASUS A8N-SLI Deluxe
ATI Radeon X850 XT PCI Express
Intel Pentium 4 Configuration
LGA-775 Intel Pentium 4 and Pentium D CPUs
2 x 512MB Crucial DDR-II 533 Dual Channel DIMMs 3-3-3-12
Intel 925XE Motherboard
ATI Radeon X850 XT PCI Express
Business/General Use Performance
Business Winstone 2004
Business Winstone 2004 tests the following applications in various usage scenarios:
. Microsoft Access 2002
. Microsoft Excel 2002
. Microsoft FrontPage 2002
. Microsoft Outlook 2002
. Microsoft PowerPoint 2002
. Microsoft Project 2002
. Microsoft Word 2002
. Norton AntiVirus Professional Edition 2003
. WinZip 8.1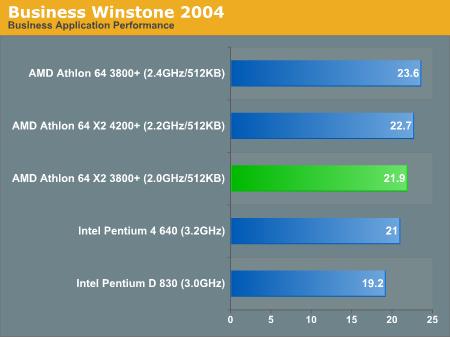 Office Productivity SYSMark 2004
SYSMark's Office Productivity suite consists of three tests, the first of which is the Communication test. The Communication test consists of the following:
"The user receives an email in Outlook 2002 that contains a collection of documents in a zip file. The user reviews his email and updates his calendar while VirusScan 7.0 scans the system. The corporate web site is viewed in Internet Explorer 6.0. Finally, Internet Explorer is used to look at samples of the web pages and documents created during the scenario."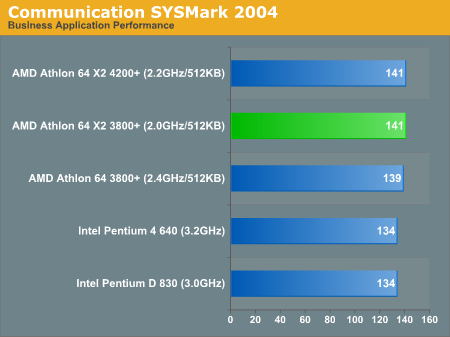 The next test is Document Creation performance:
"The user edits the document using Word 2002. He transcribes an audio file into a document using Dragon NaturallySpeaking 6. Once the document has all the necessary pieces in place, the user changes it into a portable format for easy and secure distribution using Acrobat 5.0.5. The user creates a marketing presentation in PowerPoint 2002 and adds elements to a slide show template."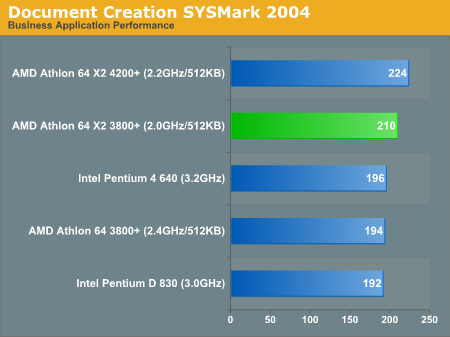 The final test in our Office Productivity suite is Data Analysis, and area where Pentium D typically does well. BAPCo describes it as:
"The user opens a database using Access 2002 and runs some queries. A collection of documents are archived using WinZip 8.1. The queries' results are imported into a spreadsheet using Excel 2002 and are used to generate graphical charts."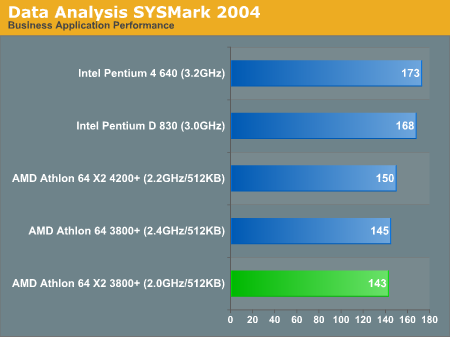 Microsoft Office XP SP-2
Here, we see in that the purest of office application tests, performance doesn't vary all too much.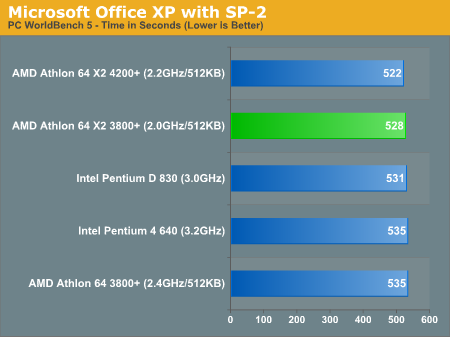 Mozilla 1.4
Quite possibly the most frequently used application on any desktop is the one that we pay the least amount of attention to when it comes to performance. While a bit older than the core that is now used in Firefox, performance in Mozilla is worth looking at as many users are switching from IE to a much more capable browser on the PC - Firefox.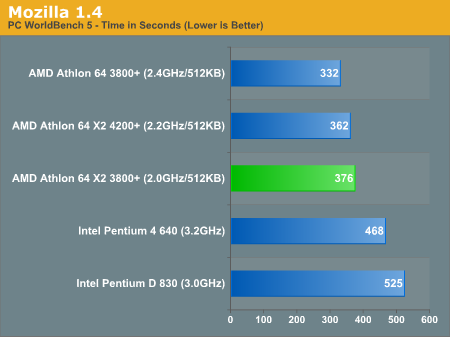 ACD Systems ACDSee PowerPack 5.0
ACDSee is a popular image editing tool that is great for basic image editing options such as batch resizing, rotating, cropping and other such features that are too elementary to justify purchasing something as powerful as Photoshop. There are no extremely complex filters here, just pure batch image processing.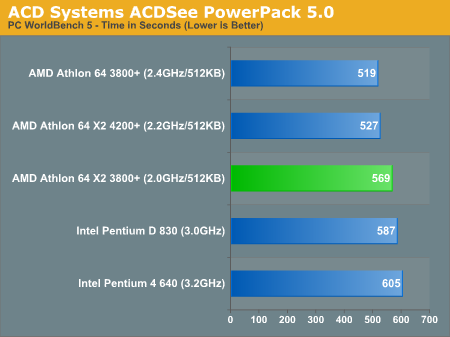 Winzip
Archiving performance ends up being fairly CPU bound as well as I/O limited.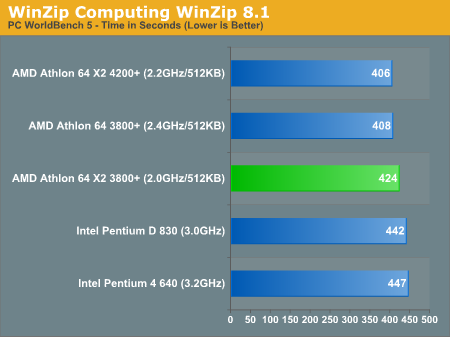 WinRAR 3.40
Pulling the hard disk out of the equation, we can get a much better idea of which processors are truly best suited for file compression.