ULi M1695 Chipset
The ULi M1695 chipset supports Socket 754, 939, and 940. 1000 HT (5X) and higher are fully supported.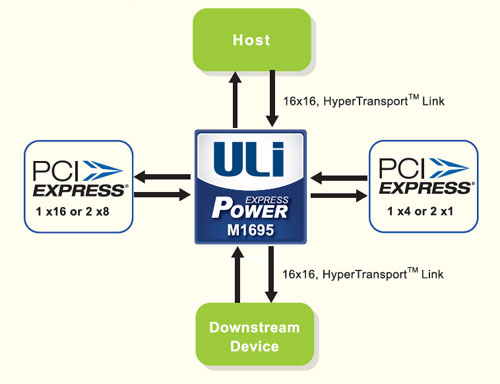 The M1695 provides a PCI Express Interface that can drive either 1 x16 slot of 2 x8 slots. The 2 x8 configuration is called SLI on NVIDIA motherboards, and the option of x16 or 2 x8 is even available in this Reference Board BIOS.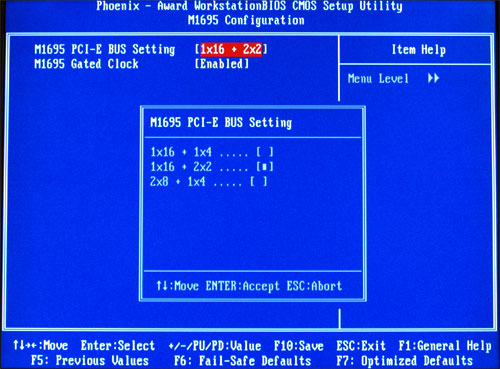 ULi has even been showing an x16 riser card that can be used to support 2 bridged x8 PCIe video cards from a single x16 PCIe slot. Apparently, this is just one of several options to provide "SLI-like" performance with two PCIe cards.
From this basic PCI Express Tunnel chip, ULi talks about flexibility.
Combined with a M1567 South Bridge, as is this Reference Board, you can achieve AGP 8X and PCIe x16/2 x8 combined with support for PCI graphics.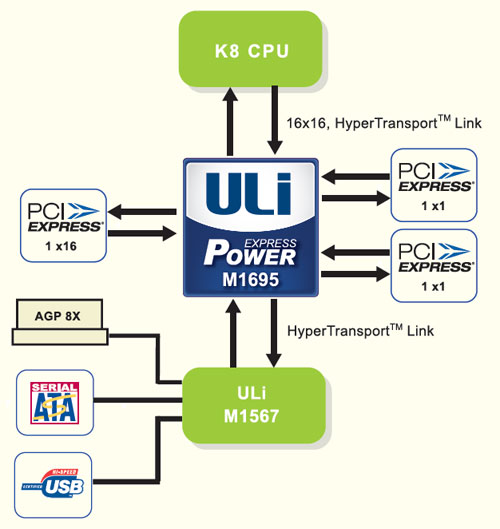 Combining M1695 with an unnamed ULi South Bridge can provide dual x16 slots and additional x1/x2/x4 slots.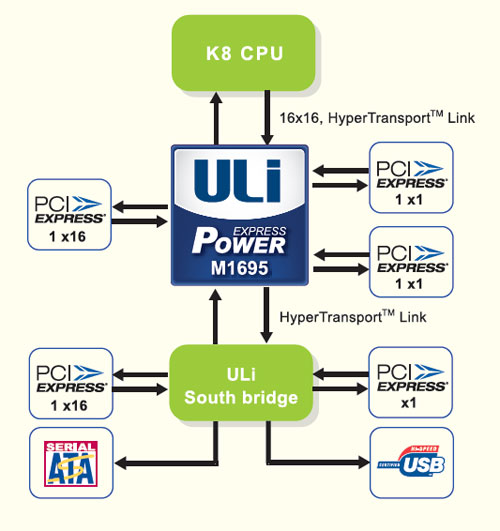 Obviously, ULi designed M1695 and the accompanying South Bridges for the utmost in flexibility. With support for 754/939/940 and all the various combinations that can be used to provide custom graphics capabilities, you will likely see many different ULi configurations in the marketplace.
The flexibility even extends beyond the ULi brand, as the South Bridges can be combined with other North Bridges such as the ATI Crossfire. Similarly, the M1695 can be combined with other chips such as the AMD-8132 PCI-X Tunnel for customized Workstation/Server Applications.
More capabilities can be added with more ULi South Bridges on top of the M1695/AMD-8132.
ULi talks about the flexibility of their M1695 chipset, and we certainly agree. It is refreshing to see so many available choices that give manufacturers the options of building everything from the most basic Socket 754 boards to full-featured 939/940 workstation/server boards with dual x16 PCIe slots and more.