16x -R - MCC 03RG20
For our first test, we used Verbatim 16x DVD-R media to test the high speed -R write capabilities of each drive.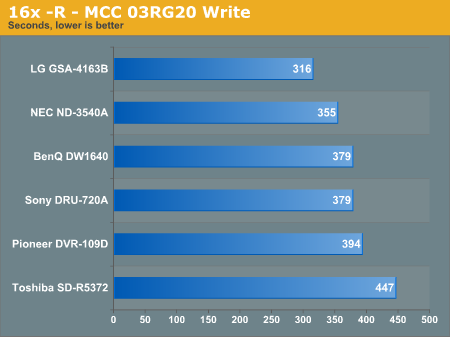 The GSA-4163B takes the lead as it writes a full disc in 316 seconds. Our winner from the last roundup, NEC, comes in at second place with its ND-3540A, writing the disc at 355 seconds. And last place goes to Toshiba's SD-R5372 as it writes a full 16x DVD-R disc in 447 seconds.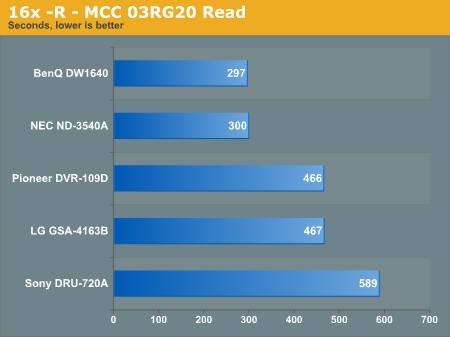 As far as reading back the created data discs on each drive, BenQ's DW1640 reads back its disc the fastest, in 297 seconds, with the ND-3540A following closely behind at 300 seconds. The rest performed the task at above the 7min mark and the SD-R5372 couldn't even read back its disc.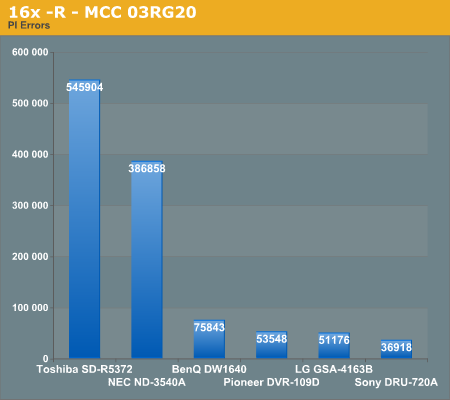 It's not surprising that the SD-R5372 couldn't read its disc. It had 545,904 PI errors spread out across the disc. What is surprising is that the ND-3540A came in at the second fastest when reading back its disc while it had the second highest number of PI errors - 386,858 to be exact.
We have created ZIP files of the screenshots that we have taken of the Nero CD-DVD Speed and PlexTools benchmarks. Feel free to click on the links below to download them.
BenQ DW1640
LG GSA-4163B
NEC ND-3540A
Pioneer DVR-109D
Sony DRU-720A
Toshiba SD-R5372