Quantitative Analysis
For the duration of this review, we connected the HP L2335 to a Radeon X800 Pro with factory default settings on the DVI connections unless stated otherwise. Brightness has been set to maximum as well.
Luminance
Brightness ranked as one of our most important display qualities. On a display like the L2335, a dim image can make for a very poor viewing experience, since the resolution is so high. Fortunately, large displays are usually compensated for this with the addition of larger and brighter backlights. Too much compensation will result in an overly bright image, to which black levels and contrast ratios will suffer. Below, you can see a comparison of the brightness for each of our LCD monitors.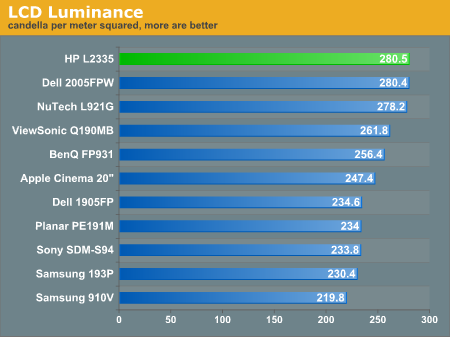 Technically, this is the brightest display that we have seen to date, although not by much. Visually, the Dell 2005FPW and the HP L2335 look identical if it weren't for their different sizes and bezels. This bodes well for HP as the UltraSharp 2005FPW is one of the best displays that we reviewed.
Our Contrast Ratio
We will use the same observation from the
19" LCD Roundup
several months ago. Using PreCal and our ColorVision Spyder, we will measure the luminance of a pure white image and a pure black image on the LCD monitor. The observed contrast ratio is simply the highest recorded luminance divided by the lowest. All measurements are in candela per meter squared; larger contrast ratios are more desirable.
Observed Contrast Ratio
Highest Recorded (white image)
Lowest Recorded (black image)
Observed Contrast Ratio
Apple Cinema 20"
247.4
2.4
103.1
BenQ FP931
256.4
3.6
71.2
Dell 1905FP
234.6
2.6
90.2
Dell 2005FPW
280.4
2.6
107.8
HP L2335
280.5
2.6
107.8
NuTech L921G
278.2
2.6
107.0
Planar PE191M
234.0
3.0
78.0
Samsung 193P
230.4
2.2
104.7
Samsung 910V
219.8
2.6
84.5
Sony SDM S94
233.8
3.0
77.9
ViewSonic Q190MB
261.8
2.6
100.7
Again, there is no surprise here where the HP performed the same as the Apple Cinema Display and the Dell 2005FPW. Since all three use LG.Philips LCD panels within the same generation, we had expected this. Again, note that the accuracy of our ColorVision Spyder is within 0.2 cd/m2 only, and this plagues the accuracy of our results. Our numbers should give you a good estimation of where each display falls in line with another, but it is far from an absolute authority.