Budget Performance Tests
For these tests, we ran only 800x600 and 1024x768. These are the only two resolutions that make any sense to run with Battlefield 2. 640x480 is all but unplayable as the text is mangled and layout gets broken. At 800x600, both cards do well, but the NVIDIA 6200 TurboCache maintains a performance lead here both with and without AA (though, the ATI card does close the gap when AA/AF are cranked up).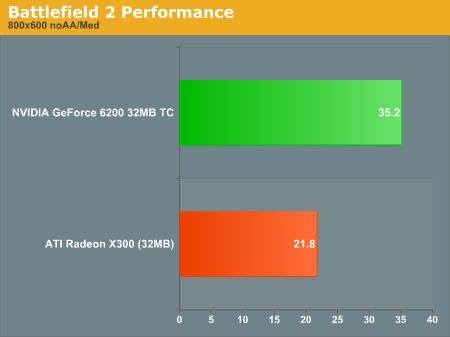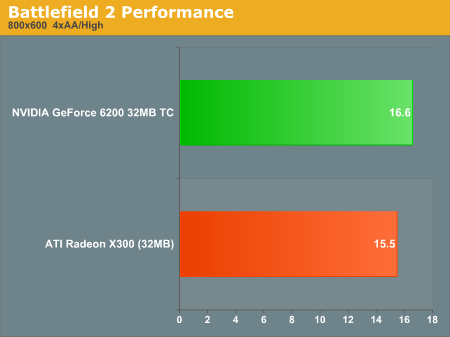 When we move up to 1024x768, the TurboCache card shows a little more capability than the HyperMemory part. Of course, both low end cards have very choppy performance at parts here. Tests with AA on at this resolution would have been a waste of time, and we strongly recommend playing the game at 800x600 without AA and Low Texture Filtering settings. In fact, turning down some of the options may help, but the player is at a disadvantage with less than maximal settings on view distance and shadows. Also, at this low resolution, we can see that an upgrade would offer playable frame rates at more than twice the performance. On high end parts, we are very CPU limited, and the SLI configuration is hampered because of added driver overhead.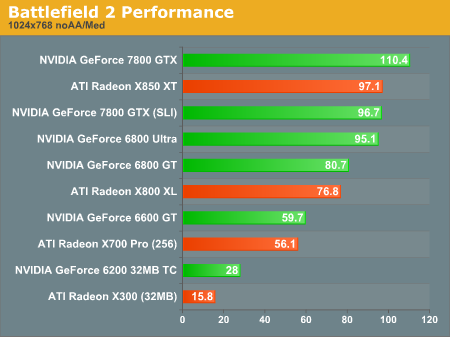 Serious gamers will not want to play with these cards, but the casual gaming experience can be quite enjoyable. For a budget system, the ability to play current generation games without sacrificing shader effects will become more and more important as time goes on. As games rely more heavily on shading rather than simple textures and geometry to paint the experience, budget users will be glad that both ATI and NVIDIA offer options like these.