Compiling
We put a particular emphasis on compiling because it stresses the entire system (hard drive, processor and memory) but also because any *nix user knows, compiling is no fun on a slow machine.
GNU Make 3.79.1 / GCC 3.4.2
While GCC isn't multithreaded, we can run multiple jobs using the -j command in make. Below, you can see the significant improvement on performance going from 1 to 3 to 5 jobs. We used the commands as below to compile the Linux 2.6.4 kernel from kernel.org. The kernel is set for a cross-compilation of a default x86_64 machine:
# yes "" | make config
# time make -jX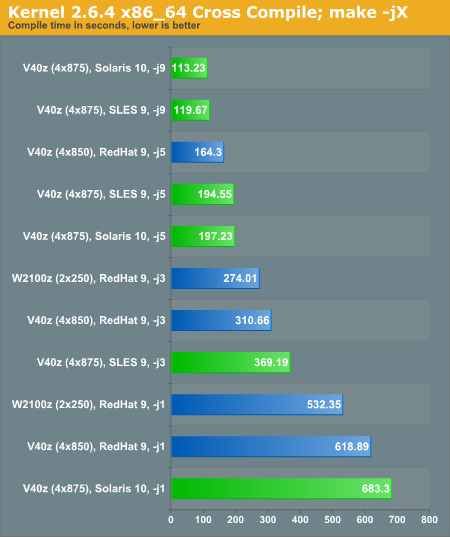 There were minor advantages of the Solaris compilation over the SLES one. Like most of our other tests, as our compilation moved closer to nine jobs, the reduction in processing time was not quite linear. We do see considerable improvements in speed, but we really aren't getting all of the bang for our buck.
We also threw in some compile tests of entire GCC base, which take significantly longer than the Linux kernel to compile.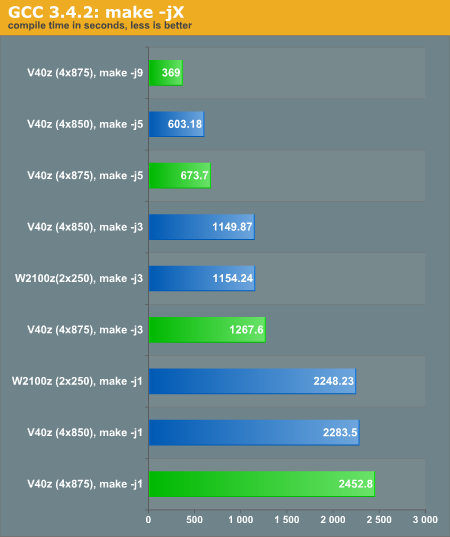 You'll notice pretty much the same problems from the Linux kernel compilation test; scaling becomes an issue as we increase the number of jobs. We see a 43% performance increase over the quad Opteron 250 V40z; certainly impressive but we would like to see more.