The Test
We are mostly concerned with how the machine performs under Solaris 10 in comparison to SUSE 9, but we are also concerned with performance from the previous generation V40z to this one. Our very own Johan De Gelas recently wrote a very detailed comparison of various Linux database setups, so we won't spend as much time on database benchmarks for this review. Make no mistake, however, that a machine like the V40z makes the most sense in a database environment. We will use very similar benchmarks to the previous V40z examination, but we will also draw on some references from our Linux workstation articles.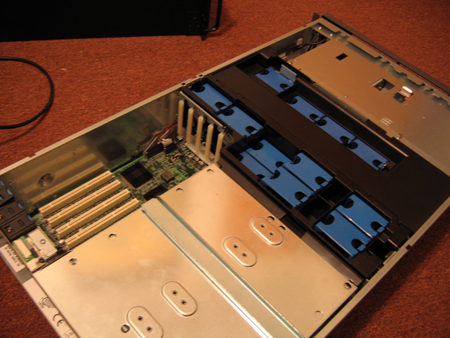 Test Configurations

Machine:

Sun Fire V40z (Dual Core)

Sun Fire V40z

Processor:

(4) AMD Opteron 875

(4) AMD Opteron 850

RAM:

8 x 1024MB PC-2700

8 x 1024MB PC-2700

Hard Drives

SCSI u320 Seagate Cheetah 10,000RPM

SCSI u320 Seagate Cheetah 10,000RPM

Memory Timings:

Default

Operating System(s):

SuSE 9.1 Professional
RedHat 9
JDS 2.0

SUSE SLES 9

Solaris 10

Kernel:

Linux 2.6.8
Linux 2.4 (JDS 2.0)

Linux 2.6.5
SunOS 5.10

Compiler:

linux:~ # gcc -v
Reading specs from /usr/local/lib/gcc/i686-pc-linux-gnu/3.4.2/specs
Configured with: ./configure
Thread model: posix
gcc version 3.4.2
Our tests consist of everything from render benchmarks to database to compilation benchmarks. Each of these are designed to stress a particular portion of the system. As we mentioned earlier, the V40z is a premiere platform for databases due to the large amounts of CPU and memory. All tests are done with x86_64 binaries on Solaris and Linux unless otherwise noted. Furthermore, all programs are compiled via GCC with the flags mentioned in the table above.
X was disabled during these benchmarks to reduce overhead.