The Processor Factor
Another concern has raised its head in the last few months that should be a consideration for anyone shopping for an Athlon 64 motherboard - the processor factor. When we tested the nForce4 SLI boards we used the 4000+ clawhammer chip as our standard CPU. We also had done some testing with the early Winchester chips which were based on the 90nm production process instead of the 130nm process used for clawhammer. Overall these early 90nm chips were mainly a die-shrink, and performance - and compatability - were much the same whether clawhammer, winchester, or newcastle.
Recently, however, we have some new choices from AMD in Revision E chips and dual-core. These new Revision E parts support SSE3, are based on the 90nm process, and they do not always behave as earlier chips did in the same motherboard. We saw this for ourselves in our Gold Editor's Choice MSI K8N Neo4/SLI. While we experienced outstanding overclocking with a clawhammer chip, users with Venice chips were experiencing perfectly miserable overclocking results. It has taken MSI some time to find a solution to this problem, but we are happy to report that a new BIOS has just been released that claims to fix the Venice issues on the MSI. The point of this is that the newest Athlon64 Revision E chips, code-named Venice and San Diego, do behave differently than earlier Athlon 64 chips in some boards. This is likely a temporary concern as the market adjusts to the newest CPU architectures, but it is a factor that should be considered.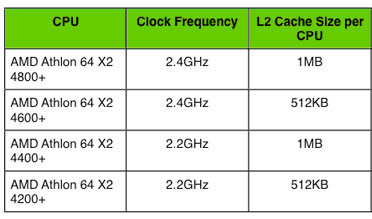 This becomes an even larger issue with the new Toledo dual-core processors. The Athlon 64 X2 joins two Venice or San Diego cores on a single CPU. These Revision E X2 dual-core CPUs - the 4200+, 4400+. 4600+, and 4800+ - theoretically will work in any Socket 939 board. However, you will certainly need at least a BIOS upgrade. Most of the major manufacturers have quickly brought the needed BIOS upgrades to market, but if you plan to run a dual-core chip you need to check before you buy.
It should also be mentioned that AMD has implemented a hidden feature in Revision E processors, namely additional memory ratios that can be implemented in BIOS. We saw a Revision E chip mounted on the Abit Fatal1ty AN8 motherboard. Adding the new processor gave the additional options of 433, 466, and 500 to the available memory ratios. This has to be coded in the BIOS to be available, but the new asynchronous ratios are a feature of the Revision E Memory Controller.
The good news, unlike the Intel dual-core, is that just about any Socket 939 motherboard can run dual-core. But you will definitely need a BIOS update and you will definitely need to check to make sure the board you are looking at has an available BIOS supporting dual-core.