AMD Motherboards: Processor Support
Everyone was pleased to hear that the new AMD Venice and San Diego processors would work fine in their Socket 939 motherboards. In many cases, however, a BIOS update is required to support these latest Revision E Athlon 64 chips, which are based on the 90nm manufacturing process and support SSE3 extensions.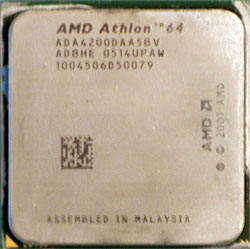 Then Venice/San Diego got extended with the Dual-Core X2 processors. The good news is that, once again, any Socket 939 motherboard can theoretically support the new x2 processors
with a BIOS upgrade
. This was certainly a welcome contrast from the Intel dual-core announcement which required new chipsets and motherboards for dual-core to function. However, since the official launch of X2 at Computex earlier this month, confusion seems to reign as to which boards support Dual-Core processors.
To try to shed some light on the current BIOS revisions and processor compatibility we took a closer look at the state of x2 processor support among motherboards. In many ways the adoption of x2 is faster than we expected, but there are still gaping holes in x2 and Rev. E processor support. Hopefully with this guide and a little research you can find the perfect motherboard home for your new Revision E or x2 Dual-Core Athlon 64 processor.