Gaming Performance
With gaming, there are two camps. With the focus on e-Sports, lower resolution gaming with ultra high framerates is often the key. That is why MSI offers a 360 Hz refresh rate 1920x1080 display in the Raider GE76 that was supplied for testing. If you are after the lowest latency this is a sizable difference over a standard 60 Hz display. The other camp prefers resolution, although ultimately everyone would likely prefer to have both. Unfortunately, current graphics cards for notebooks are still barely able to handle 3840x2160 UHD gaming, although NVIDIA has just released the RTX 3080 Ti for Laptops, which is installed in this test system.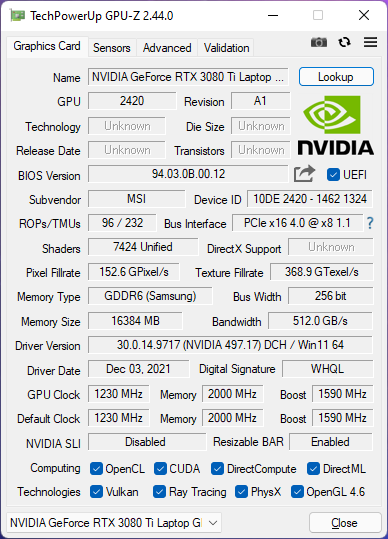 As the focus of this article is on the new Alder Lake processor, the gaming focus needs to be at 1920x1080 where the GPU is the smallest bottleneck, but the Raider GE76 was also connected to a UHD display for additional testing. The CPU will have the biggest impact at 1920x1080, whereas the GPU will be the sole bottleneck at 3840x2160. Let's start with some synthetics, then move on to gaming tests.
We have recently added some new games to our testing suite, as well as testing at UHD, but since all our review laptops are returned to the manufacturer, there is no way to backfill the data. If a laptop is missing from a result that means it was never tested on that game or resolution.
3DMark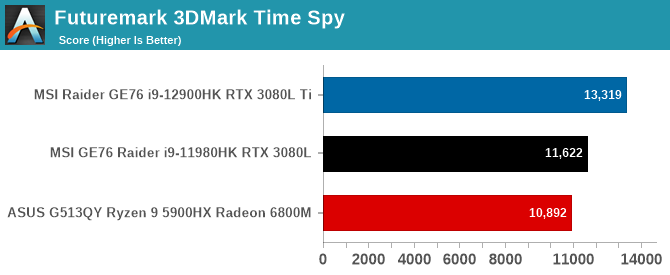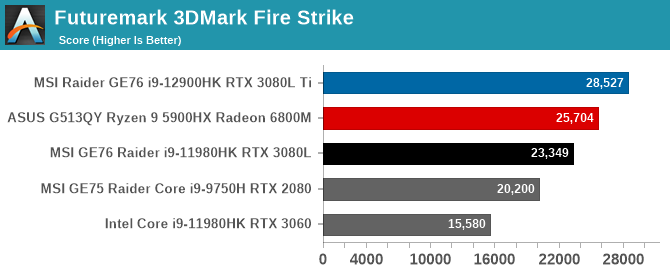 UL's 3DMark has a variety of graphics tests available to match up with different power devices. We've begun the transition to the latest DirectX 12 Time Spy test but will also continue testing the older tests to keep the database current.
The new Raider GE76 is significantly ahead in both Time Spy and Fire Strike, thanks to the new Alder Lake processor and RTX 3080L Ti.
GFXBench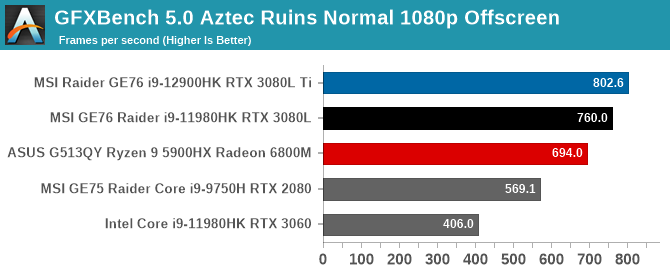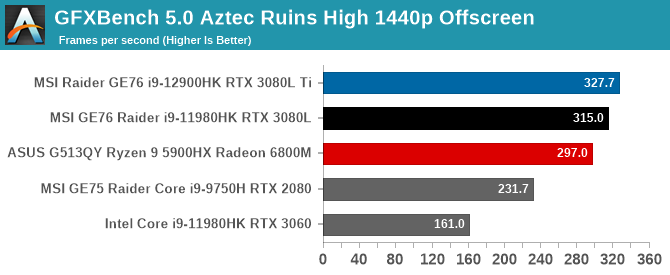 GFXBench offers DirectX 12 versions of Aztec Ruins in both 2560x1440 as well as 1920x1080 resolutions. Although this test is designed for smartphones and low-end PCs, we will include it here since it was run. All of the systems do very well here, although the new Alder Lake system is again in the lead.
Tomb Raider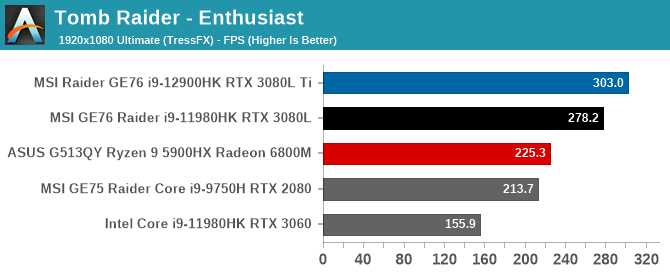 The original reboot of Tomb Raider can still be a challenge for lower-powered laptops, but not the Raider GE76.
Rise of the Tomb Raider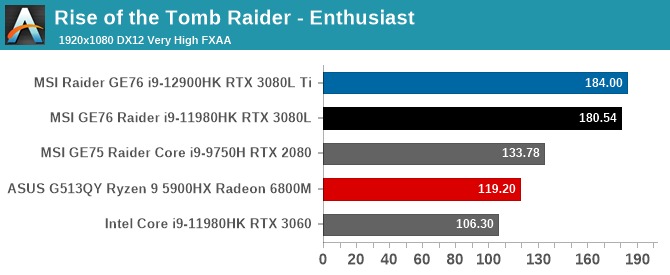 Although much more demanding than the first game in the rebooted franchise, and featuring DirectX 12 support, Rise of the Tomb Raider is not a huge challenge to this system at 1920x1080.
Shadow of the Tomb Raider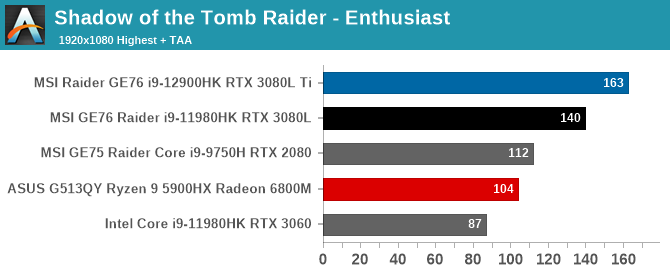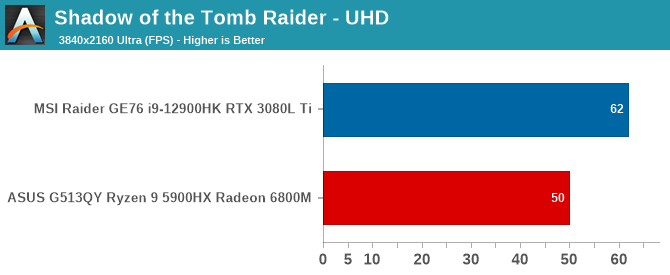 The latest installment is even more demanding, and we capture UHD results as well now for gaming laptops. The Alder Lake system has a sizable lead at 1920x1080 and is able to achieve over 60 FPS average at UHD Ultra.
Strange Brigade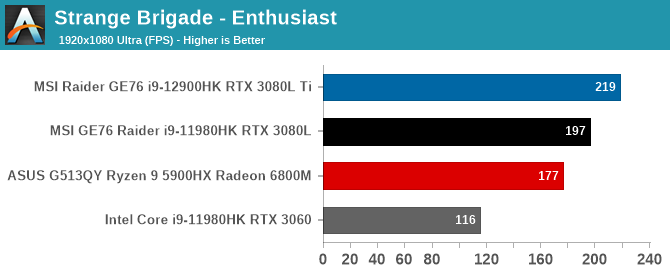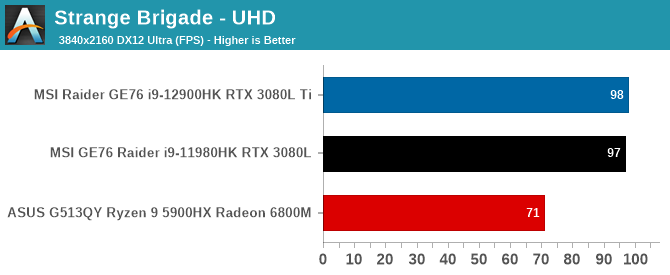 Strange Brigade is not a very demanding game at low settings, allowing it to achieve reasonable framerates on even integrated graphics. The powerful gaming systems can run this at UHD without too much issue.
Shadow of War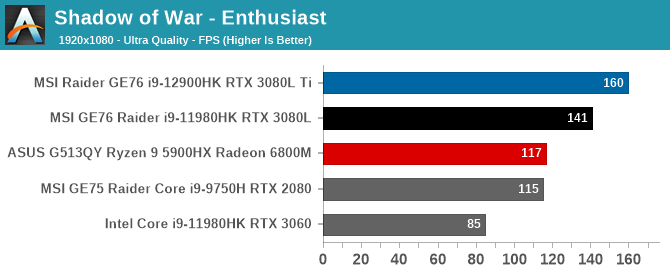 At 1920x1080 the Alder Lake system has a commanding lead. As this is an older game that is being phased out, UHD results are not available.
Borderlands 3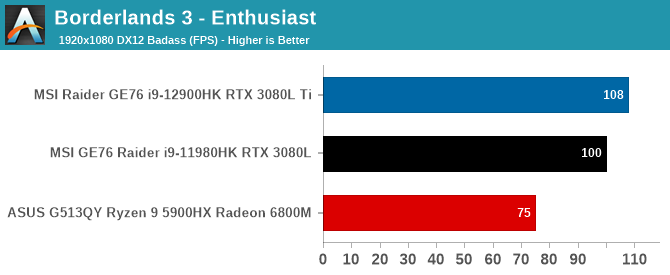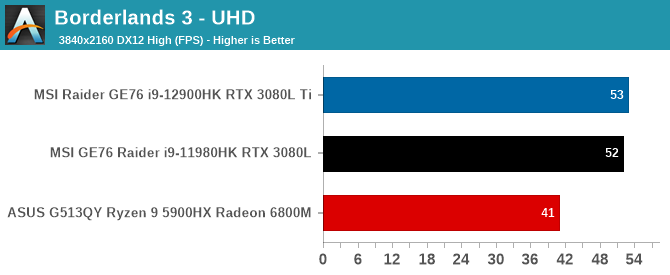 The new Alder Lake system has a slight advantage at 1920x1080 but is almost identical to the previous generation GE76 at UHD.
Assassin's Creed: Valhalla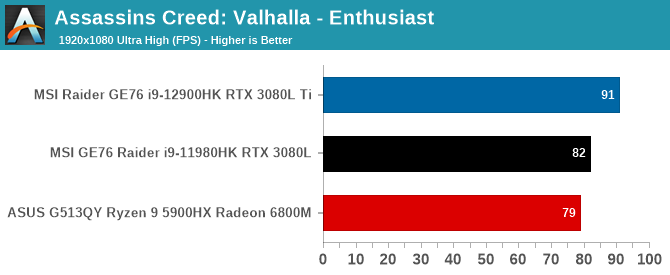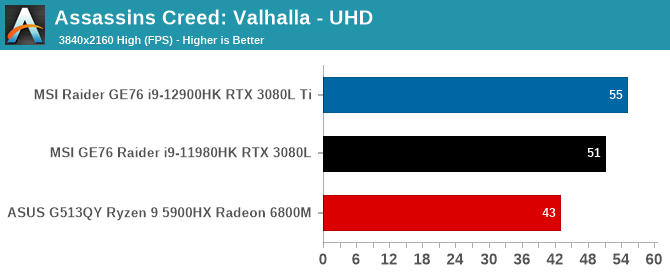 Again, the Alder Lake system has a reasonable lead at 1920x1080, and a smaller lead at 3840x2160.
F1 2021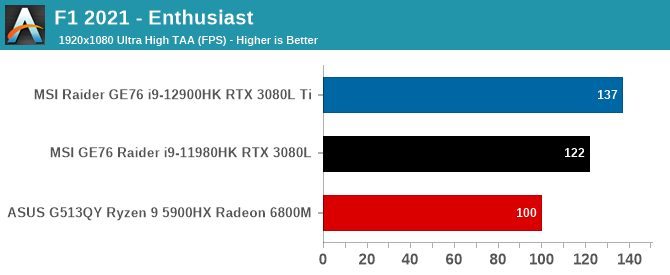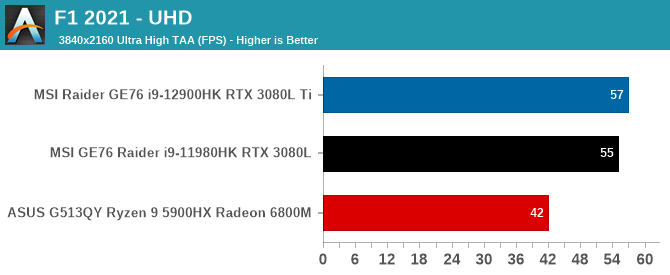 Codemasters F1 series tends to be more CPU bound than some of the other games, so the Alder Lake system can stretch its legs a bit more here at FHD resolutions. At UHD, it is GPU bound.
Far Cry 5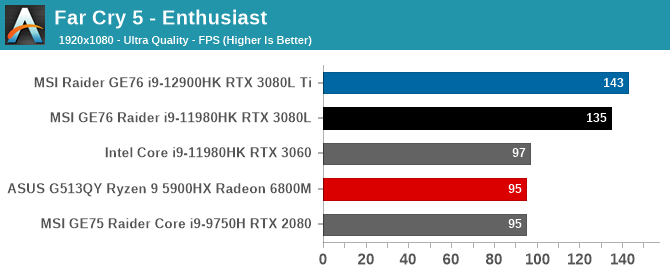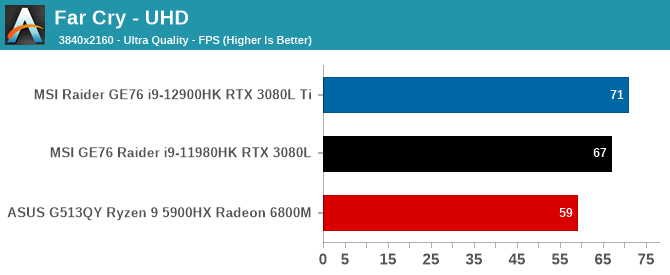 Far Cry is also a title that is more CPU bound than most, and the Alder Lake system can pull ahead here as well.
Godfall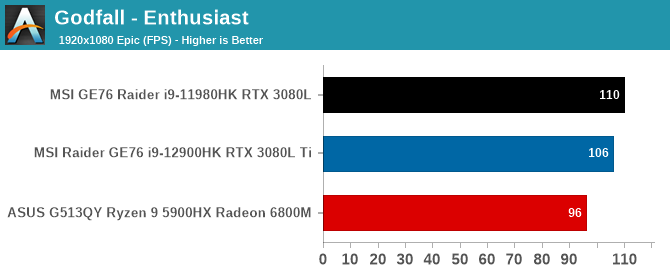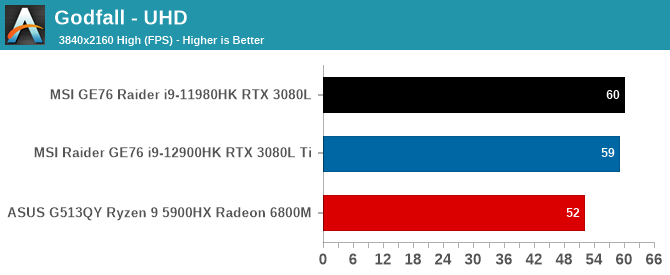 Unlike the other games, the previous generation GE76 Raider with Tiger Lake and RTX 3080L achieves a small win here, but it is likely within the margin of error.
Gaming Performance Summary
With the fastest CPU and the fastest GPU, it should be no surprise that the Raider GE76 system Intel shipped is incredibly potent for gaming. At the lower resolution of 1920x1080 the extra CPU power helps to stretch ahead a bit. At UHD though, where it is GPU bound, unsurprisingly it is not a huge impact on average framerates.