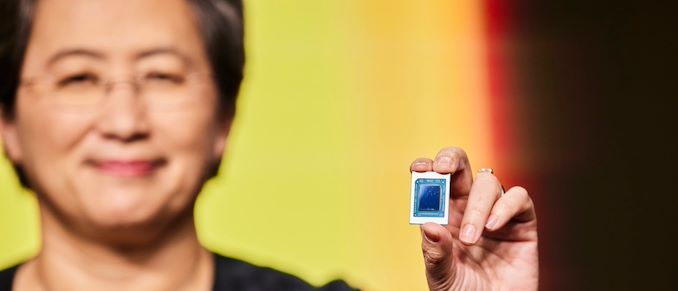 09:45AM EST - It's the first week of a new year, which can only mean it's the annual CES trade show! As per usual, the big names have major presentations set up to outline their products for the rest of the year. We're starting bright and early today with AMD first out of the gate, and we're expecting CEO Dr. Lisa Su to present details about the upcoming Ryzen processors as previewed yesterday at the CES awards. Come join us at 7am PT / 10am ET / 15h00 UTC to get all the details.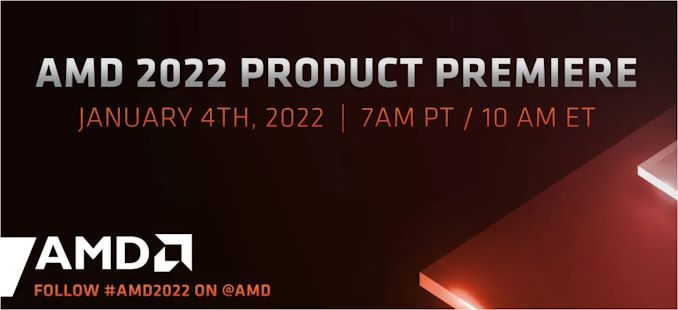 09:56AM EST - 3 minutes to go time
10:00AM EST - The recording has started... with a countdown
10:01AM EST - 3 .. 2 .. 1 .. go!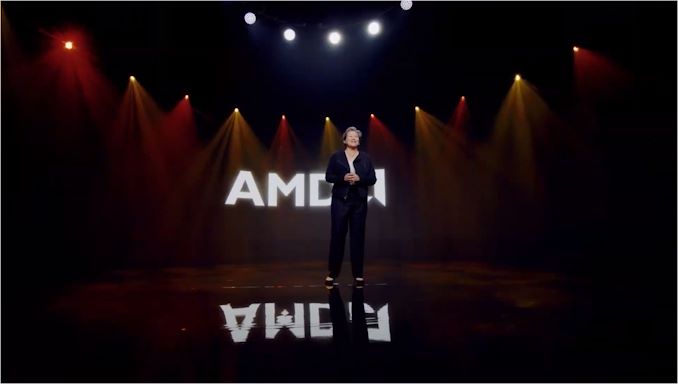 10:02AM EST - Lisa Su to the stage
10:02AM EST - preview next-gen technologies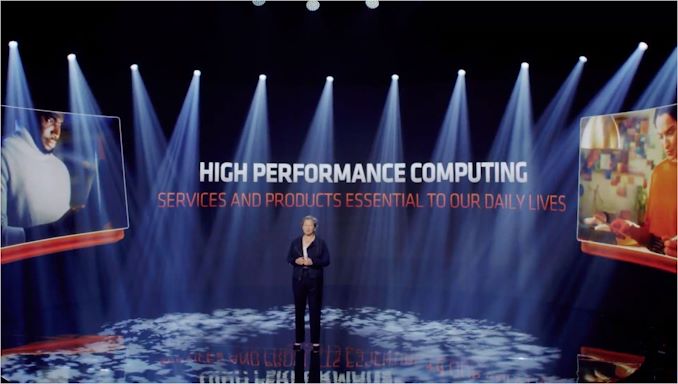 10:02AM EST - high performance computing megacycle
10:02AM EST - Trend will increase
10:02AM EST - AMD is pushing the envelope
10:03AM EST - Making everyone more productive everywhere
10:03AM EST - powered by AMD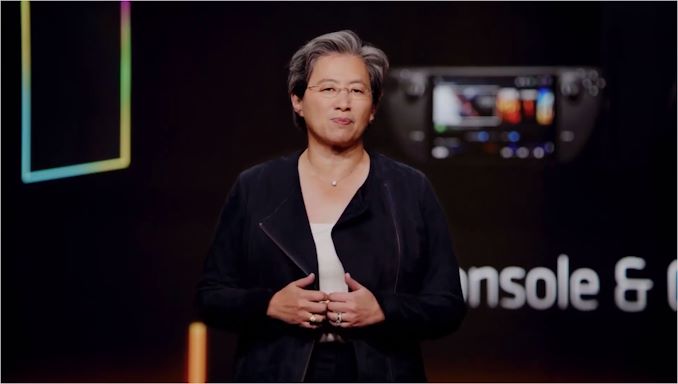 10:03AM EST - Selecting EPYC to power infrastructure
10:03AM EST - Raising the bar in experience
10:03AM EST - Also, gamers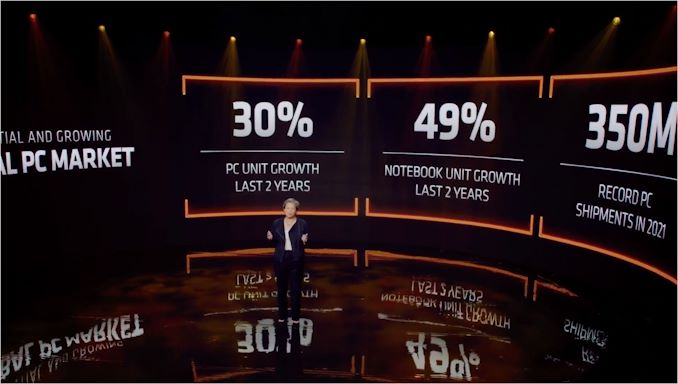 10:04AM EST - Strong growth in PCs
10:04AM EST - Notebooks +49%
10:04AM EST - Industry shipped 350m PCs in 2021
10:04AM EST - New Ryzen Mobile CPUs
10:05AM EST - Executed a multi-generation roadmap
10:05AM EST - A new mobile CPU every year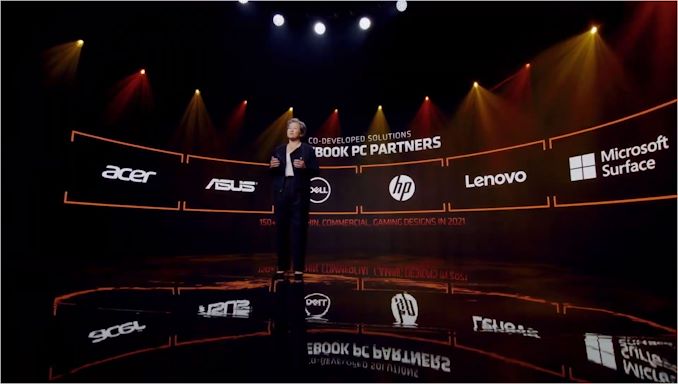 10:05AM EST - Partnerships with all major OEMs
10:05AM EST - 150+ AMD designs in 2021
10:05AM EST - Record market share for AMD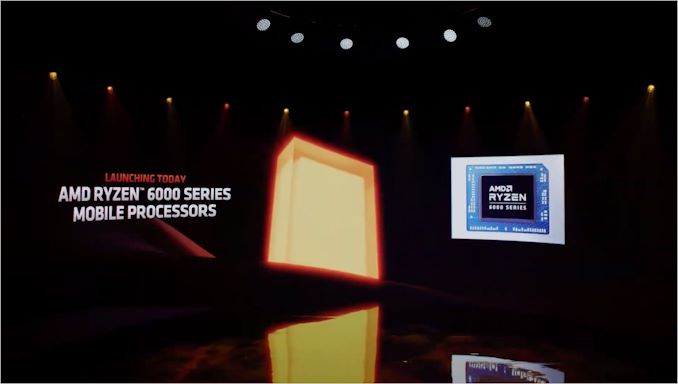 10:05AM EST - Launching Ryzen 6000 Mobile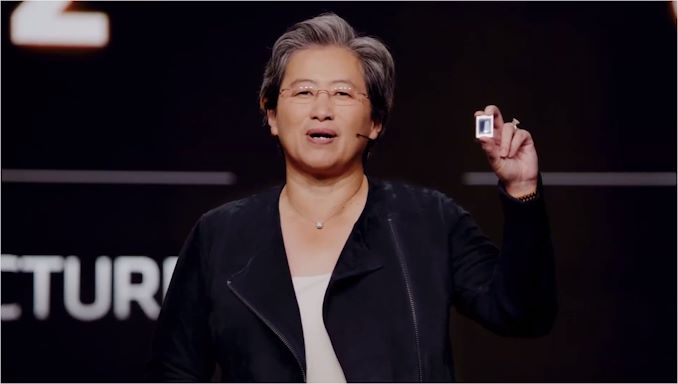 10:05AM EST - Zen3+ core, RDNA2, 6nm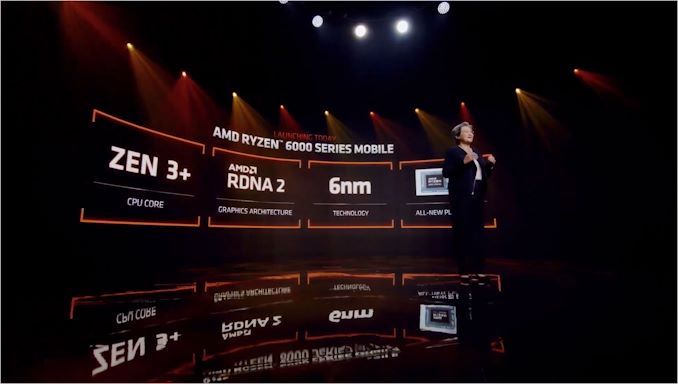 10:06AM EST - Same technology powering PCs, Consoles, and Teslas
10:06AM EST - DDR5, LPDDR5, USB4, Wi-Fi 6E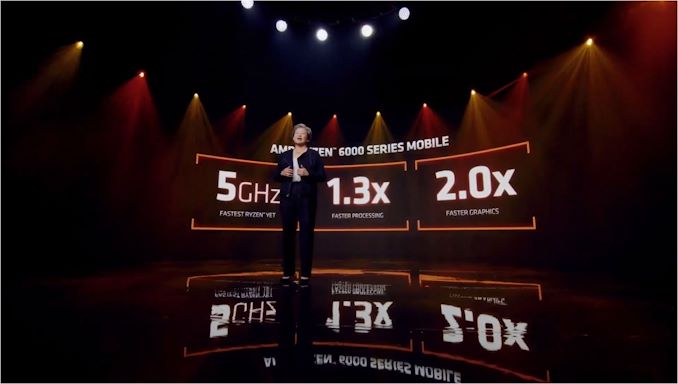 10:06AM EST - Up to 5 GHz
10:07AM EST - 1.3x ST, 2.0x Graphics
10:07AM EST - Enormous Generational uplift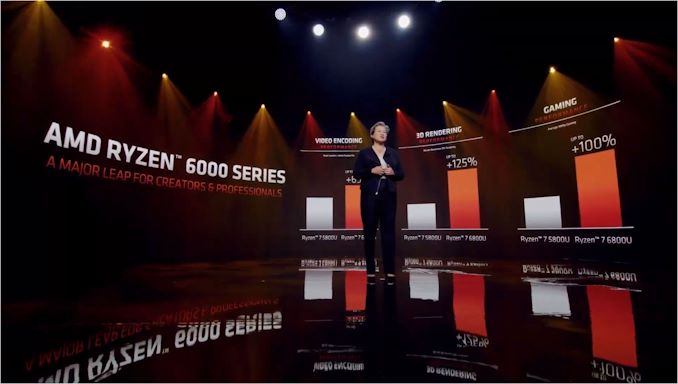 10:07AM EST - Double 1080p Gaming
10:07AM EST - Microsoft Pluton included
10:07AM EST - First PC processors with Pluton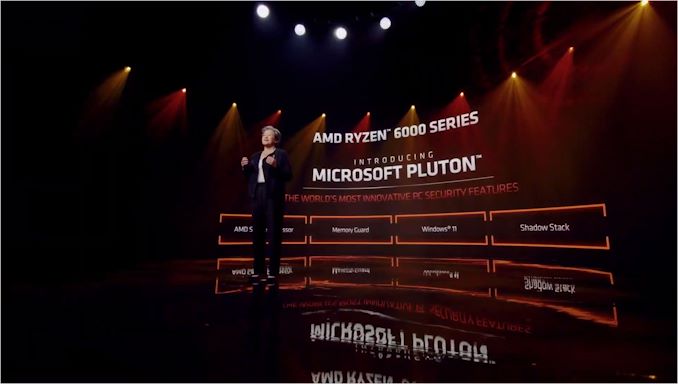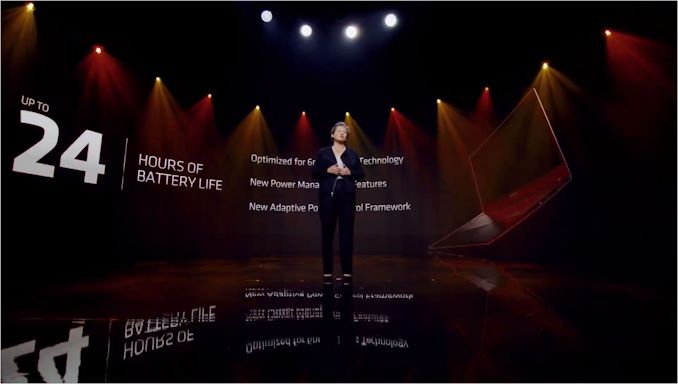 10:08AM EST - Up to 24 hours battery life
10:08AM EST - Zen3+ has new power features
10:08AM EST - 6nm helps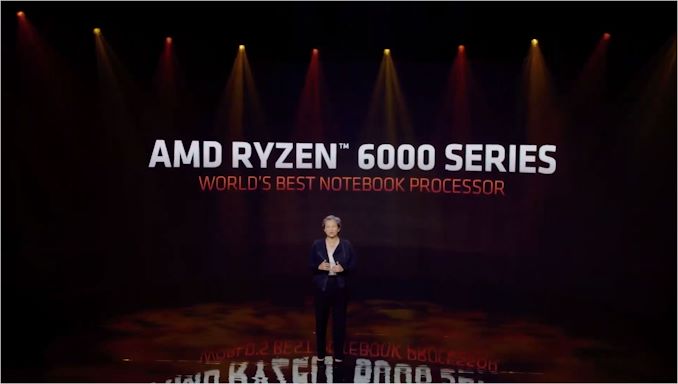 10:09AM EST - World's best all-round notebook processor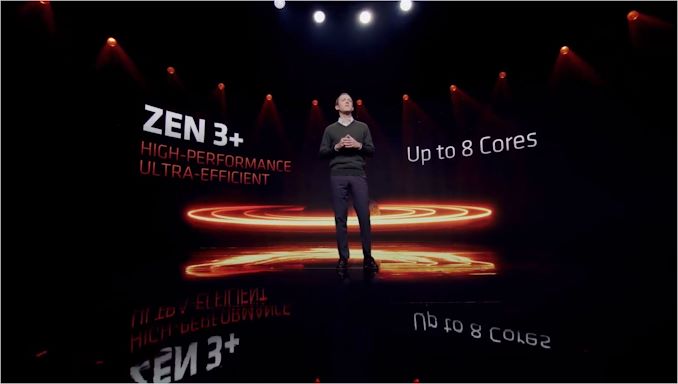 10:10AM EST - More performance requires better efficiency
10:10AM EST - Better efficiency means more battery life
10:10AM EST - New set of deep sleep states
10:10AM EST - System management firmware is now smarter
10:10AM EST - more on-die sensors and switches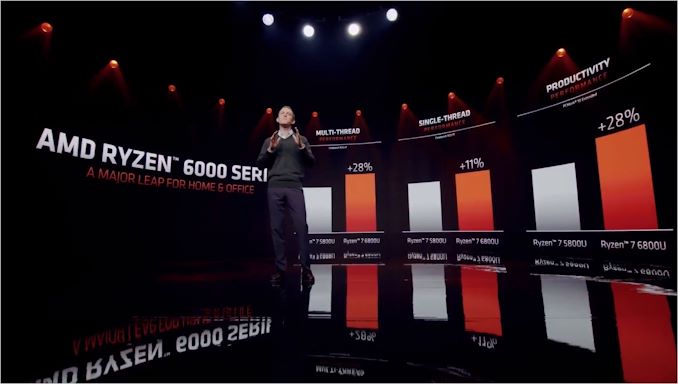 10:11AM EST - Raw performance increases
10:12AM EST - 30% system power reduction on teams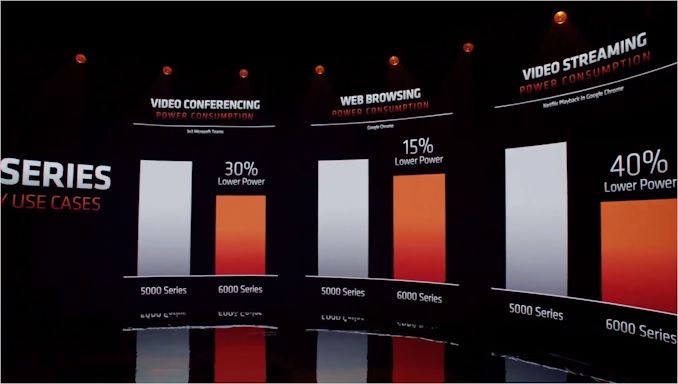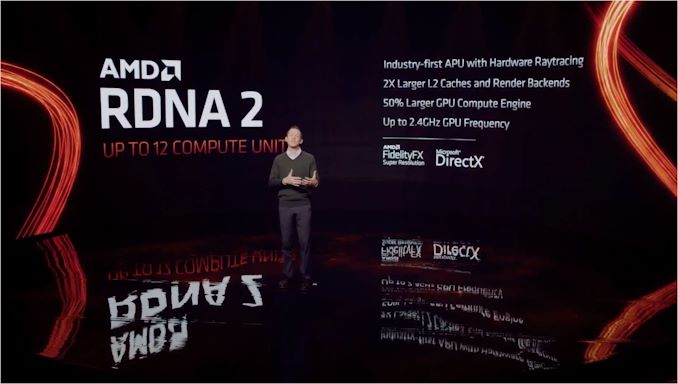 10:12AM EST - 12 RDNA2 compute units
10:12AM EST - hardware ray tracing
10:13AM EST - double cache, double render backend, +50% more compute units, +20% frequency
10:13AM EST - DX12 Ultimate and FSR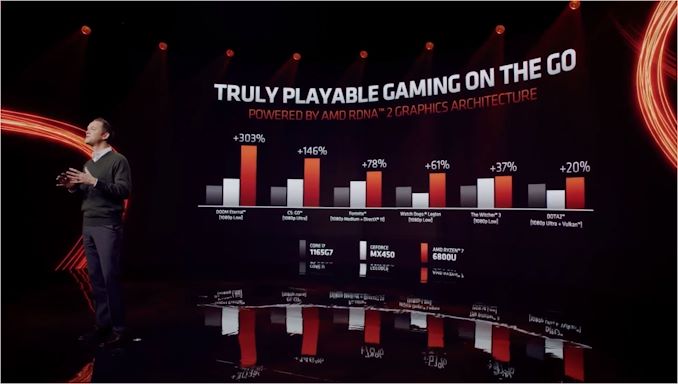 10:14AM EST - 19m notebooks each year are sold with entry level discrete graphics - Ryzen 6000 APU graphics beats it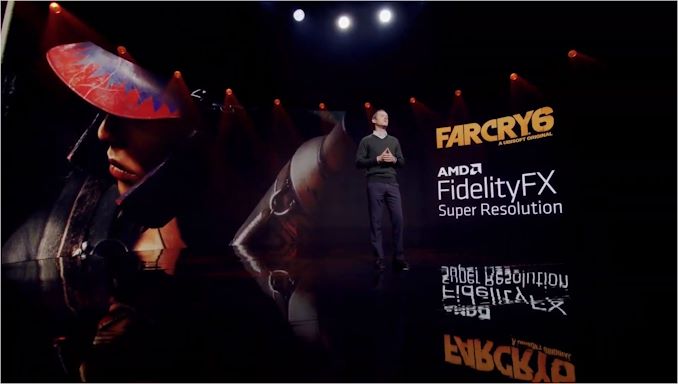 10:14AM EST - FSR through real-time upscaling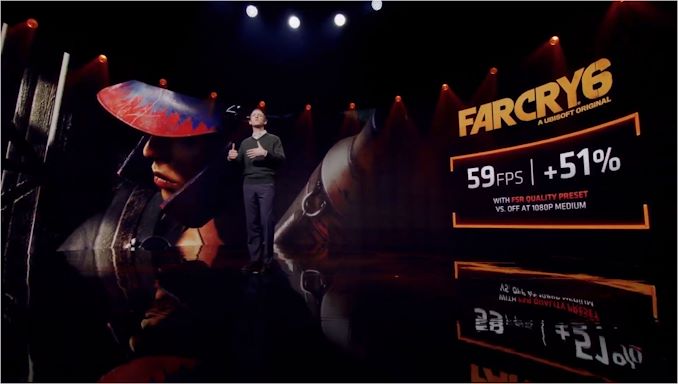 10:15AM EST - The power of FSR on an APU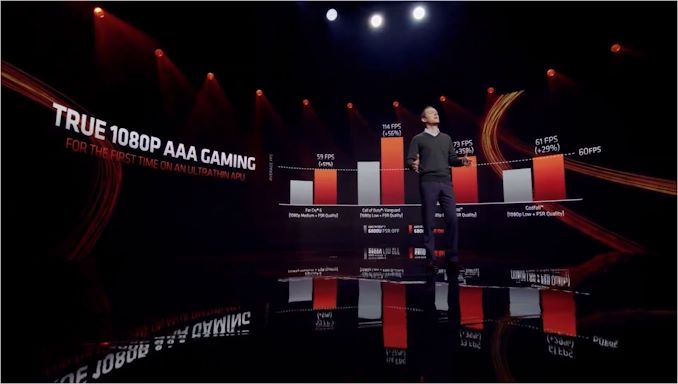 10:15AM EST - Only AMD can do this on a notebook
10:15AM EST - True 1080p60 AAA Gaming on an APU
10:16AM EST - USB4 at 40 Gbps
10:16AM EST - AMD is an early adopter for USB4
10:16AM EST - PCIe 4.0 on Ryzen 6000 Mobile
10:17AM EST - DDR5 and LPDDR5 support (no DDR4!)
10:17AM EST - Wi-Fi 6E support via PCIe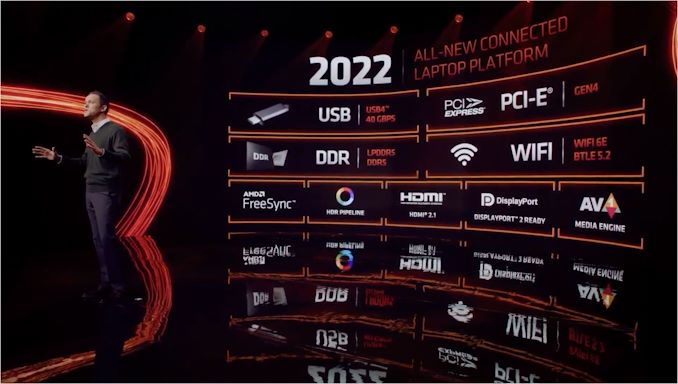 10:18AM EST - Lenovo Thinkpad Z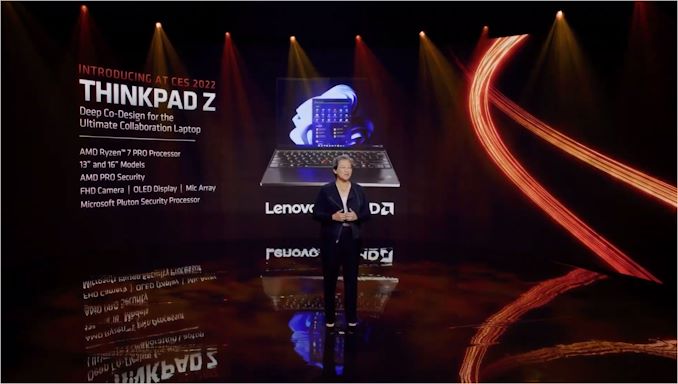 10:18AM EST - For business users
10:18AM EST - 3D Haptic Touchpad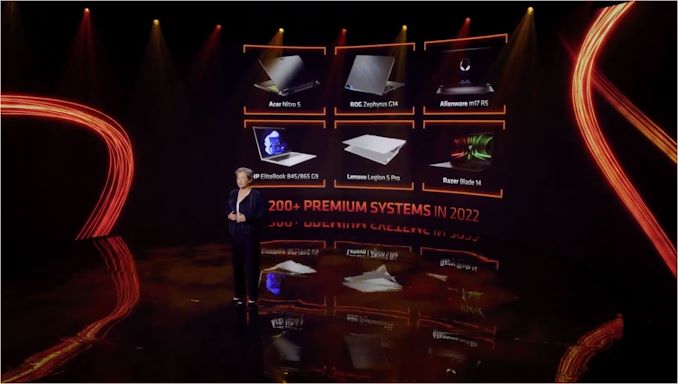 10:19AM EST - 200+ systems in 2022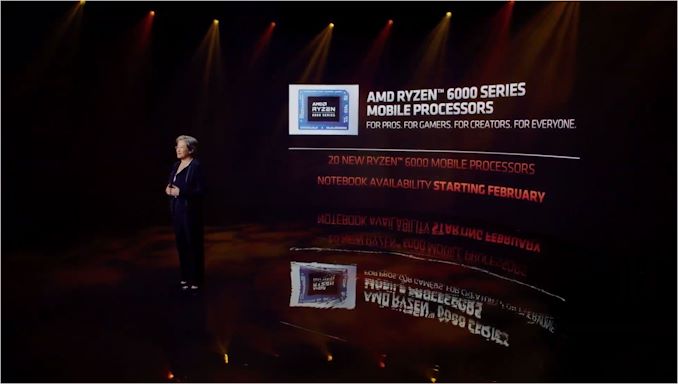 10:19AM EST - 20 new processors, starting February
10:19AM EST - GPU time
10:19AM EST - Laura Smith to the stage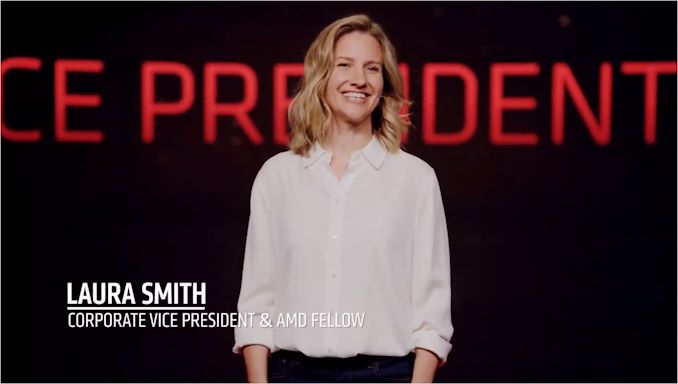 10:20AM EST - RDNA2 designed for scaling and broad adoption
10:20AM EST - 6900 to 6600 already on market
10:20AM EST - Need GPU, Display, Software
10:20AM EST - 2000+ Freesync displays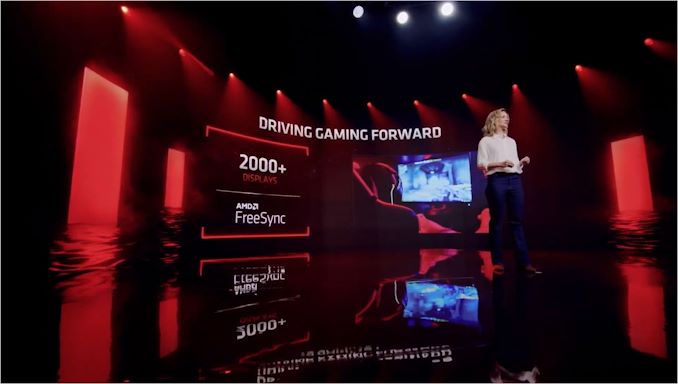 10:21AM EST - 8K and 480 Hz displays with Freesync
10:21AM EST - FSR supported in 45+ games
10:21AM EST - 22 more expected in first half 2022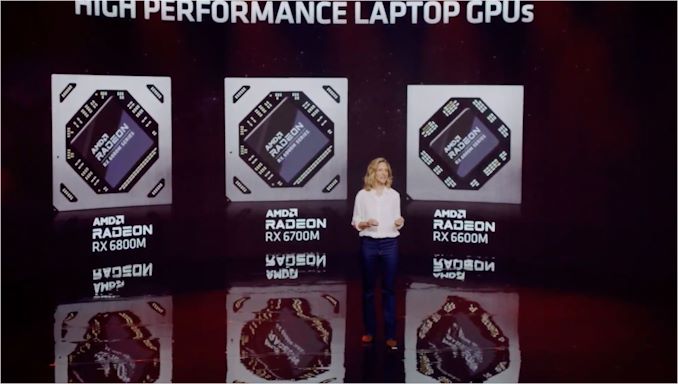 10:22AM EST - Now for new GPUs
10:22AM EST - Gaming laptops is the fastest growing segment
10:22AM EST - RX6000S Series for thin and light gaming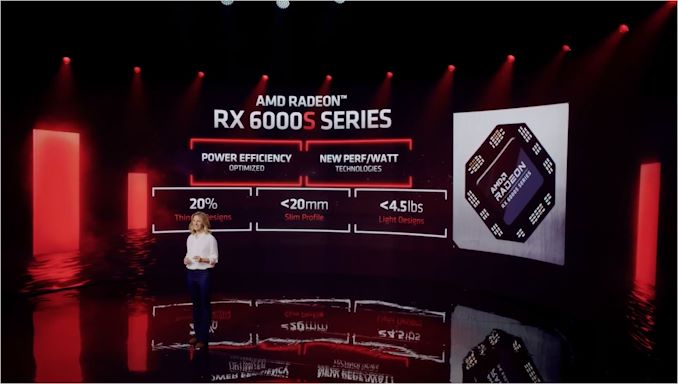 10:23AM EST - Growing RX6000M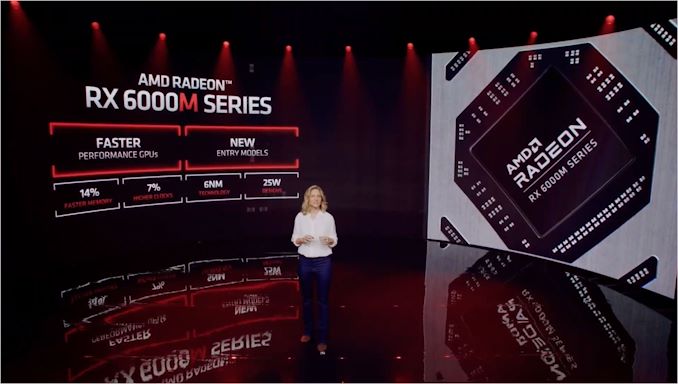 10:23AM EST - New 6nm GPU for low power gaming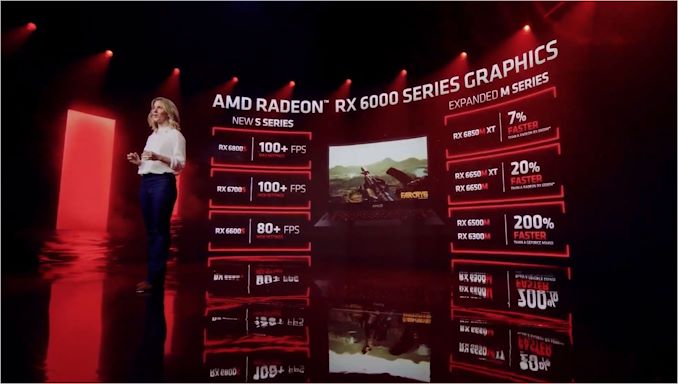 10:23AM EST - Here's a load new GPUs
10:23AM EST - S is for Slim
10:23AM EST - RX 6800S, 6700S, 6600S
10:23AM EST - RX6850M XT at top end
10:24AM EST - New 6650M models
10:24AM EST - RX6300M and 6500M at low end
10:24AM EST - New 6nm discrete GPU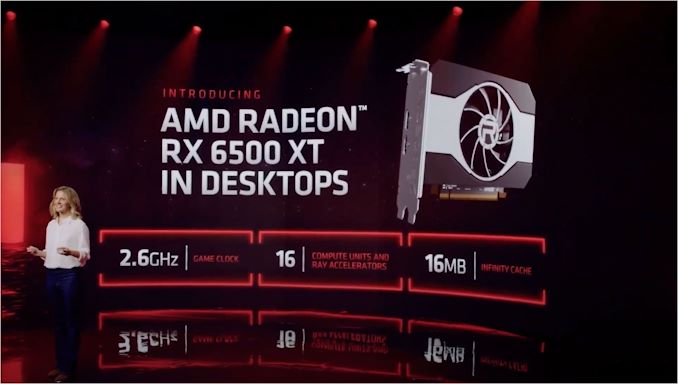 10:24AM EST - 2.6 GHz, 16MB Infinity Cache
10:24AM EST - Supports full software features
10:25AM EST - RX 6500 XT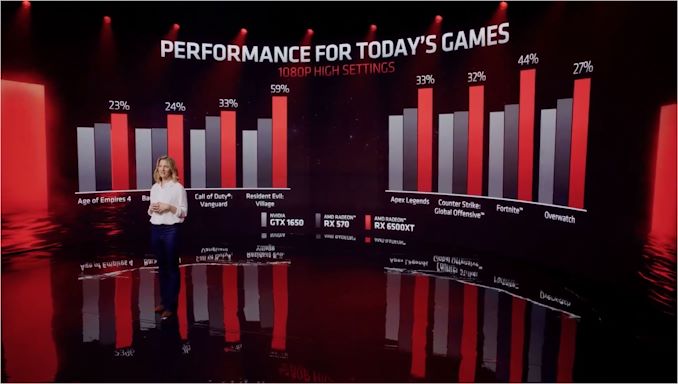 10:25AM EST - Smashes GTX 1650 and RX570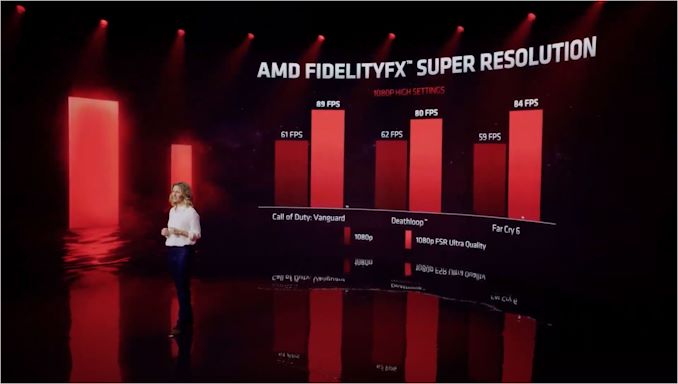 10:25AM EST - Supports FSR
10:25AM EST - +46% higher frame rates with FSR
10:26AM EST - $199 from Jan 19th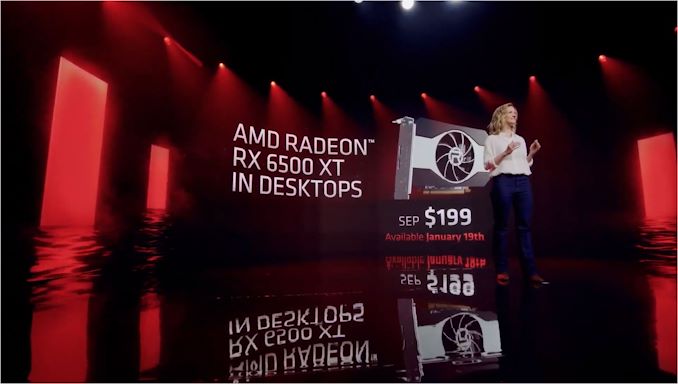 10:26AM EST - partner cards only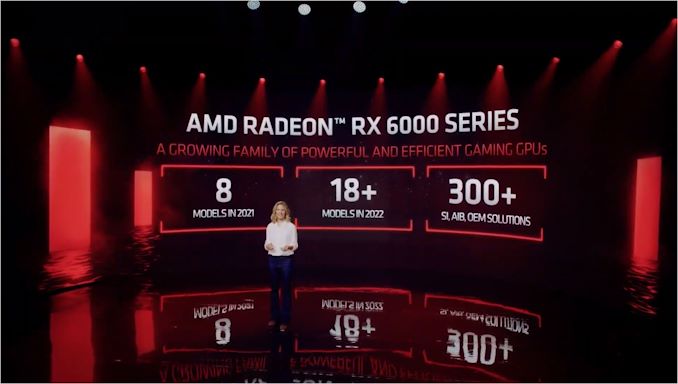 10:26AM EST - 18 new RX 6000 GPUs in 2022 from AMD
10:27AM EST - *From 8 models to 18+ (not 18 new_
10:27AM EST - Frank Azor to the stage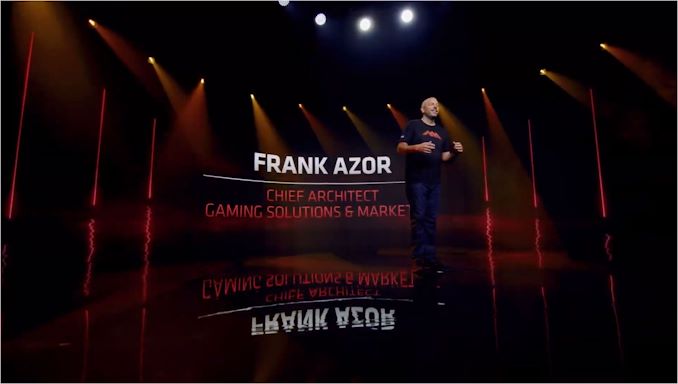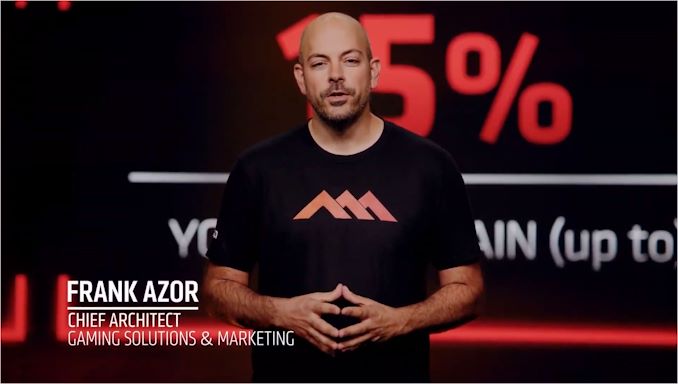 10:27AM EST - 22 new software features in 2021
10:27AM EST - Tuned drivers for 40+ games on day 0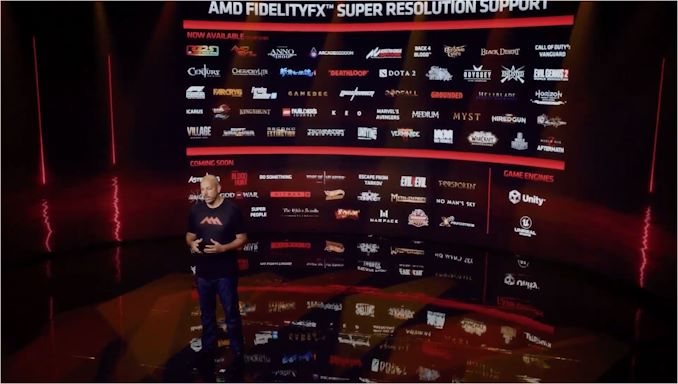 10:28AM EST - FSR coming soon to Unity and Unreal
10:28AM EST - Now integrated into the Adrenaline software, will enable across 1000s of games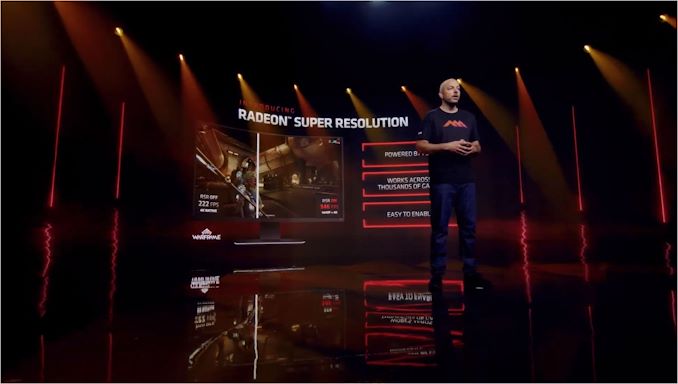 10:29AM EST - (Does that mean if I watch a video, it'll upscale?)
10:29AM EST - AMD Privacy View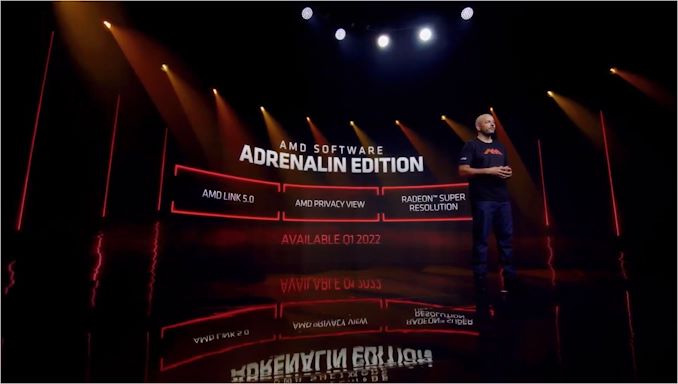 10:29AM EST - Now AMD Advantage
10:30AM EST - AMD CPU + AMD GPU in a laptop
10:30AM EST - AMD Advantage laptops come with 100+ FPS, low latency panels, and built to game
10:30AM EST - 7 designs in 2021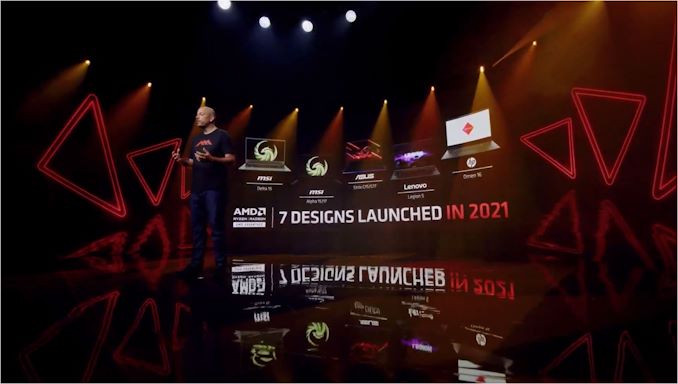 10:31AM EST - New 2022 updates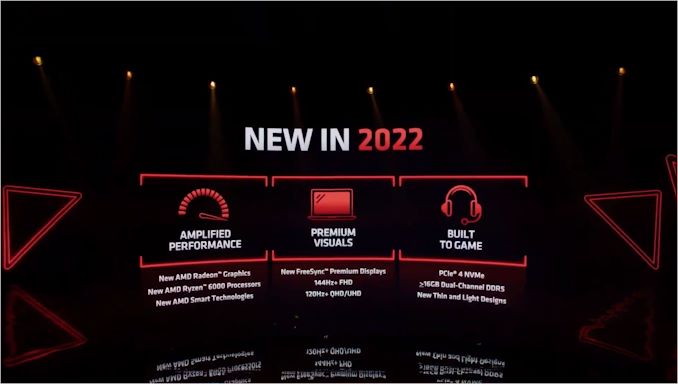 10:31AM EST - New CPUs, new displays, PCIe 4, DDR5
10:32AM EST - AMD Smartshift Max to move power from CPU to GPU as needed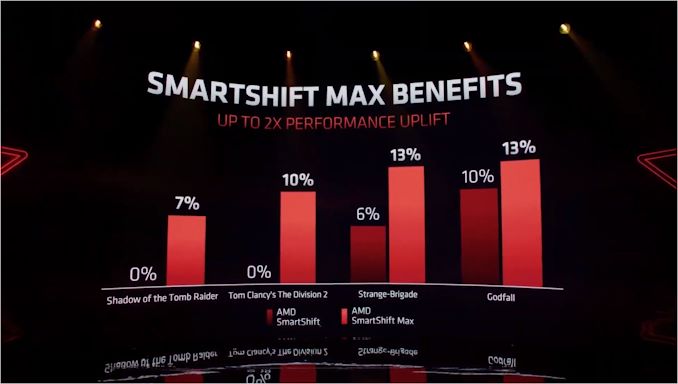 10:33AM EST - Smartshift Eco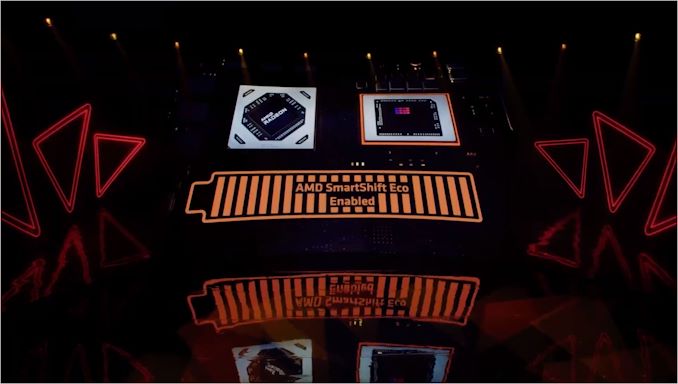 10:33AM EST - Game on integrated graphics when off power to game for longer. Enabled through software later this year
10:34AM EST - AMD Smart Access graphics allows GPU to give direct video output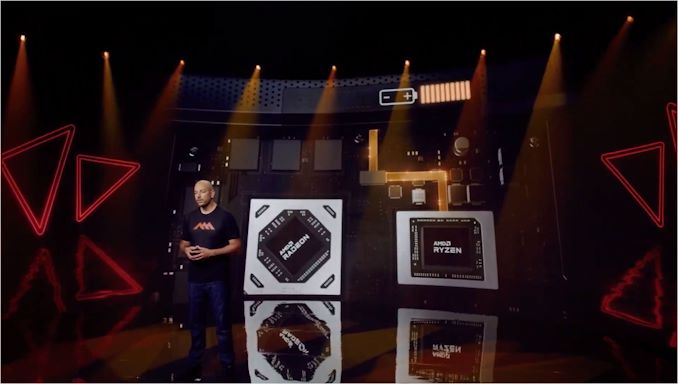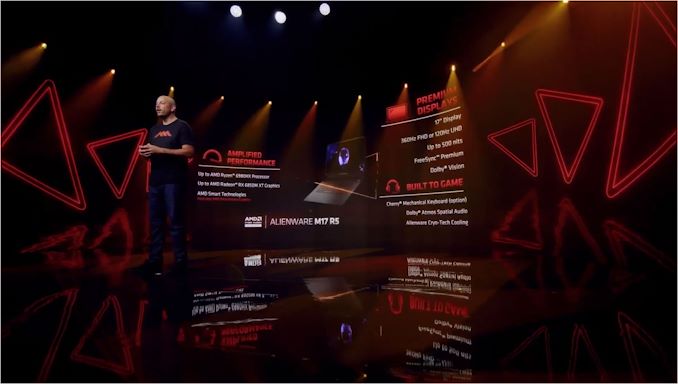 10:34AM EST - First laptop is Alienware M17 R5
10:34AM EST - 6980HX + 6850M XT, 17-inch 360 Hz 500 nits and mechanical keyboard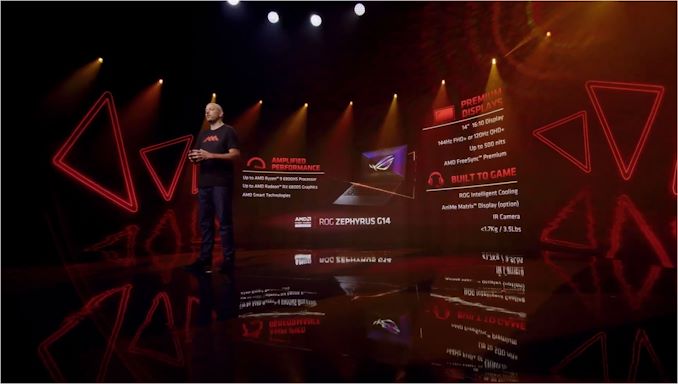 10:35AM EST - ASUS ROG Zepyhrus G14 next gen
10:36AM EST - 14-inch, available in select regions in Q1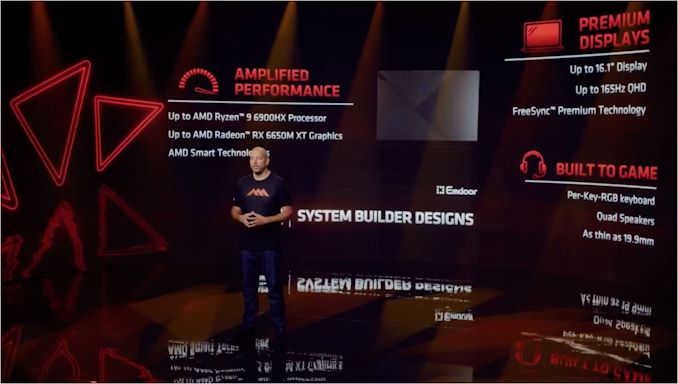 10:36AM EST - System integrators want in
10:36AM EST - Using Emdoor reference design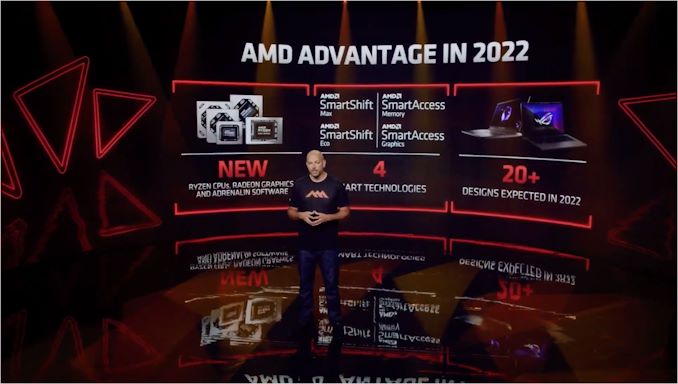 10:37AM EST - 20+ Advantage laptops coming in 2022
10:37AM EST - Lisa back to the stage
10:37AM EST - Now for desktop
10:37AM EST - V-Cache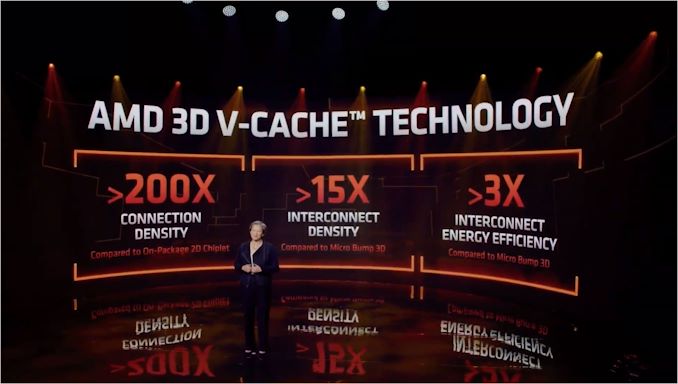 10:38AM EST - Leading industry with chiplets
10:38AM EST - Ryzen 7 5800X3D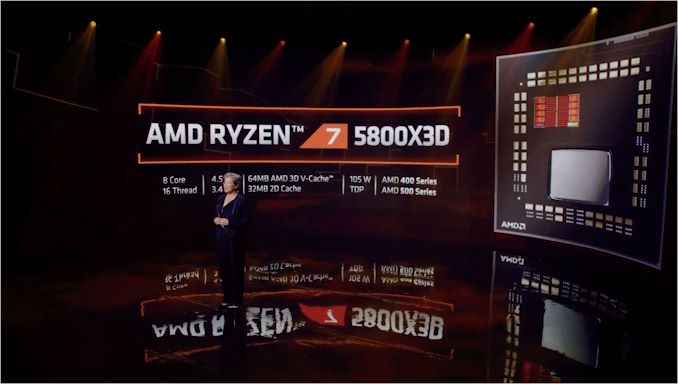 10:38AM EST - 96 MB L3 cache, 8 cores, 4.5 GHz boost
10:38AM EST - Drops into AM4 boards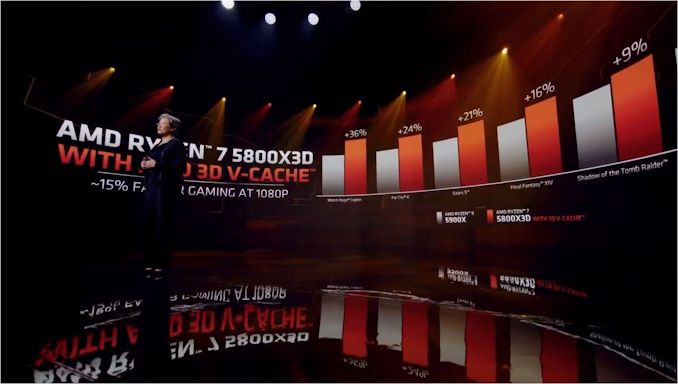 10:39AM EST - 1080p Gaming +15% over 5900X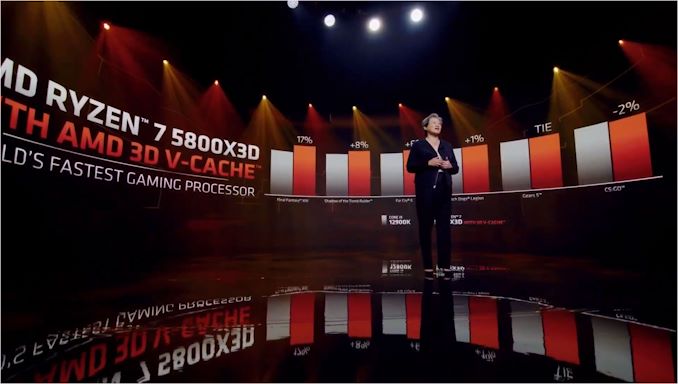 10:39AM EST - beats the competition
10:39AM EST - world's fastest gaming processor
10:39AM EST - Coming spring 2022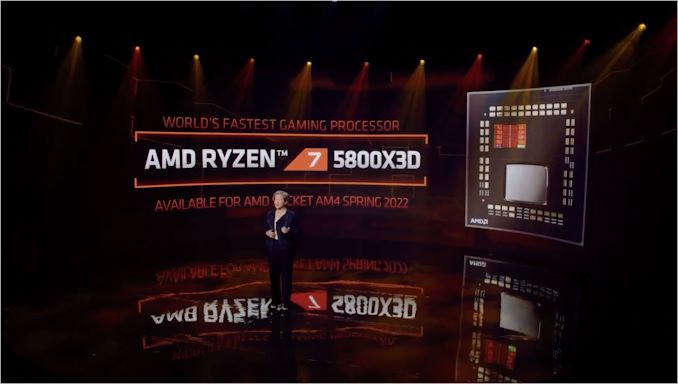 10:39AM EST - Now Zen 4 and 5nm
10:39AM EST - 123 Ryzen processors to AM4 since launch
10:40AM EST - Preview of next platform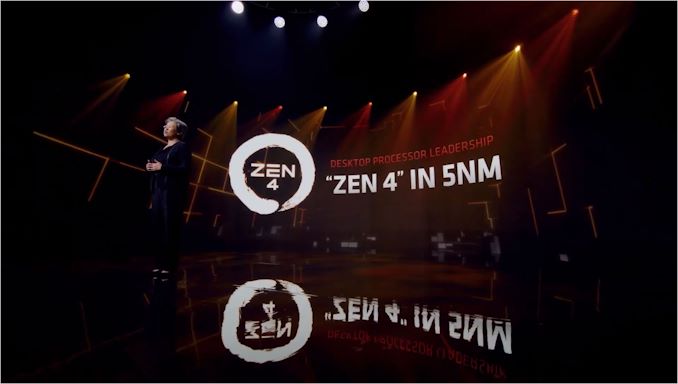 10:40AM EST - Extending AMD's leadership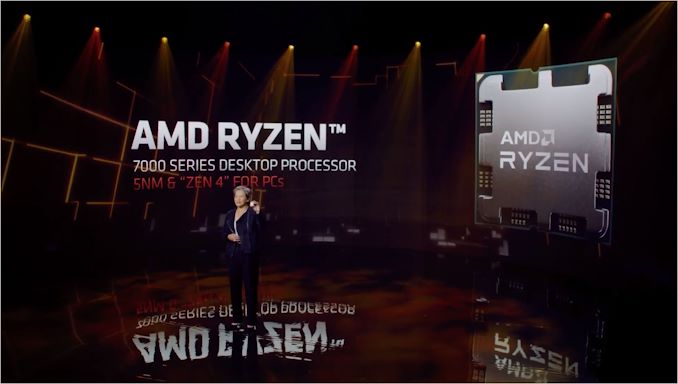 10:40AM EST - Running in labs already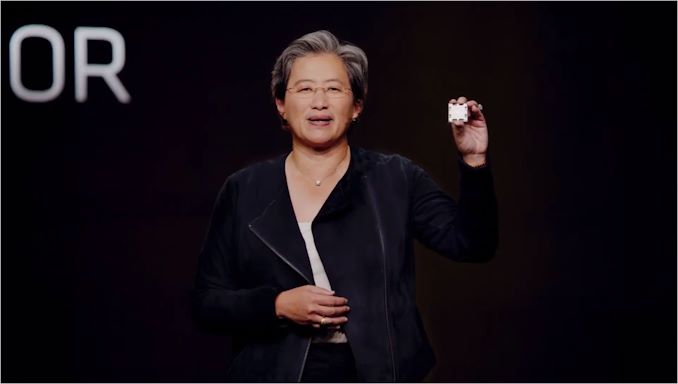 10:40AM EST - Paired with DDR5, PCIe 5
10:41AM EST - AM5 platform with LGA1718 socket
10:41AM EST - Ryzen 7000 series
10:41AM EST - Halo demo on the silicon
10:41AM EST - All Zen 4 cores at 5 GHz in the demo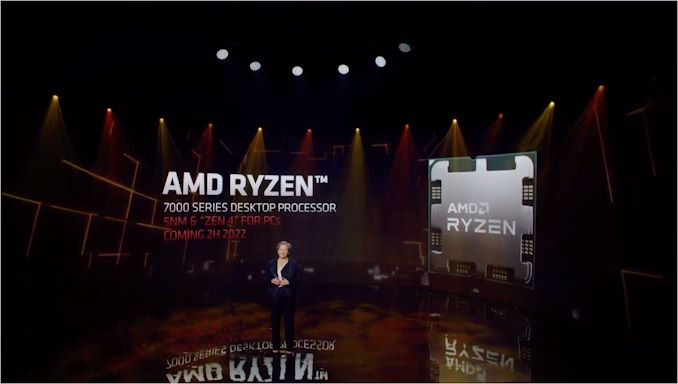 10:41AM EST - Coming second half of the year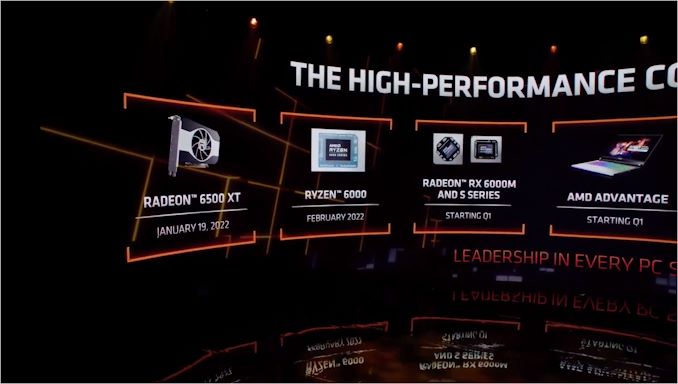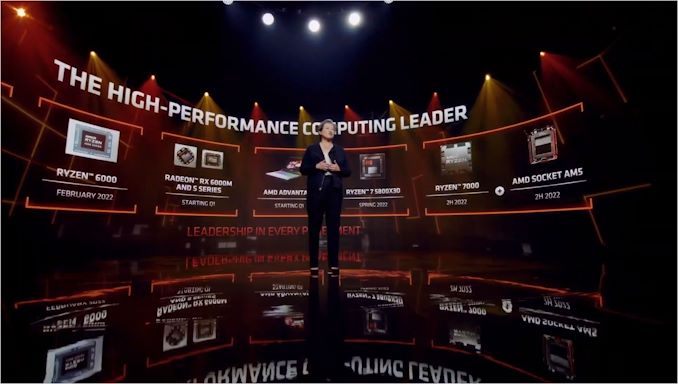 10:42AM EST - More info at the next event. Stay tuned, another keynote is starting in 20 mins