Recently Purav and I had the opportunity to work with some retail "SATA II" drives as part of some upcoming articles. Even though we have known about SATA II for well over a year now, seeing retail drives has been really refreshing as Western Digital, Samsung and Hitachi all have units available [RTPE: "SATA II"]. However, the real surprise to us came when the majority of SATA II drives available right now are not capable of 3.0Gbps transfer speeds and others don't claim support for features we almost take for granted; like NCQ. The original SATA standard - usually referred to as SATA, U150, SATA150, or SATA I - gave us a peak transfer rate from the HDD interface to the system bus of about 1.5Gbps. Many believe that if SATA I drives have transfer rates of 1.5Gbps, then 3.0Gbps rates must be held by drives which have SATA II in their names. This is definitely not the case according to the SATA organization:
"The first step toward a better understanding of SATA is to know that SATA II is not the brand name for SATA's 3Gb/s data transfer rate, but the name of the organization formed to author the SATA specifications. The group has since changed names, to the Serial ATA International Organization, or SATA-IO." - SATA-IO, http://www.sata-io.org
The three main misconceptions are that:
"SATA II" has now been renamed to SATA-IO
SATA-IO must support 3Gbps transfers
SATA-IO must support features like NCQ and Hot Plug
The SATA-IO, or SATA International Organization, specifies that the SATA standard has the potential to top 6Gbps transfer rates; four times what the majority of drives currently offer. While it is probably questionable if 3Gbps transfer rates are even obtainable outside all but the most intensive SATA RAID scenarios, the fact remains that "SATA II" - the name - has absolutely nothing to do with data rates. Also recall that even though a SATA device might claim 3Gbps transfer rates, 20% of the bandwidth is dedicated for parity in the encoding scheme of the bus - which is why we claim effective thoroughput of 300MBps as opposed to 375MBps.
SATA-IO claims we should identify SATA products in much the same manner we identify CPUs; by distinguishing the speed and feature set in the product description. From the SATA-IO website again: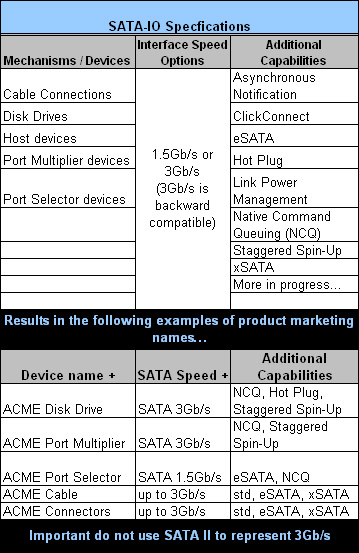 Just because the SATA-IO committee identifies capabilities like NCQ and Hot Plug, they are not required by any standard; however, any device identified as "SATA II" or "SATA-IO" (also mentioned as "SATA Gen 2" in some documents) are backward compatible with SATA I technologies. Frame Information Structure (FIS) based switching supposedly enables smaller RAID stripes to obtain near 2Gbps transfer rates, something not yet capable on existing U150 SATA devices. Getting the word out to IT managers and administrators that "SATA II" devices are not always what they seem now becomes a large challenge for the SATA organization.
Since there is a clear possibility that manufacturers might offer non-NCQ "SATA II" hard drives - let this be a word of warning. Hopefully the market will load up all of the capabilities of SATA whenever a new device comes out, but we get the distinct feeling that purchasing a new hard drive or RAID controller will become a more researched purchase than it has in the past.