Steve talked about the two major challenges with the shift to x86:
Getting Mac OS X run on Intel
Intel versions of Applications
The first challenge ended up not being much of one at all, as Jobs revealed that OS X has been running on x86 platforms for the past 5 years; every release of Mac OS X has been compiled for PowerPC and Intel.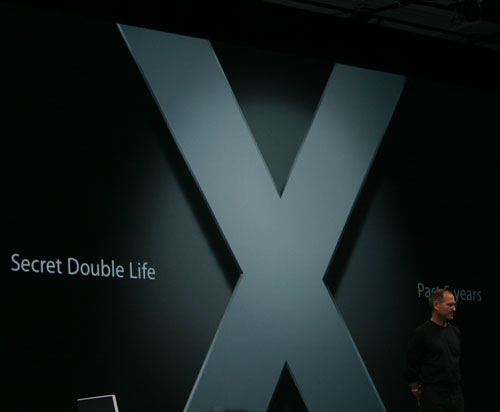 OS X has been living a secret double life for the past 5 years.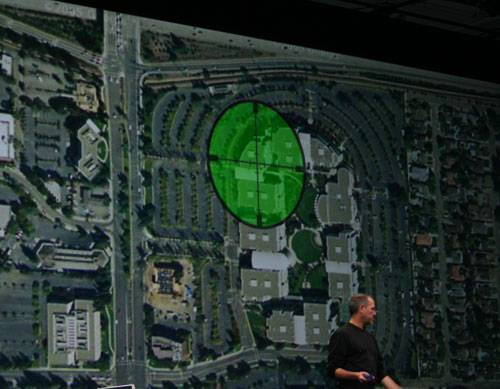 This picture highlights the building on Apple's Cupertino campus where x86 development has taken place for the past 5 years.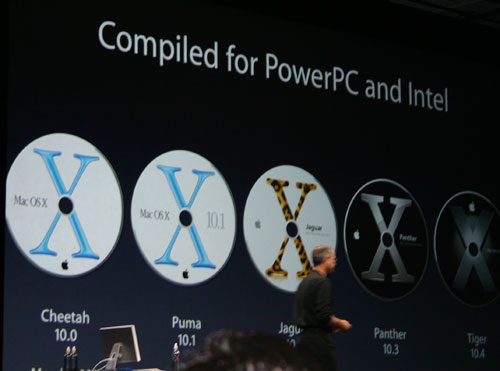 As we mentioned before, the entire keynote was actually done on a Pentium 4 3.6GHz system with 2GB of DDR memory.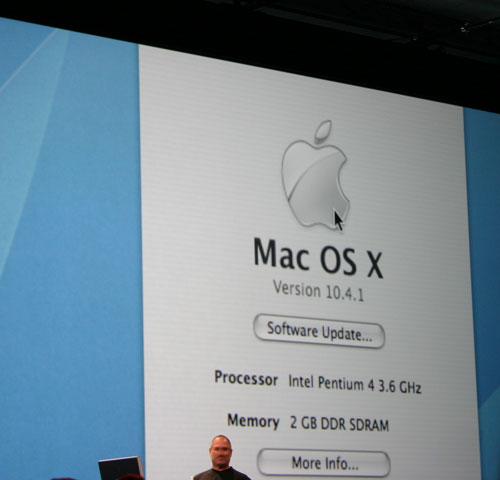 All of the slides featuring an Intel die shot were actually of the dual core Pentium D, but for whatever reason, the keynote (and its demos) as well as the developer kit were done on a single core Pentium 4 3.6GHz processor.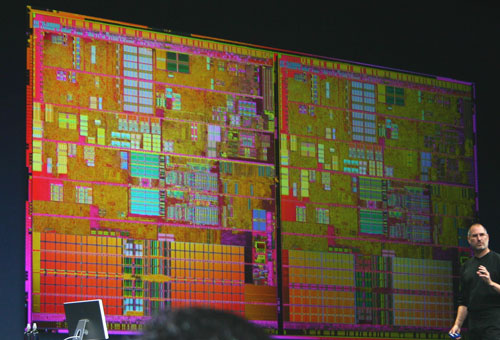 The second challenge is obviously a bit more complicated, but with the OS already working on Intel platforms, one major hurdle is a non-issue.
At the conference, Apple released an updated version of their Xcode development suite. Xcode 2.1 will let you compile to both PowerPC and Intel architectures, creating a universal binary and allowing developers to ship one copy of software that supports both processors.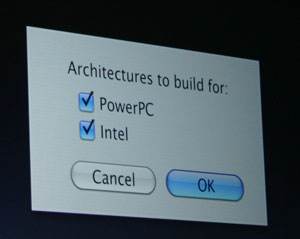 A checkbox in Xcode 2.1 will allow developers to create a universal binary that will run on both PPC and Intel platforms.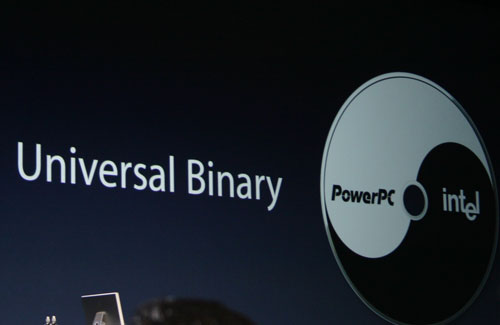 Apple also committed to supporting both PowerPC and Intel architectures for "a long time" in the future.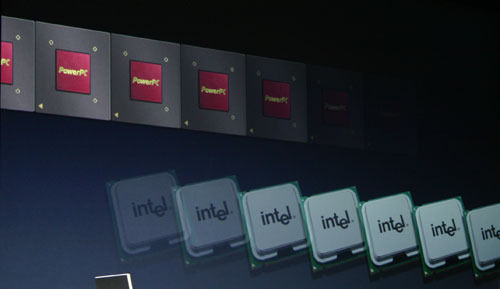 The transition in architectures will be an overlapping one.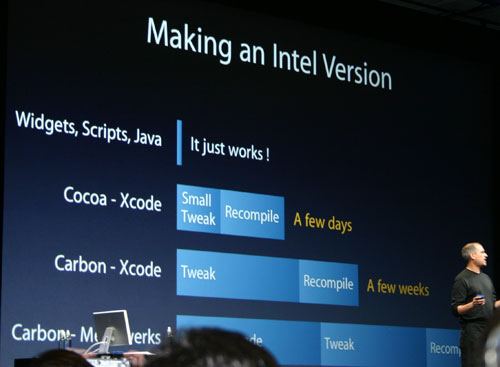 In order to show just how easy it would be to port OS X applications to the Intel platform, Apple comissioned the developers of Mathematica to port their application to an Intel dev kit. The entire Mathematica 5 app was compiled and running on Intel OS X platforms within 2 hours using Xcode 2.1.
Although Apple is pushing very hard for developers to begin creating universal binaries immediately, they recognized that not all applications would have Intel support on Day 1. Enter: Rosetta.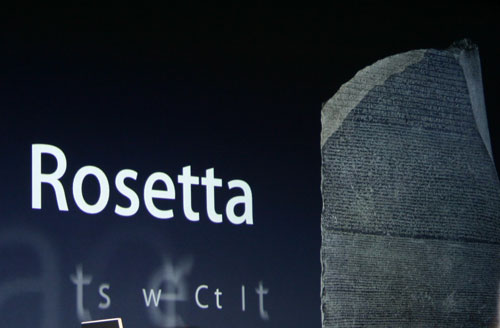 Rosetta is a binary translator that will allow PowerPC applications to run on Intel CPUs that will ship when Apple begins their transition. We have seen binary translators used in the past. They are never fast, but Apple insists that it will be "fast enough" for those applications that aren't Intel compatible on Day 1.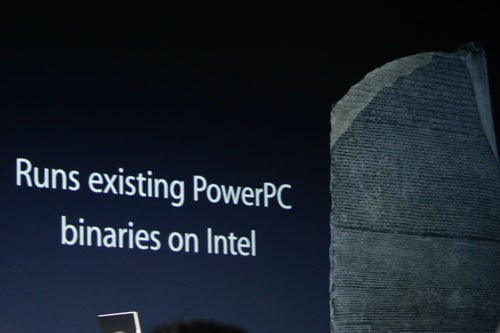 Steve demo'd Rosetta by opening Microsoft Word, Excel as well as Photoshop to show that it just worked. Loading Photoshop took a fairly long time and we'd expect the larger titles like Photoshop to be available as an Intel version when Apple starts shipping hardware.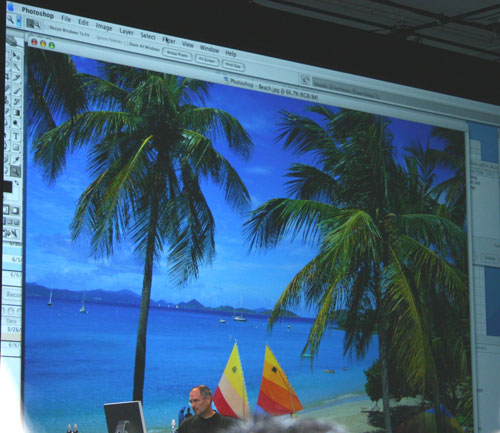 OS X (PowerPC) Photoshop running on an Intel OS X system using Rosetta.
Apple will be releasing a Development Platform configured with a 3.6GHz Pentium 4 and will be priced at $999. Apple mentioned that this wouldn't be a product and is strictly for development purposes, and as such, it must be returned by 2006. The development platforms will begin shipping in about 2 weeks.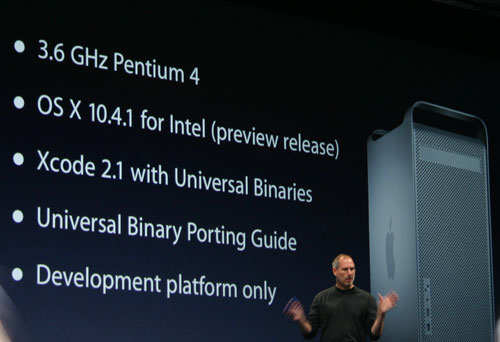 Microsoft had a representative drop by and pledge support for universal binaries in all future versions of Microsoft Office for the Mac platform, although they didn't commit to a specific time frame for release. Bruce Chizen, CEO of Adobe, also dropped by to pledge his support for the OS X Intel platforms.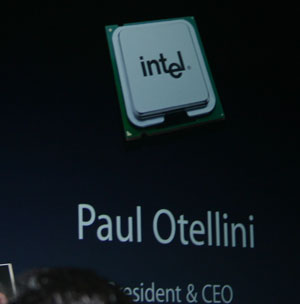 In a very impressive showing, Paul Otellini, President & CEO of Intel, dropped by to commemorate the partnership. Paul went through the histories of both Apple and Intel, touching on everything from the founding of each company to the 1996 Apple commerical where they set the Intel bunny on fire: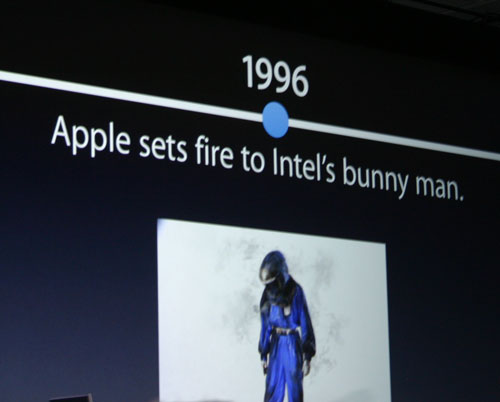 But, now all hard feelings are set aside and the two companies should be bringing forth some pretty interesting technologies moving forward.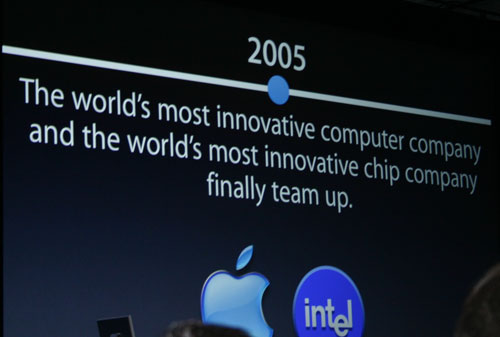 We think that the move to Intel (or x86 in general) makes a lot of sense for Apple, especially with dual core CPUs being widely available by the time that their transition begins in the middle of 2006. If any company can pull off this large of a transition, it is Apple; and the move to do it quick and as painless as possible is really the only way to do it.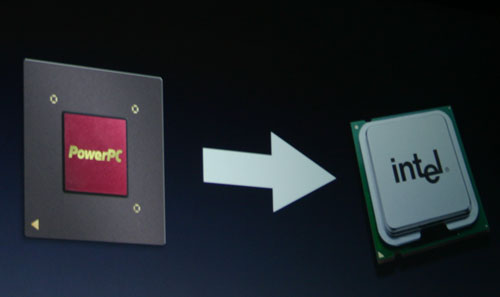 While it does seem like it would hurt Apple's desktop sales throughout the end of this year, by offering support for both PowerPC and Intel architectures for the foreseeable future, it is unlikely that it would hurt Apple too much. Pushing for a quick transition starting as early as possible in 2006 would obviously minimize the negative impact that today's announcement will have on revenue.