System Performance
Powering the Surface Laptop Studio is Intel's 11th generation Tiger Lake processors, and more specifically, Microsoft has opted for the new H35 platform. For those unfamiliar, Intel has taken what was traditionally their "U-Series" of 15-watt processors and created the higher powered H35 platform. This means you only get up to four CPU cores instead of eight as on the 45-Watt H-Series chips, but you also get up to the full 96 Execution Unit Intel Xe graphics, all with a 35-Watt TDP.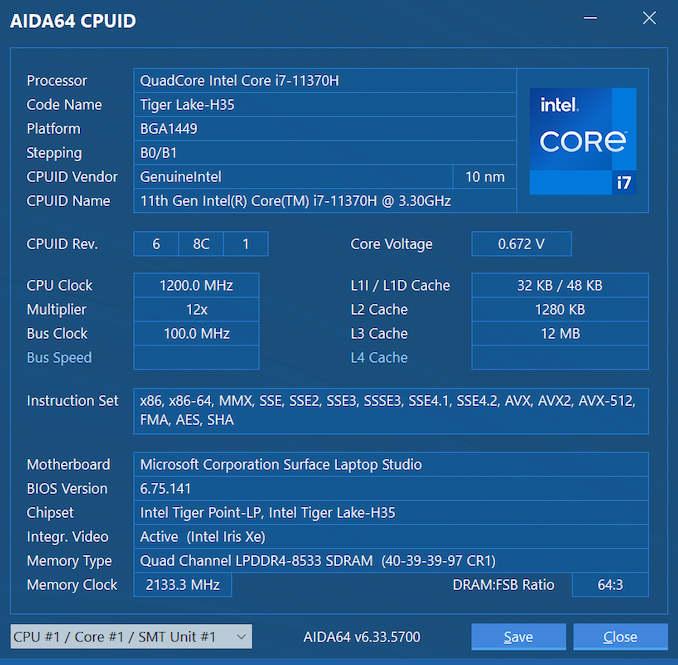 In the case of the Surface Laptop Studio, the base model comes with the Core i5-11300H featuring four cores and eight threads with a maximum boost frequency of 4.4 Ghz. The Core i5 model is not offered with discrete graphics, so the Intel Iris Xe is what is on tap. The higher-end Laptop Studio models are outfitted with the Core i7-11370H, again with four cores and eight threads, and a maximum boost frequency of 4.8 GHz. The Core i7 models will be paired with the NVIDIA GeForce RTX 3050 Ti laptop graphics, offering a significant performance boost over the integrated Intel graphics.
On the memory front, the minimum memory is 16 GB of LPDDR4x and on some models you can opt for 32 GB. Microsoft has had a tendency in the past to offer devices with less memory than is necessary, so it is great to see their new flagship product starting at 16 GB. Storage is 256 GB to 2 TB of PCIe 3.0 solid state storage, which is attached to the chipset.
Microsoft calls this their most powerful Surface device ever created. Let's put that to the test and see how the new Laptop Studio stacks up to the competition.
PCMark 10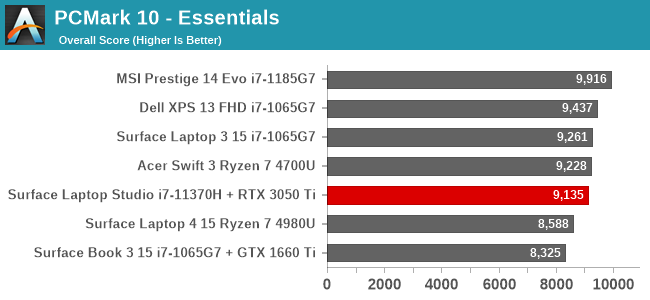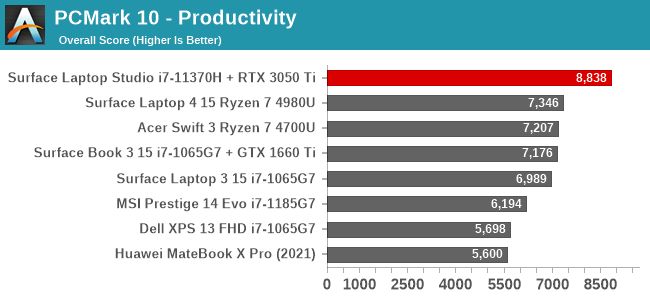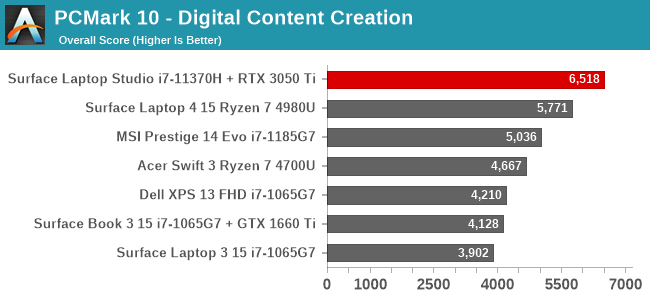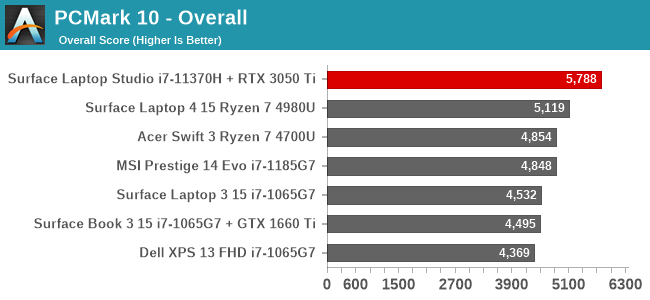 UL reached out to the press to let them know that Windows 11 enabled Virtualization-Based Security by default on a clean install of Windows 11 and that they expect that to impact the scores in a negative way. But even with that disadvantage, the Surface Laptop Studio outscores all of the other devices except in the Essentials test, where it is decidedly mid-pack.
Cinebench R20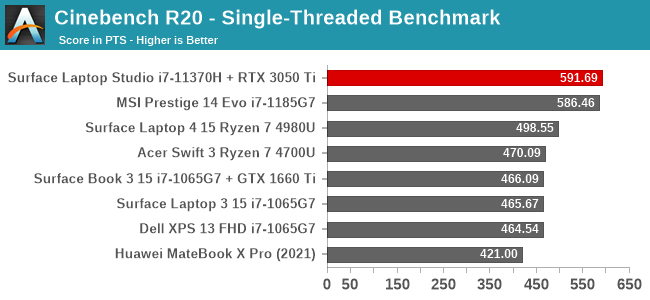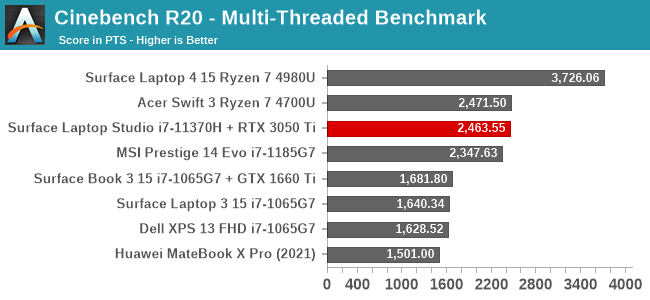 Intel's H35 platform that is featured in the Surface Laptop Studio offers four cores and eight threads of the latest Willow Cove cores, and Intel's single-threaded performance is second to none. But, with AMD offering up to eight cores and 16 threads in the same thermal envelope, Tiger Lake H35 falls short of Ryzen in multithreading.
Handbrake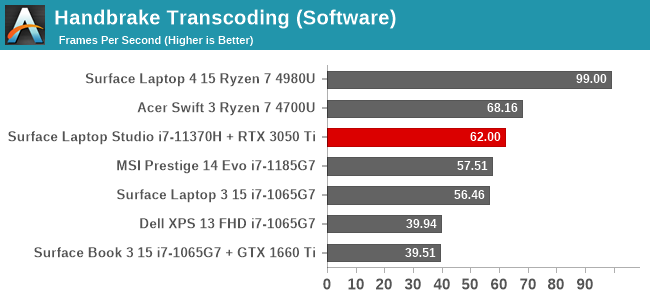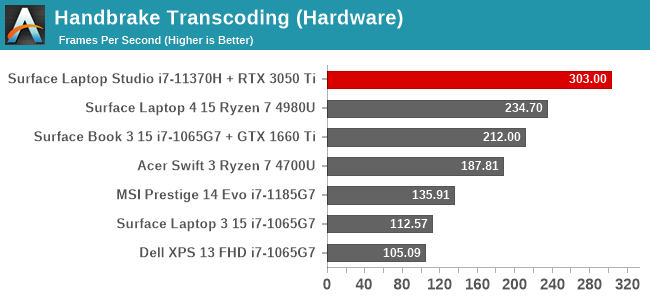 If you are transcoding, it is more than likely you are leveraging the very popular Handbrake tool. With it, you can transcode with the CPU, which gives the best quality, or you can leverage the video encode blocks in the GPU. We test both, and since the Laptop Studio comes with an NVIDIA RTX GPU, that means NVENC. On the software side, the H35 platform outperforms the MSI Prestige which also offers Tiger Lake but falls short of the higher-core Ryzen products. On the hardware side though, the RTX 3050 Ti is way ahead.
Compression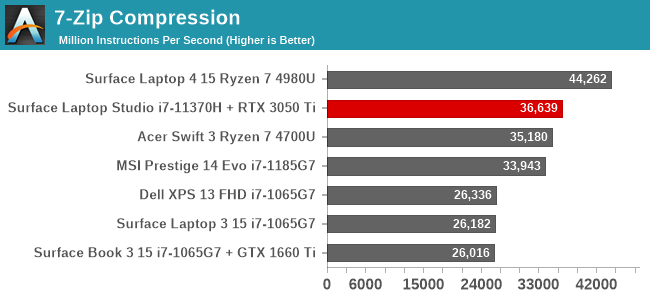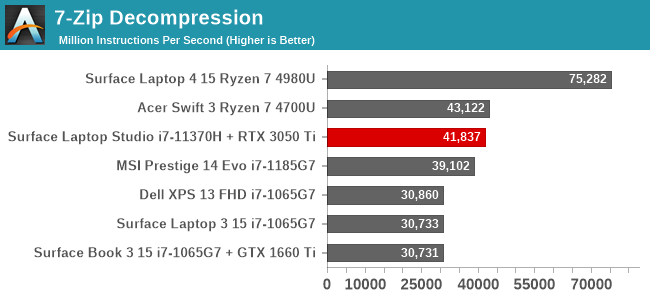 7-Zip offers a built-in benchmark to see how your system handles file compression and decompression. Intel's core count disadvantage holds it back here again compared to Ryzen.
Web Performance
Web performance comes down to the browser as much as the processor, so to standardize, we leverage Microsoft's Chromium-based Edge browser for all tests.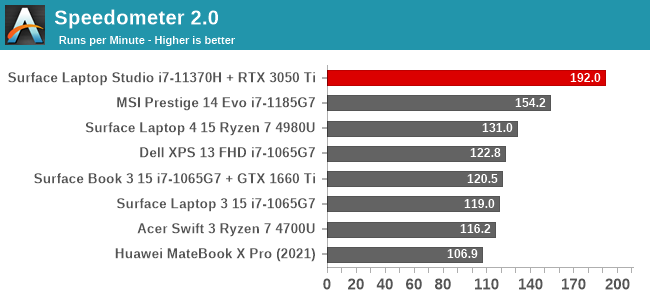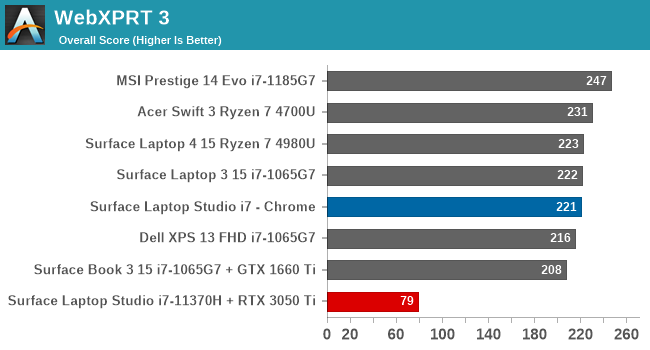 Well, this is an anomaly. Edge on Windows 11 scores an abysmal 79 in WebXPRT 3. It was so low that I re-ran the test using Chrome where it scored a much more respectable 221. As both Edge and Chrome are based on the same Chromium underpinnings these days, that is a bit strange. I've reached out to Microsoft to see if they can explain this one.
Luckily, Speedometer 2.0 was not impacted, and the latest Windows 11 build for Edge coupled with the Core i7-113700H puts the Surface Laptop Studio at the top.
Storage Performance
With Tiger Lake's 4 PCIe 4.0 lanes tied up driving the dGPU, Microsoft has instead hung their SSD off of the PCIe lanes coming from the PCH. This in turn means that Microsoft's storage options are limited to PCIe 3.0, though given the relatively high power of current PCIe 4.0 SSDs, that might not be such a bad thing right now.
As always, storage is a bit of a commodity, so you never know what SSD you are going to get. Our review unit shipped with a SK Hynix 1 TB option. Choices are between 256 GB and 2 TB, so there is a good range of capacities from Microsoft, and like most Surface devices over the last couple of years, Microsoft makes the drive user replaceable after experimenting with soldered BGA SSDs for a couple of years.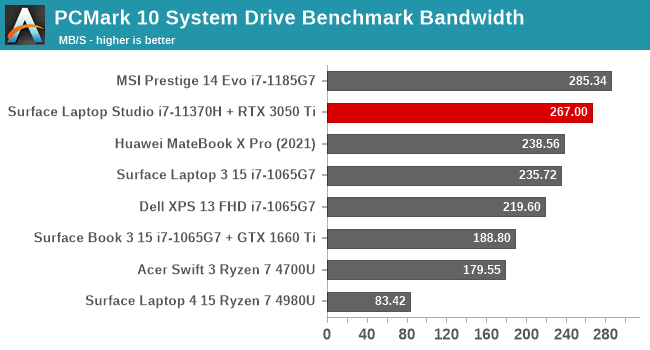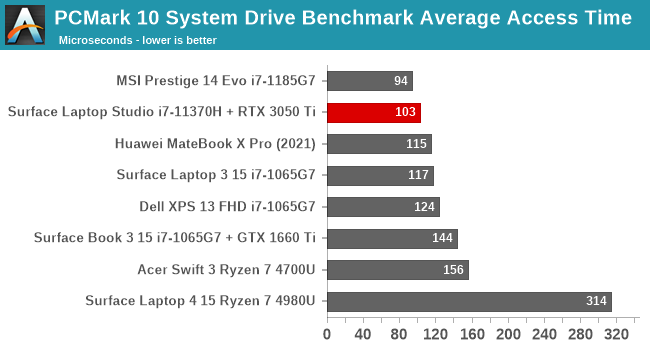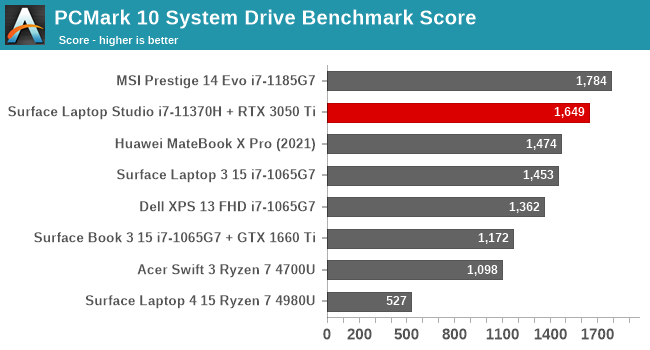 For a PCIe 3.0 drive, the performance of this unit was very good. It is outmatched by the latest PCIe 4.0 drives, but performance is still excellent.